Do you have a web idea for your business?
Are you looking for a reliable web portal development partner?
We understand your hesitation in selecting a company for your web portal development project. After all, you're entrusting your project to them and agreeing to a months-long collaboration.
So, to make your task easy, we have shortlisted the top 11 web portal development companies that provide custom web portal development services. Being a leading web portal development company, we have made this list with the help of Clutch and G2 reviews.
Let's get started.
Top 11 Web Portal Development Companies
Find the right company that aligns with your business objectives. Without further ado, here are the top 11 web portal development firms –
Logo
Name
Founded Year
Location
Expertise
Monocubed
2019
Ontario, Canada

Enterprise web portal development

ScienceSoft
1989
Texas

Mobile app development
Web portal development
Cloud application development

Iflexion
1999
Colorado

Web and Enterprise portals
Mobile app development

Praxent
2000
Texas

Cloud deployment
Web portal development
Web application development

Orases
2000
Maryland

Custom Software development
UI/UX development
Web portal development

Oxagile
2005
New York

Web portal development
Mobile app development

Itransition
1998
Colorado

Web portal development
Automation

Entrance
2003
Texas

Custom application development
Data management and analytics

ADCI
2007
Florida

Website development
Web portal development

Emerline
2011
California

Web application development
Mobile app development

Teksun
2015
California

Web application development
IOT solutions
Data analytics
Let's understand more about each company in-depth.
Monocubed

Contact Info
+1 (437) 488-7337
Email:

[email protected]

Hourly Rate
$50-$99 /hr
Serves
Startups to Small and Enterprise Company
Employee size
200-300

Monocubed is a renowned custom web portal development company in Canada. If you want to develop a custom web portal within a limited time and budget, Monocubed can help you.

Partnering with Monocubed, you get the best web portal development services, business-driven solutions, on-time project delivery, 3-months free maintenance support, and clear code quality.

Monocubed's team of best web developers have experience in developing web portals like
Apart from this the company has also developed different types of web portals for various industrial niches including logistics, travel, and HVAC. With a thorough web portal development process, Monocubed ensures the optimal use of resources and the budget.
If you want to know how Monocubed has helped businesses to build a web solution, check the
testimonial from Mr. Roman Malone. He had hired Monocubed to build a web-based solution for his business sales and production management.
What did he like about Monocubed?
Monocubed provides attention towards every detail and prompt response to every change required.
Check the below testimonial of Roman Malone who is a President at E. Cornell Malone Corp to know what he has shared about Monocubed.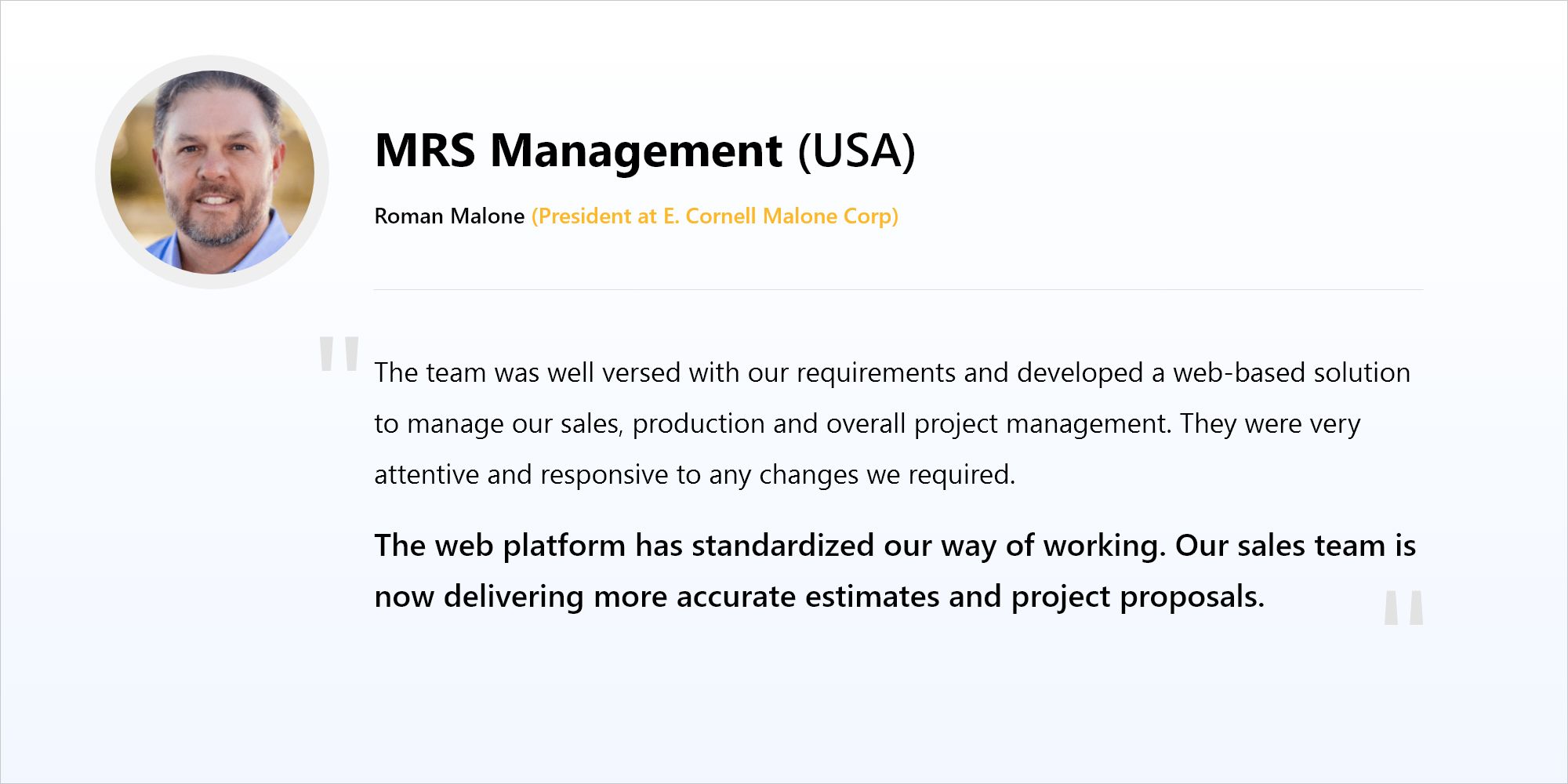 If you are in search of quality web solutions for your business, discuss your idea with Monocubed. Get a 30-min free consultation and transform your web portal idea into reality.
Looking to Develop a Personalized Web Portal Solution?
Get a tailored web portal development that is scalable and easy to use. Discuss your web portal idea and business requirements.
ScienceSoft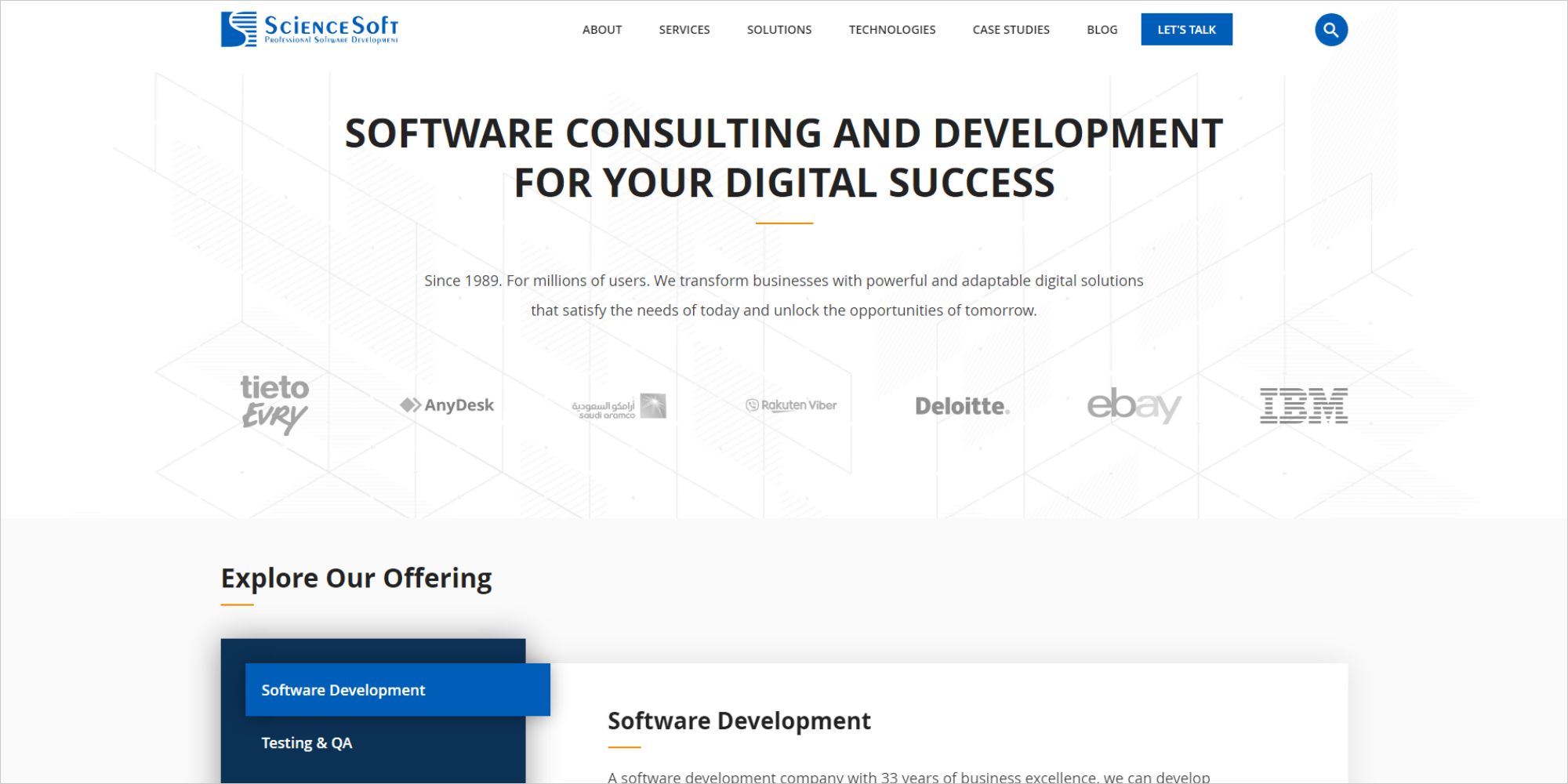 Contact Info
+1 214 306 6837
Email: [email protected]
Hourly Rate
$50-$99 /hr
Serves
Small, Medium, and Enterprise Company
Employee size
501-1000
Sciencesoft offers an unwavering commitment to customer success and continuous development has earned them a spot on the prestigious Global Outsourcing 100 list. ScienceSoft USA Corporation was named to the Financial Times list of America's fastest-growing companies in 2022.
To build a solution that meets your business needs, Sciencesoft thoroughly investigates the future application context to make appropriate tech decisions. So if you want to add different features of web portal, ScienceSoft have experience to integrate features for industries like logistics, travel, hotel, and health.
Sciencesoft also offers a 24/7 help desk that can serve as a single point of contact for application users, receiving all inbound service requests and incident reports via any preferred communication channel.
Iflexion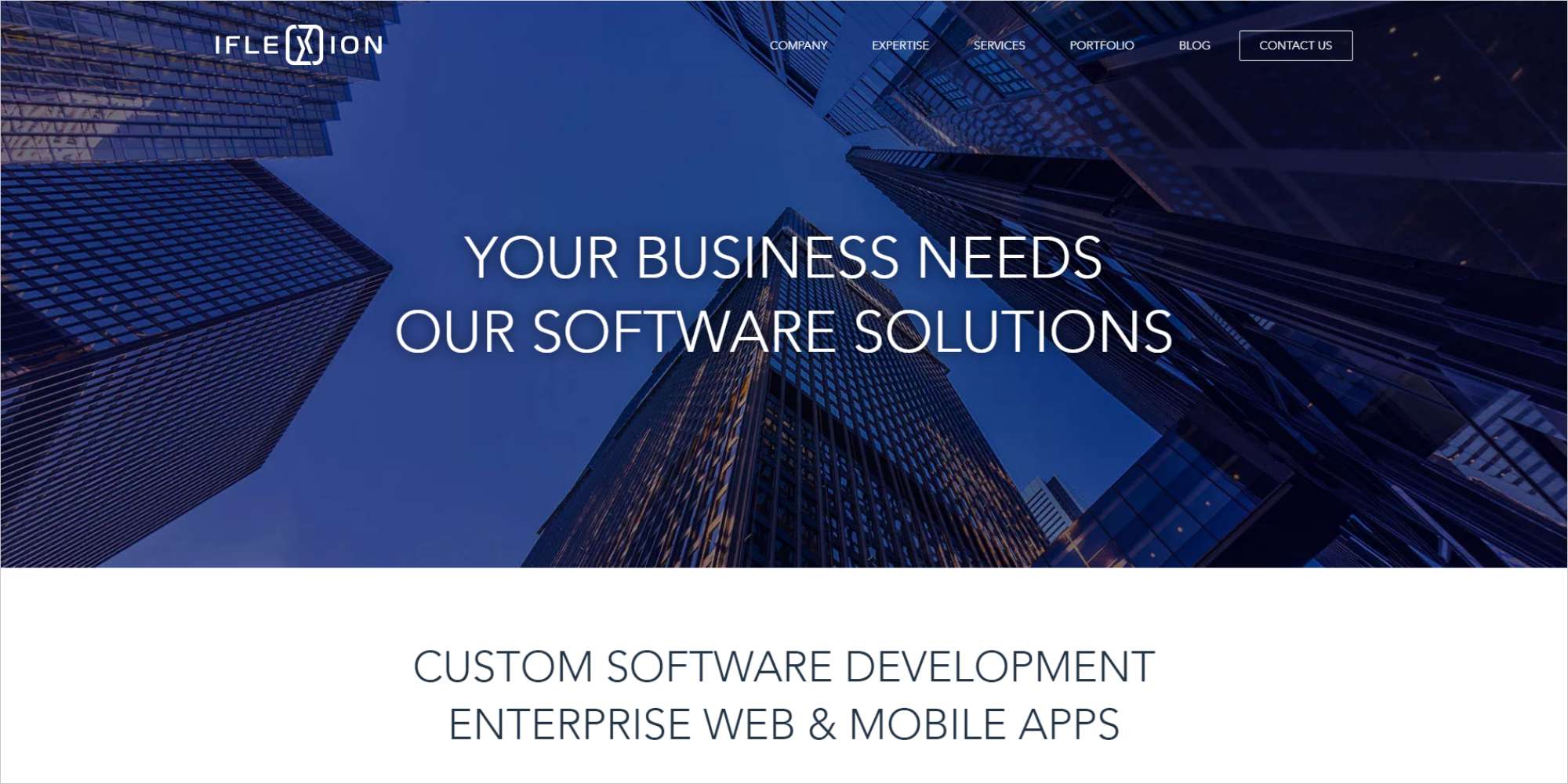 Contact Info
+1 (720)­­­ 207 0369
Email: [email protected]
Hourly Rate
$25-$50 /hr
Serves
Small, Medium, and Enterprise Company
Employee size
250-500
Iflexion is a Denver-based custom software development firm. Iflexion, with over 850 specialists on board, provides software solutions that address various business needs and promote enterprise processes. The company has completed over 1,500 projects in over 30 countries with a strong web and mobile development emphasis.
Iflexion keeps up with the latest technological trends and expands its offering with in-demand services and technologies. Iflexion can handle requirements definition and specification, architecture design, UXD, coding, testing and validation, and product maintenance and support. So, if you are looking to create a web portal from scratch iFlexion follows a step-by-step process.
Each customer's case is thoroughly investigated depending on the project requirements. At Iflexion, each project is overseen by a dedicated quality assurance team, which monitors all project activities and results at each development phase.
Depending on your needs, the experts will guide you through each phase of the development process, providing sound advice on technology and portal design options.
Praxent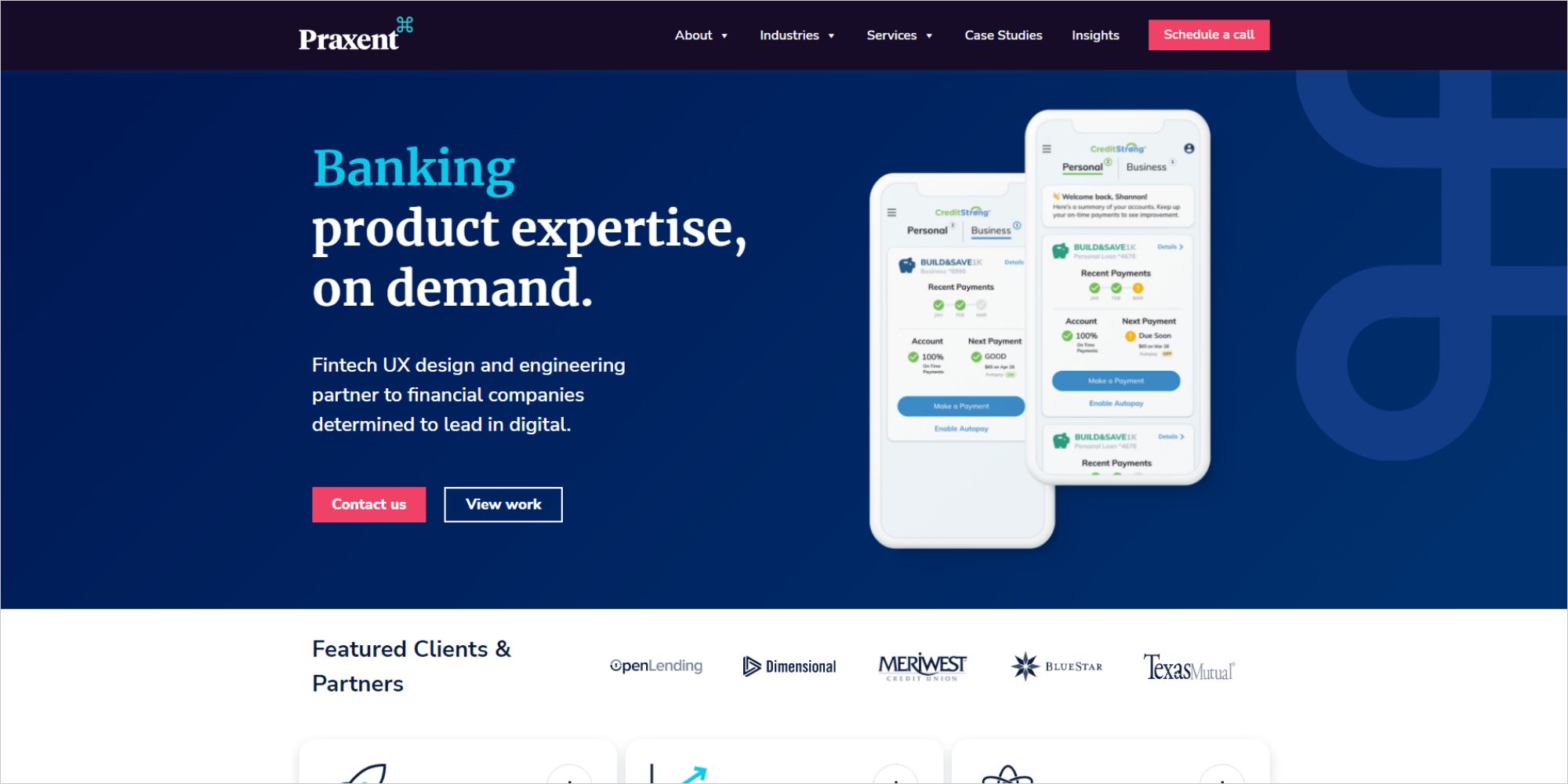 Contact Info
+1 (512) 553-6830
Email: [email protected]
Hourly Rate
$50-$99 /hr
Serves
Small, Medium, and Enterprise Company
Employee size
100-200
Over the last 20 years, Praxent has successfully delivered over 300 software projects and assisted hundreds of businesses in providing customers with a more modern, intuitive digital experience.
Many businesses have created software applications that no longer meet the needs of customers, but Praxent assists businesses in modernizing the applications to compete with born-digital competitors.
Praxent's highly conscientious team will look around the corner at every engagement stage for you.
What exactly are you looking for?
Program risk, technical risk, user adoption risk, and stakeholder alignment risk are all factors to consider. Praxent will take a step forward with you. And will also help you to make the best financial decisions that reduce risk not only for you but also for your customers. So if you want to see some of the best web portal examples and develop a similar custom solution, Praxent develops as per your requirements.
Furthermore, you are always informed regarding the development process and ensured the total transparency by holding weekly conversations on the important tradeoff decisions that need to be made. Plus, you'll see clearly how your spending translates into business value at every stage.
Orases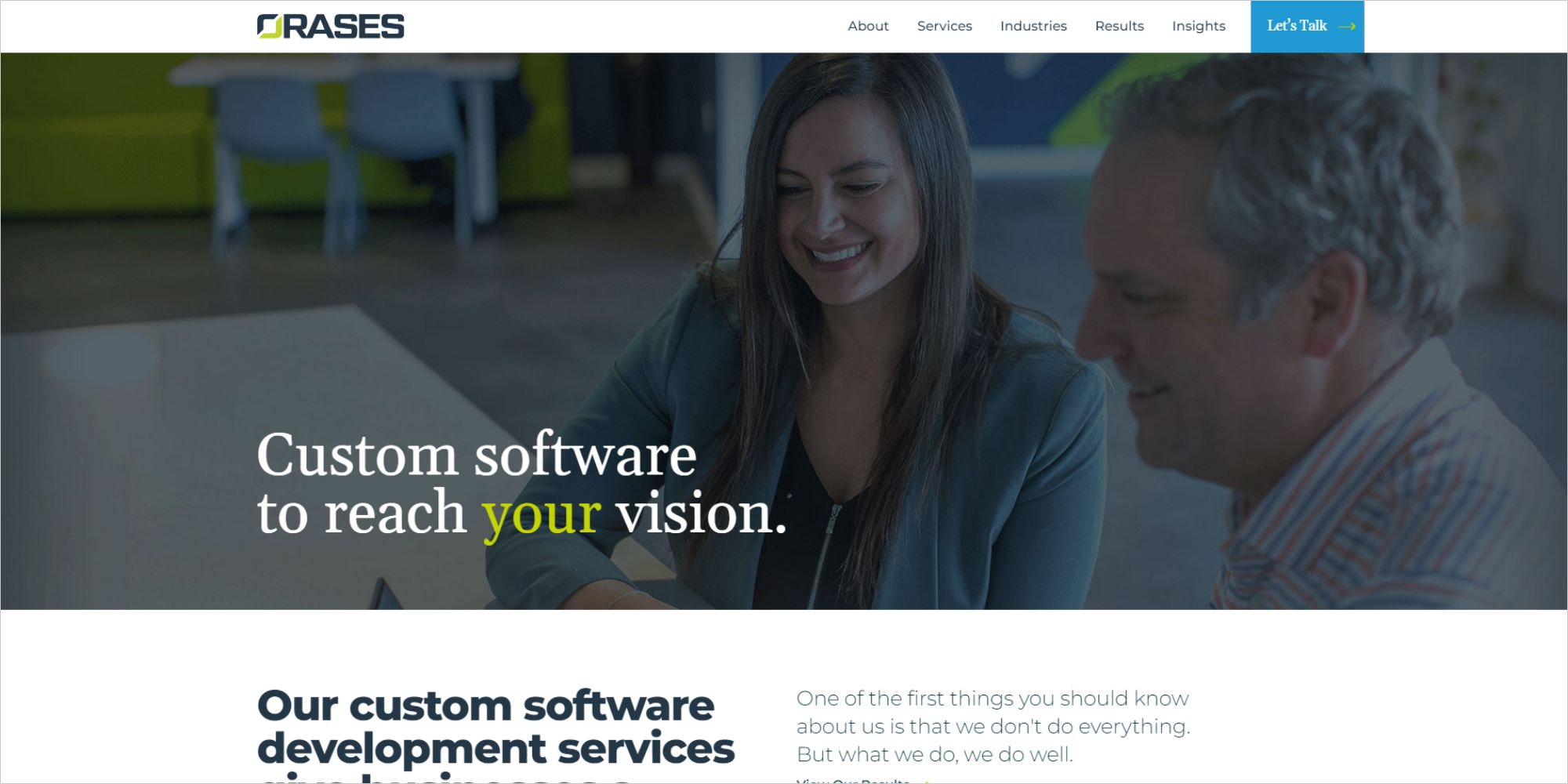 | | |
| --- | --- |
| Contact Info | +1 301-756-5527 |
| Hourly Rate | $150-$199 /hr |
| Serves | Small, Medium, and Enterprise Company |
| Employee size | 100-200 |
Clutch accredited Orases the best software development company in the United States from 2016 to 2021. Over the last two decades, Orases have worked with start-ups, mid-market companies, and large corporations.
Orases develops custom software solutions that transform your processes, empower your people, and assist you in achieving your goals. In a radically transparent process, the team of experts collaborates with you to understand your specific needs, then builds a powerful software solution that is scalable, efficient, and cost-effective.
Create custom software, web-based applications, mobile apps, PWAs, APIs, and databases and make them all work together with Orases.
Assisted with entrepreneurs, CTOs, CMOs, product owners, and managers of technology-first companies, Orases helps to scale up the development teams with dependable, competent, friendly, and proactive experts.
Oxagile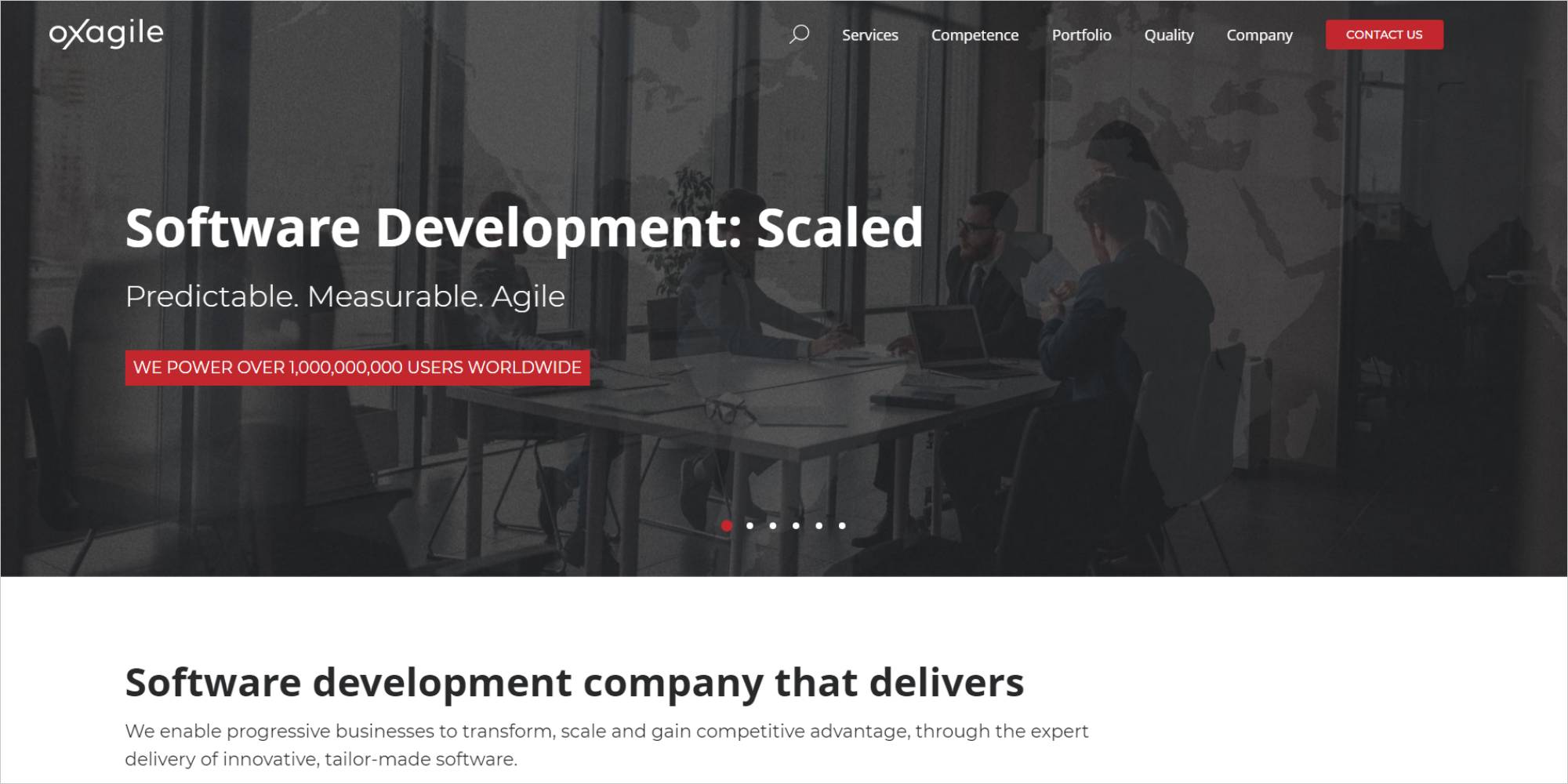 Contact Info
+1 855 466 9244
Email: [email protected]
Hourly Rate
$25-$50 /hr
Serves
Small, Medium, and Enterprise Company
Employee size
500-1000
Oxagile is a Microsoft Gold Certified company that has been recognized by industry experts such as the International Association of Outsourcing Partners' (IAOP) Global Outsourcing 100 list and Inc Magazine's Inc 5000 ranking.
Over the last decade, the Oxagile development team has created world-class b2c and b2b solutions for over 450 clients. Having extensive knowledge of more than 30 verticals and business domains makes them a go-to partner for assisting businesses in operating at peak efficiency.
Backed by strong business analysis skills and extensive cross-domain knowledge, Orases provides tailored web portal design to the clients.
The Oxagile R&D team will constantly work on internal projects and experiment with next-generation concepts to take your web portal development to the next level. They implement AI-based audience targeting, hyper-personalization, and biometric-powered security, among other innovative features.
Itransition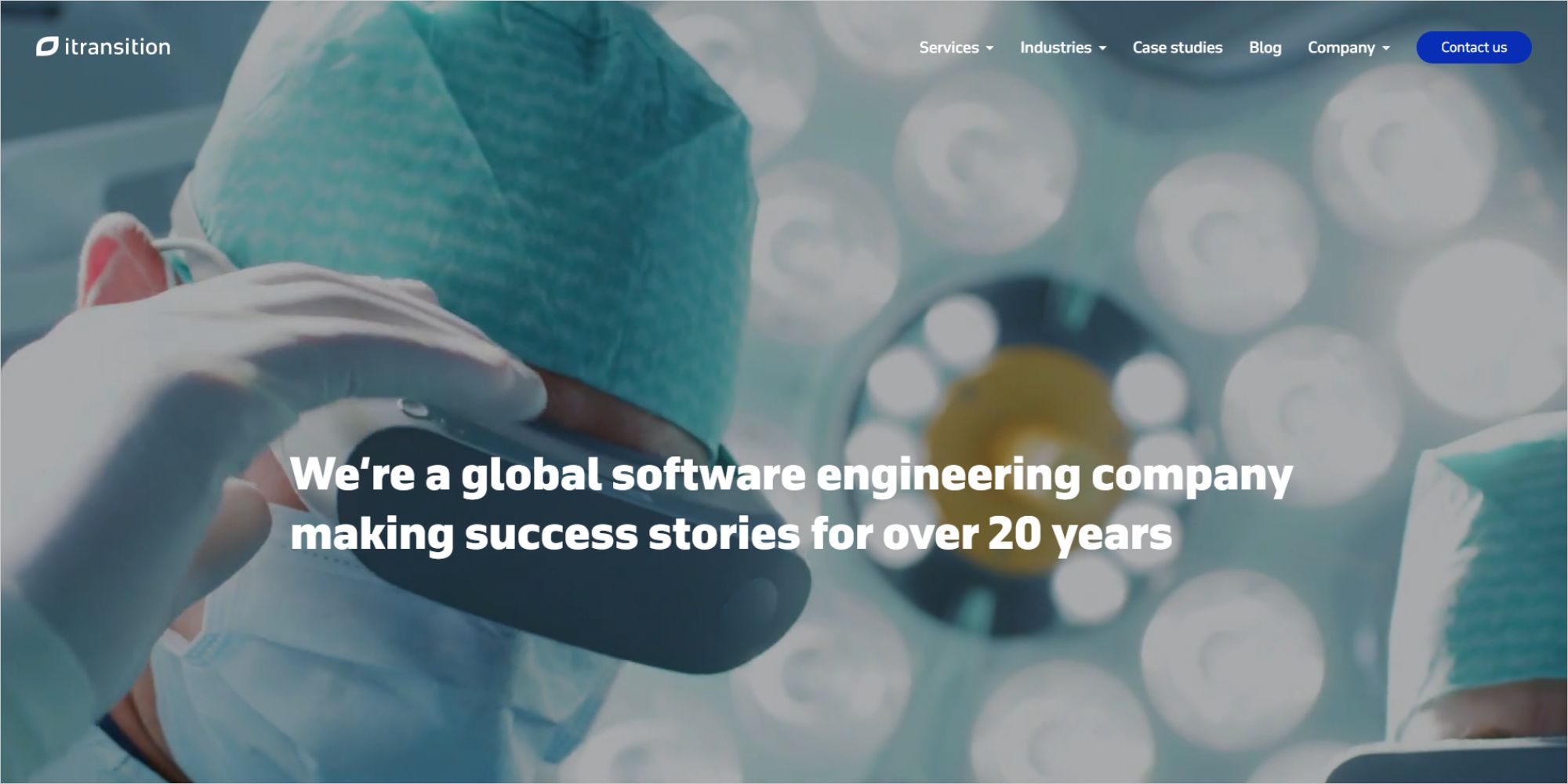 Contact Info
+1 44 16 1408 1560
Email: [email protected]
Hourly Rate
$25-$50 /hr
Serves
Small, Medium, and Enterprise Company
Employee size
1001-5000
In the last 20 years, Itransition has served over 800 clients from dozens of business verticals. SMBs, enterprises, and startups rely on them as a trusted technology partner, providing specialized knowledge and skills in particular domains.
Itransition has a multi-thousand-strong pool of experts with diverse technological and domain backgrounds and qualification levels, as well as on-demand resources, who provide full-cycle implementation services, taking on projects at any stage.
To overcome geographic, linguistic, and cultural barriers Itransition uses mature collaboration strategies. Ensuring collaboration transparency by assigning certified project managers to each project, Itransition grants you access to the test stand and project tracking tools.
Also, to foster on-demand scalability and agility, they combine the best aspects of Lean and Scrum. They are always prepared to adapt development processes to your schedule and requirement shifts at any project stage while lowering change costs.
Do You Have a Web Portal Idea?
Let's talk. Monocubed offers B2C, and B2B portal development, and portal integration with modern technologies. Get the best web portal development services with us.
Entrance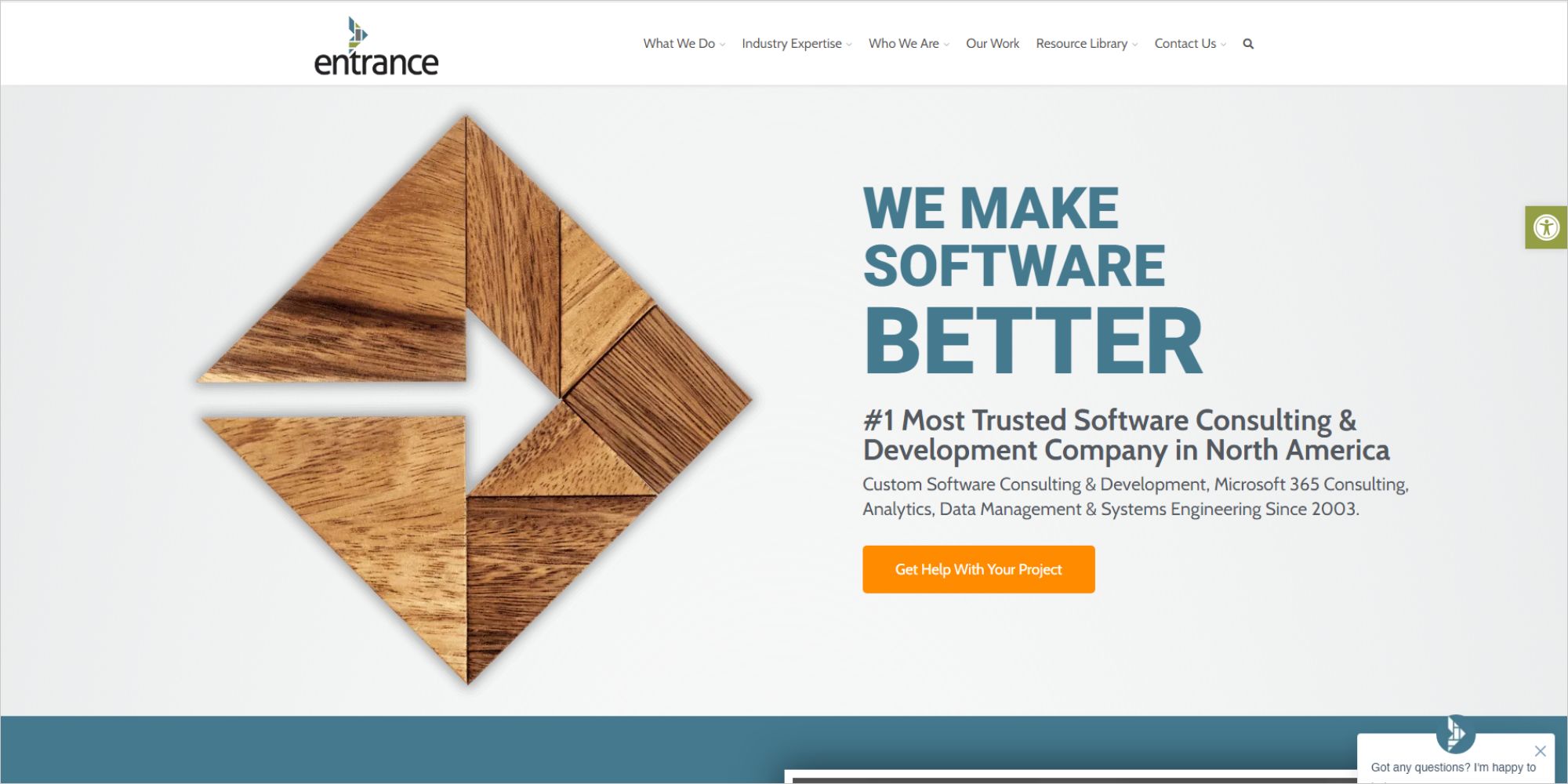 | | |
| --- | --- |
| Contact Info | +1 (844) 262-8005 |
| Hourly Rate | $150-$199 /hr |
| Serves | Small, Medium, and Enterprise Company |
| Employee size | 100-500 |
Entrance creates insightful software solutions that maximize the value of your information assets. We offer business and software consulting services to the entire energy value chain, connecting decision-makers with actionable data.
They help to build and create custom software to automate business processes with a balance of technical and deep industry-specific expertise for web portals.
The web portal consulting team can assist you in developing a scalable IT strategy that fits your company's data ecosystem and aligns with its cloud initiatives and budget.
Also, Itransition team of developers can assist you in conducting an application inventory. It helps to determine your business requirements, evaluate vendor options, and develop selection and implementation criteria.
ADCI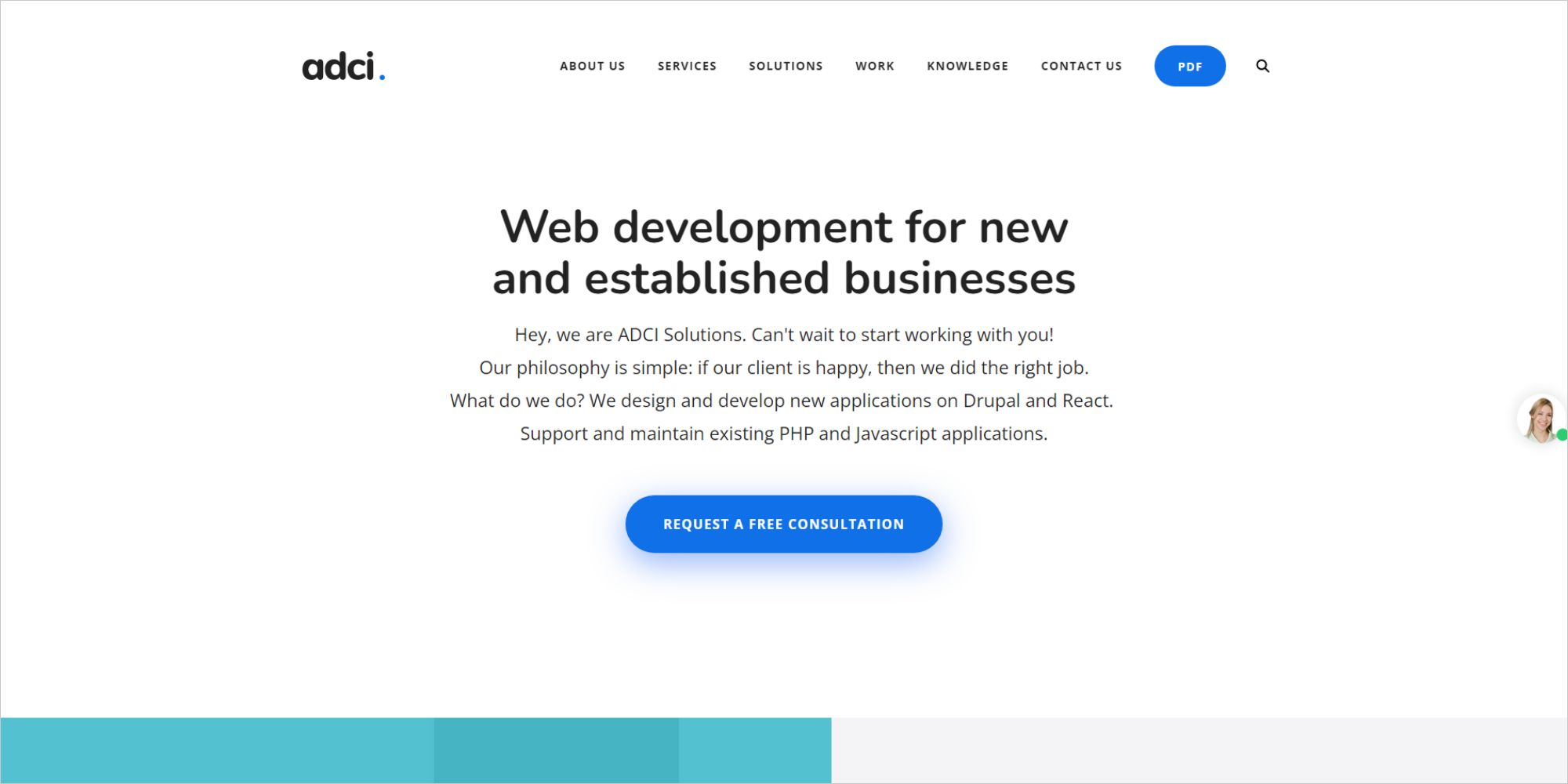 Contact Info
+1 954 604-0101
Email: [email protected]
Hourly Rate
$25-$50 /hr
Serves
Small, Medium, and Enterprise Company
Employee size
50-100
ADCI Solutions is a design and development firm that focuses on high-traffic Drupal projects. ADCI was awarded as one of the top 1000 service providers by Clutch globally.
As a web portal development company, ADCI uses Drupal and React to create magic, so whether you need a content-heavy platform, a high-load web portal development service, or a simple corporate profile.
With 500 hours to complete a large project, the web portal consulting team will understand your business requirements and assign you a team of expert developers to discuss and follow up regarding your web portal development.
Emerline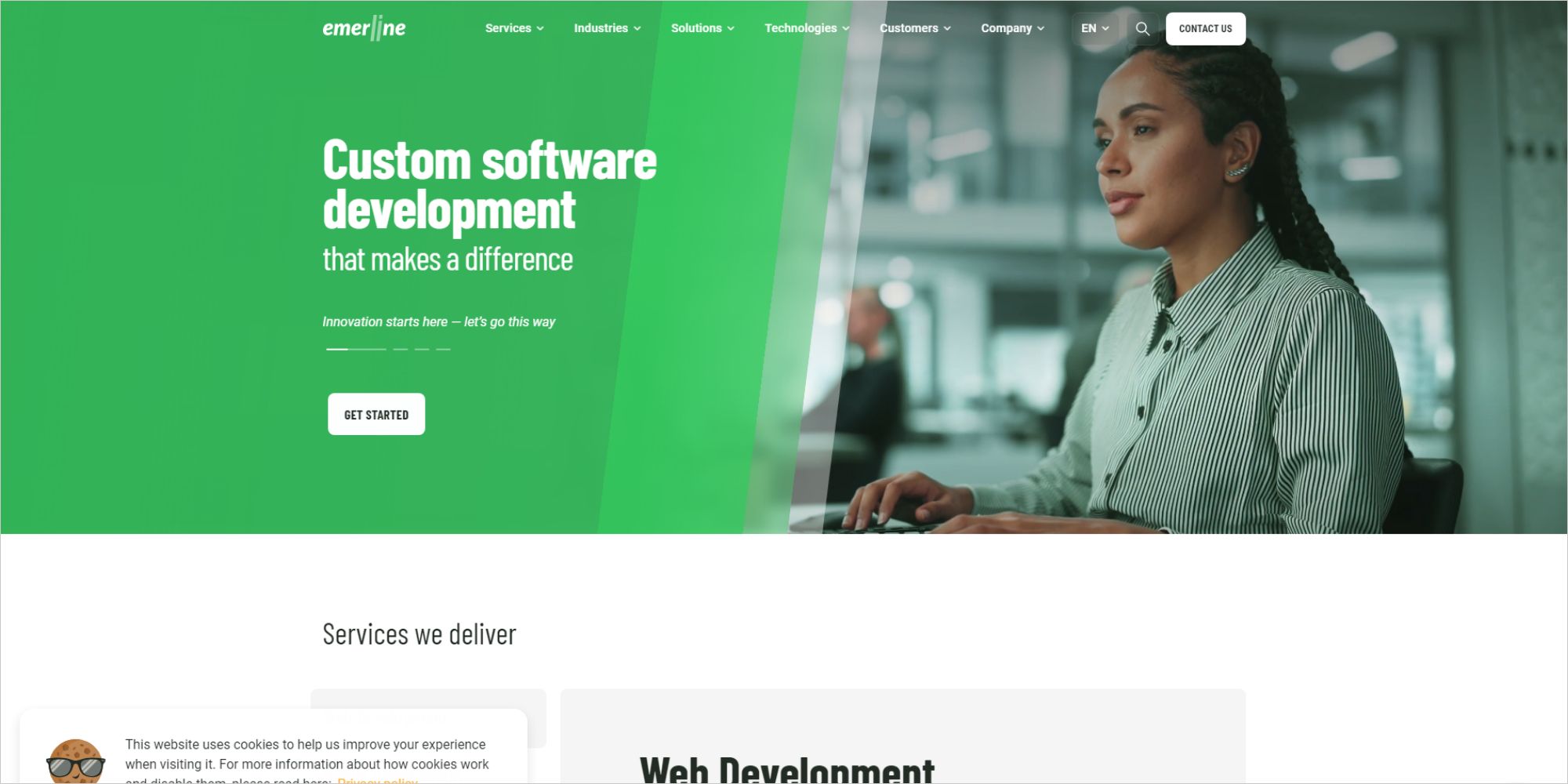 Contact Info
+1 650 772 5709
Email: [email protected]
Hourly Rate
$50-$100 /hr
Serves
Small, Medium, and Enterprise Company
Employee size
500-1000
Since 2011, Emerline has been a part of the LeverX Group, assisting startups and established businesses in the development of a wide range of software products, ranging from web and mobile apps for iOS and Android to commercial and corporate websites and sophisticated enterprise solutions.
Emerline has been providing excellent software services for enterprises and is deeply involved in the successful 17-year collaboration with Fortune 1000 companies.
With fluency in the language of startups, providing full-cycle startup mentoring Emerline helps to business success. The team provides solid, easily scalable solutions for increased productivity and business growth.
Also, they assist customers in making informed decisions about project strategy by providing advice on infrastructure, architecture, technology, integration, security, and privacy. Everything you need for digital transformation is housed under one roof.
Teksun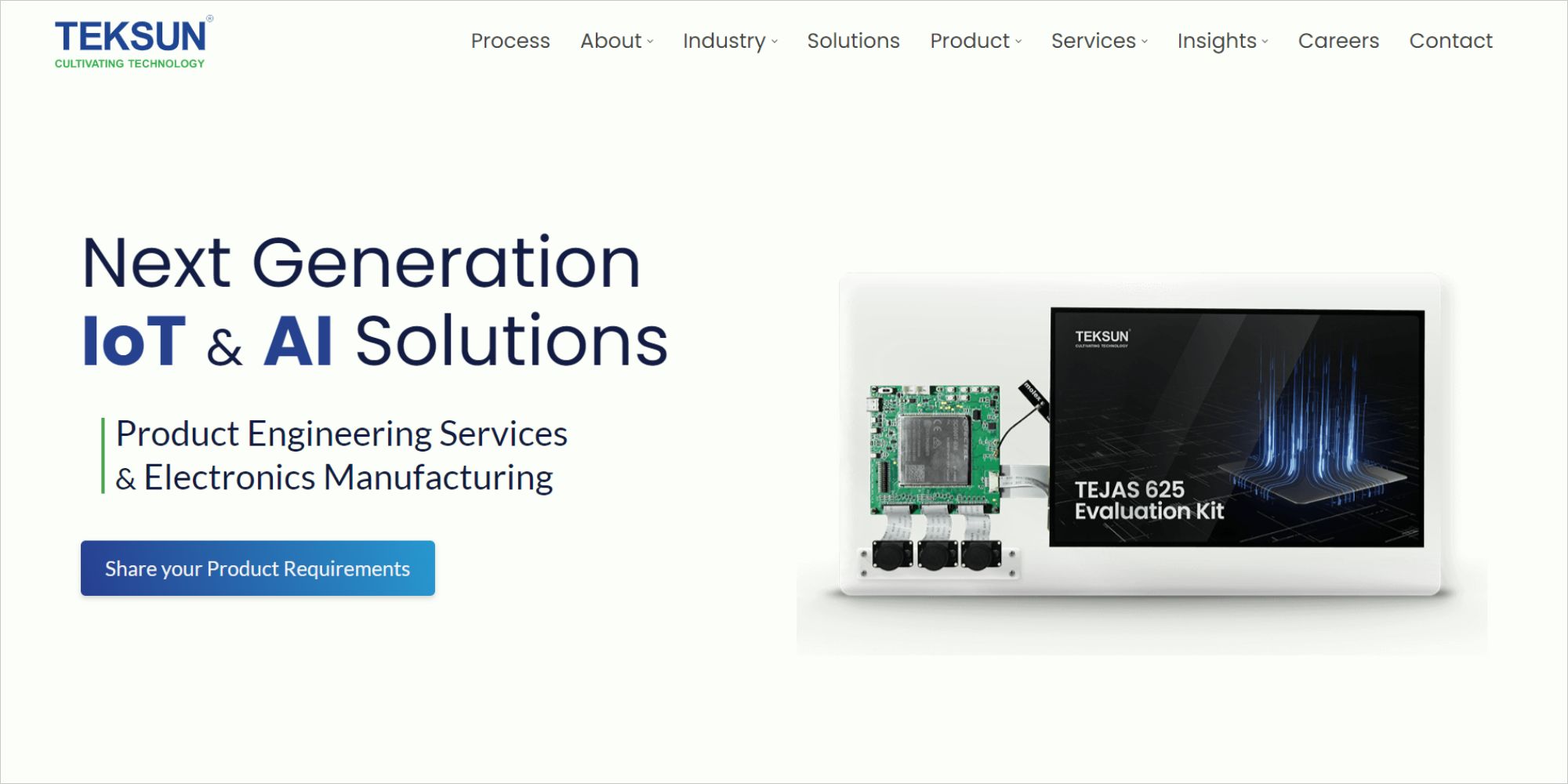 | | |
| --- | --- |
| Contact Info | +1(415) 851-7851 |
| Hourly Rate | $50-$100 /hr |
| Serves | Small, Medium, and Enterprise Company |
| Employee size | 250-500 |
Teksun is a global technology leader in a sea of options, providing world-class IoT and AI Product development, systems integration, and electronics manufacturing.
They maintain meticulous end-to-end quality control across the entire product development lifecycle with a 100% in-house embedded hardware, firmware, cloud, software, web, mobile, and manufacturing team. Delivering to specifications, on time, and with exceptional quality. Each and every time.
Teksun manages the design, and aims to approach every opportunity as a long-term relationship by putting themselves in your shoes. This takes you in the best position for long-term business, technical, and commercial success.
These are the best web portal development firms that deliver high-performing, end-to-end web apps and have satisfied customers across the globe.
FAQ About Web Portal Development
How much does it cost to build a web portal?

It costs $5000 and $50000 approximately after considering all the factors involved in the web portal development. The exact cost to build a web portal is uncertain as it depends on several factors such as:

The number of features and functionalities that have been integrated into the website or application
The app development partner's location
The technology stack required to create a web portal
The portal's design
Experienced developer team

What is the process of building a web portal?

The process of developing a web portal will vary from project to project. But in general, there are six steps that every company follows. The steps are

Step1: Planning – The planning stage is where the user needs and project goals are defined.

Step2: Designing – After planning, the web portal architecture is designed.

Step3: Development – Once the architecture is designed, the web portal development team will use the tech stack to create the frontend and backend of the web portal.

Step4: Testing – Before deploying, experienced testers test portals to catch bugs or errors.

Step5: Deployment – After testing, the bugs are fixed, and the portal is deployed to launch.

How long does it take to build a web portal?

Building a web portal can typically take upto 6 months. However, it depends if you are looking for a custom web portal development with complex features and functionalities, then it may take a little longer than usual.

Which questions should you ask while hiring a web portal development company?

Your website is frequently the first point of contact visitors have with your brand, and you want them to have a positive first impression. That is why it is critical to ask the right questions when hiring a web portal company

Here are some of the questions that you need to ask.

What do they need from you before starting the project?
What is the project timeline?
What is the approximate cost and payment cycle?
Which tech stack will you use in the development?
How many design revisions do you have?
Do they provide SEO services or not?

Which are the different types of web portals?

The different types of web portals available are

B2B portal
B2C portal
Community portals
Patient portals
Elearning portal
Partner portal
Student portals
Select the Right Web Portal Development Company
We hope you have noted the details of these top 11 leading web portal development companies that offer custom web portal services for businesses and enterprises.
Whether you're a startup looking for MVP development or an enterprise looking to build a cross-platform web portal, one of these web development companies will meet your requirements.
Still, have doubts?
No problem.
Monocubed is a well-known web development company located in Canada. We create custom full-stack web development solutions that are functional, scalable, and cost-effective.
Get a free consultation with our experts and tell us about your web idea.