Python has progressed as one of the most multipurpose programming languages in the era of technology. Presented in 1991, it has become one of the most preferred languages for start-ups, developers, and some of the giant companies for several vital reasons.
The web apps built using Python provide a robust result in the field of desktop GUI, game development, audio, and video applications, artificial intelligence, data visualization, and data science.
Python's pattern philosophy accentuates code readability with its prominent usage of substantial indentation. Its object-oriented tactic aims to aid software developers to write logical and clear code for small as well as large-scale web development projects.
In this blog, let's understand Python programming and apps made with Python in detail.
What Is Python Programming?
Python is an object-oriented, interpreted, and high-level programming language with active semantics. The high-level inbuilt data constructions, united with dynamic binding and dynamic typing, make it attractive for Rapid Application Development. It also makes it alluring for the usage as a glue language or scripting to link prevailing components together.
Python language has an easy-to-learn and simple syntax that emphasizes readability. In this way, it diminishes the rate of program maintenance. Python frameworks support packages and modules, which encourages code reuse and program modularity.
Guido van Rossum started working on Python in the 1980s, as a descendant of the ABC programming language and released it in 1991.
The extensive standard library and the Python interpreter are obtainable in binary or source form without the charge for all key platforms and can be distributed freely. Python renders numerous useful features which make it valuable and popular from the rest of the programming languages.
Below is the list of a few vital features:
Python is easy to learn as compared to other available languages such as C#, C, and JavaScript.
It supports object-based language and notions of object encapsulation and classes.
It is open-source which states that its source code is obtainable to the public.
It is an extensible language which means that the code written in Python can also write the same Python code into C++ or C language and we can accumulate that code in C++ or C language.
Graphical User Interfaces can be formed utilizing a module such as PyQt4, PyQt5, or wxPython in Python.
It is a dynamically typed language.
It has a huge standard library which supplies a rich collection of functions and modules so that developers do not have to write code for every single thing.
It is an integrated language as we can integrate Python with other available languages like C and C++ easily.
8 Best Apps Built With Python
As a multi-purpose language, Python permits developers to develop software applications using Python approaches, comprising both functional programming and object-oriented programming. Several of today's most efficacious companies chose Python for the backend of their site.
Let's take a look at 8 best applications built using Python:
For everyone, it is simple, clean, user-friendly, and supports pure logicality. As it is so popular, expanding any engineering team is much easier.
Why Is Python So Popular?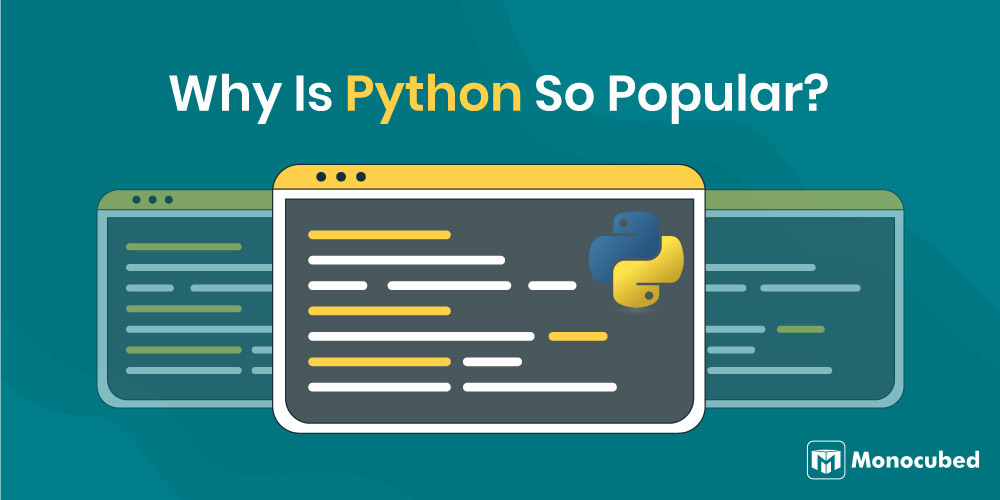 Python is a garbage-collected, dynamically typed, open-source language. It supports manifold programming models, including object-oriented, structured, and functional programming. As per the TIOBE index, which positions programming languages based on their fame, has ranked Python number 3.
It is also the fastest-growing language in the best 50. Below are some of the reasons stating why Python is a popular language:
Flexibility

The Python programming language is extremely flexible. It gives the developers a chance to try something innovative. An individual who is proficient in this language is not just restricted to form similar types of things but can also try to make something unique.

For those who prefer to function in the latest technologies, they can turn out to be experimental in the projects just by acquiring knowledge of this single language.

Machine Learning, Cloud Computing, And Big data

Machine Learning, Big Data, and Cloud Computing are some of the most modern trends in the computer science biosphere, which aids many organizations to renovate and advance their workflows and processes.

Various data processing jobs in tech companies are driven by Python only. The research and development take place in Python owing to its several applications, comprising the organization of the usable data and ease of analyzing. Numerous Python libraries are being utilized in various machine learning systems every day.

Efficiency, Speed, And Reliability

Python can be utilized in almost any sort of setting and the developer will not face any type of performance loss. It can be employed in many diversities of environments like desktop applications, mobile applications, hardware programming, and web app development.

The adaptability of Python makes it more striking to utilize due to its huge number of business applications.

Several Frameworks And Libraries

Due to its huge supportive community, Python has outstanding libraries that developers can exercise to choose and save their effort and time on the primary cycle of project development. Many cloud media services deliver cross-platform support via library-like tools, which can be tremendously beneficial.
Libraries with precise focus are also obtainable like sci-kit-learn for machine learning applications or NLTK for natural language processing.
Want to Develop an Advanced Web App?
Chatbots? Handwriting to text? Auto text completion? Integrate such advanced features into your web app with the help of our Python developers.
Benefits Of Python In Web Development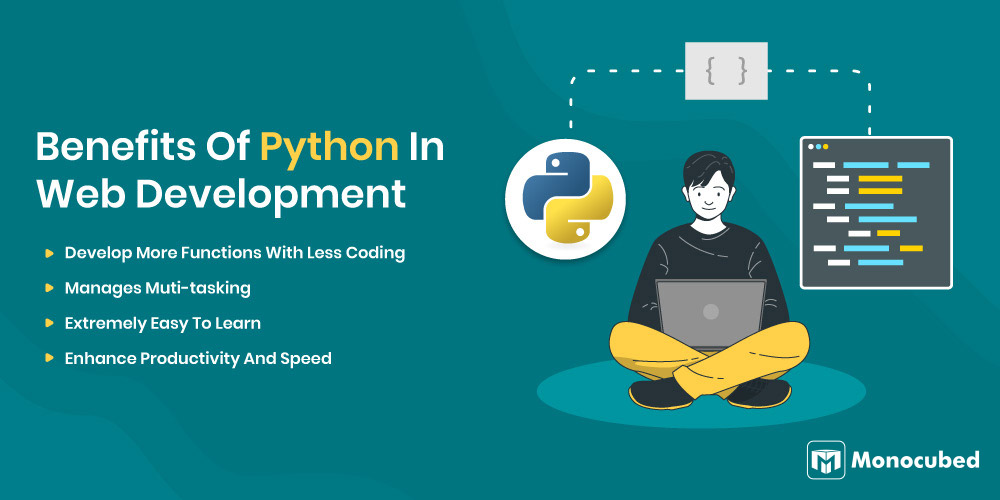 As an object-oriented language, Python's ever-growing reputation and its capability to emphasize Rapid Action Development, has inspired countless emerging start-ups and organizations, to select it as the first-choice language for web applications development.
Below are some of the key advantages that depict what is Python used for:
Develop More Functions With Less Coding

A multidisciplinary website can go a long way in generating that significant first impression on your clients. That is where Python web development marks to be efficient and reliable. Also, it can include more alternatives through extra functions. You can quickly achieve more without investing too much time and with very little coding.

Manages Muti-tasking

The noteworthy importance of Python for a start-up or an established business is its support for multi-tasking. It can work simultaneously on intricate issues like data security, which makes it one of the most reliable programming languages in the market.

Extremely Easy To Learn

As far as ease of learning and usage is concerned,

Python is very easy to understand and is extremely user-friendly. In addition to this, it is easy to employ and supports developing responsive and strong websites.

Enhance Productivity And Speed

Python adds worth by supporting enriched procedure control abilities. This increases its productivity and speed. When it comes to developing multifarious websites which require to be enormously rapid in reply, Python for web app development is the instant answer.
Frequently Asked Questions
When to use Python?

Python is a high-level and universal and programming language. The developers can use Python for building websites, web applications, and desktop GUI applications. Also, it permits you to aim at the essential functionalities of the app by taking care of general programming tasks.

Why is Python so popular?

Python is popular because it is much easier to learn and employ. It has numerous frameworks and libraries and is supported by a supportive community. It is known for its efficiency, versatility, speed, and reliability. The usage of Python is escalating in the field of cloud computing and big data as it is the first-choice language amongst developers.

What companies use Python?

The companies that use Python are Spotify, Facebook, Netflix, Quora, Dropbox, Instagram, and Reddit.
Conclusion
Python app development is extremely flexible and fast. The apps made with Python are easy to create owing to the versatility of Python's code. Have a web app idea? Contact us to get Python software development services and build scalable, complex, and efficient apps that can add value to your company.
This programming language provides various kinds of libraries that are accessible for dissimilar types of app development. It can be used to perform complex mathematics and handle big data. Moreover, it can be employed for production-ready software development and rapid prototyping.