Want to enhance your knowledge management process? You can implement a Knowledge Management System that refers to any type of IT system designed to store and retrieve knowledge, locate knowledge sources, mine repositories for hidden knowledge, improve collaboration, capture and utilize knowledge.
There are different types of knowledge management systems based on usage. You can use commercial system applications available or hire web development company to build a custom knowledge management web software using SQL, Access, or other database development tools.
What Are The 3 Types of Knowledge Management Systems?
The initial stage in creating a knowledge management system (KMS) is to determine exact goals. What is the prime purpose of a knowledge base? Is it to serve customers in a better way or manage your departments efficiently? Once you set such a clear goal, you can get an apt knowledge management system based on dissimilar types of data bases. Below are three main types of knowledge management systems:
Enterprise-wide Knowledge Management System

An enterprise wide knowledge management system delivers the crucial benefit of maintaining organizational productivity and streamlining work. A significant advantage of such a system is that it permits the organization to aim at the business processes rather than on data. In turn, this helps upsurge efficiency at the administrative level.

Moreover, it aids businesses in decreasing production costs. The enterprise knowledge management system is an application that helps in simplifying access points from various sources and databanks too. Certain communities may define it as the knowledge community management software as it functions by utilizing the data gathered.

Businesses can take advantage of knowledge management that encompasses operations manuals in such applications to dispense talents in appropriate departments. What if this manual is not easily accessible? The company representative can consult a software developer for usage instructions, installation, and maintenance.

If used properly, an enterprise-wide knowledge management system helps companies develop better collaborations amongst various subdivisions to expand organizational productivity and efficiency.

Knowledge Work System

The knowledge work system is the system that offers enterprise-wide KM. It focuses on dissimilar systems. This subsection of the systems may comprise a knowledge database, knowledge repository, and knowledge graph.

These three kinds of information systems will deliver the best outcomes for assembling work-related data. Each knowledge management system tends to be suitable in different industries. Hence, it is best to select an ideal system that fits the current model of the organization. It also has diverse techniques that apply to definite business needs.

However, you can modify KM systems to become flexible. It allows you to integrate various elements needed for the success of the business. You must opt for a system that has adequate features to meet the business' requirements. Also, note that a knowledge work system must function well in the area of business-wide KM.

Therefore, it must also be adjustable to alteration. Else, if the knowledge work system is not scalable, the company might turn out to be stagnated and would not be able to withstand the competition.

Intelligent Techniques

Companies can utilize artificial intelligence to capture and preserve tacit knowledge. It can also be helpful for knowledge discovery, generating solutions to precise issues that are too complex and massive to be analyzed by humans on their own, and helping firms search and filter data.

Artificial intelligence lacks the breadth, generality of human intelligence, and flexibility, but it can be used to codify, extend, and capture organizational knowledge.

Expert systems capture tacit knowledge from a restricted domain of human proficiency and state that knowledge in the form of instructions. The approach to find through the knowledge base, called 'inference engine', can employ either backward or forward chaining. Expert systems are most advantageous for issues of diagnosis or classification.

Case-oriented reasoning signifies structural knowledge as the database of cases that can be incessantly refined and expanded. When the users encounter a novel case, the knowledge management system examines for related cases, discovers the closest fit, and implements the answers of the old case to novel cases. This novel case is deposited with efficacious solutions in the database.
Want to Develop a KMS?
Streamline your business processes using an effective knowledge management system. Talk to us and start developing.
7 Best Knowledge Management Software to Meet All Types of Needs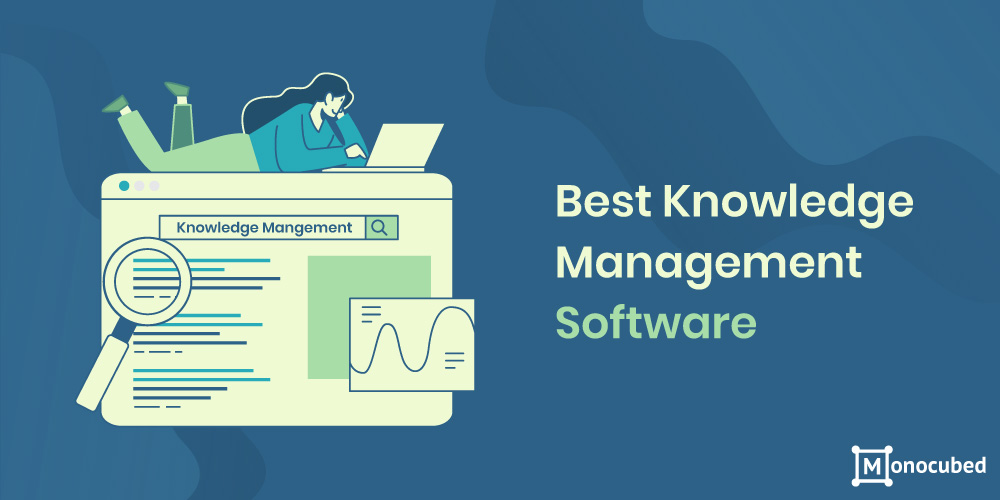 The best knowledge management software and solutions you can utilize to develop diverse types of knowledge bases.
Zendesk Guide

Zendesk is recognized as one of the finest software for customer support management. But, it can manage not only supporting tickets but live chat as well. It also presents an efficient knowledge management system known as Zendesk Guide. You can use this KMS to set up both public and private data bases to serve employees and customers.

Zendesk Guide is a fragment of the Zendesk software group. On subscribing to Zendesk, you can get access to numerous additional tools. This creates a more appropriate choice for larger enterprises and businesses.

Best-suited for: Huge enterprise knowledge base

Features:

Administer Everything from a Single Place: Zendesk has an omnichannel control panel. With it, you can administer your calls, knowledge base, chat, and support tickets from a single place.
Friendly User Interface: This knowledge management system presents an extremely friendly interface. It permits you to administer your knowledge base without any difficulties.
Inbuilt CRM: It utilizes Sunshine, its CRM that permits you to facilitate personalized experiences to the users.
WYSIWYG Editor:

This Guide comprises a 'What You See Is What You Get' style editor. You can generate rich content schemes utilizing this editor.

Document360

The knowledge base software, Document360, aids you to produce a self-service base for your internal users and customers – private or public knowledge bases. A dominant search module is a crucial feature of knowledge management system. It comes with an influential AI-based search. This assists your customers to discover solutions for their difficulties promptly utilizing AI-powered search.

Moreover, it comes with vigorous features like rich themes, uncompromised authoring experience, inbuilt analytics, back-up, and versioning functionalities, and enterprise-grade restore.

Best-suited for: Private or public knowledge bases

Features:

Dominant Editor: Support 'What You See is What You Get' (WYSIWYG) and Markdown editor for structure and efficient writing.
Manifold Dashboards: It facilitates numerous documentation or project websites so that you do not have to search elsewhere when your product list enlarges.
Versioning and Roll-back: The capability to roll-back to former versions of the article with simplicity.
Similar to Google Drive: Manage and store images, files, videos, and introduce them to your base at any time.
Safety at Category Level: It comes with innovative security access at manifold levels to conceal all your situations. You can give access to the readers at dissimilar levels.
Reports and Analytics: Authoritative insights giving comprehensive reports on search overview, customer geography, and performance.
Third-Party Incorporations: It can be incorporated with Freshdesk, Intercom, Zendesk, and Microsoft.

KnowAll

KnowAll has a wide-ranging solution for forming all types of knowledge management organization for enterprises. The chief benefit of employing KnowAll is that it is easy, to begin with. It is fundamentally a plug and plays a melody for WordPress. Everything is constructed to assist you to form a knowledge base in less time and customize to align it into the brand.

With KMS, creating your knowledge base is easier. You can build new articles in some clicks, order, and establish them in groups and subgroups. The theme presents manifold design alternatives to cater to your requirements in terms of interface.

Best-suited for: Consumer support and education

Features:

Easy to Establish: Produce numerous sections and subsections to establish articles and exhibit your articles.
Easy to Begin: Install themes and you are ready to publish your articles.
Reports and Analytics: Get users' feedback on all your articles.
Manifold Design Alternatives: You can opt from numerous designs and modify them to match as per your branding.

Knowmax

Knowmax is an enterprise-wide KM software that aids in omnichannel knowledge dissemination. It contains actionable modules – decision trees, central content and document management, and visual how-to guides that assist in the construction of actionable content. Powered with AI intent-oriented search, it facilitates the distribution of contextual knowledge at the correct channel all the time.

By authorizing agents the next best phase and simpler collaboration, Knowmax assists in driving a culture of knowledge transforming and sharing your contact centres into resolution centres while endorsing customer self-service.

Best-suited for: Consumer support services

Features:

Comprehensive: It provides a wide-ranging suite for a complete contact centre workforce.
Analytical View: It possesses 360-degree analysis through omnichannel communication.
Cognitive Decision Strategies: It has rational decision trees.
AI-based: Knowmax has an AI-oriented intent for consumer support services.

HubSpot Service Hub

Service Hub of HubSpot is a complete suite of consumer service software that delivers you everything – a help desk to a knowledge base, live chat, and user feedback surveys. Every tool is built on the CRM of HubSpot, rendering your business a unified view of consumer communications.

This system makes it easy to fabricate articles to aid customers assist themselves, transform frequently asked questions (FAQs) into a searchable library of help videos, documentation, and articles.

Best-suited for: A knowledge base for huge enterprises

Features:

Intuitive and Easy to Use: Getting started with HubSpot is very simple. Produce templates to create article creation easy and import existing knowledge base articles automatically.
Tailor-made: Adjust the footer, design, header, and categorization on your knowledge base page.
Multi-language: Manage and create a knowledge base to reply to your customers' in their desired language.
Influential Analytics: Observe the terms that customers are looking for, display performance of articles, and view video engagement – to examine your efforts and realize where you require to generate new articles.

Zoho Wiki

Zoho is a knowledge management platform prevalent for its collection of reasonable business tools. Zoho is inexpensive but their tools are also elementary. Similar to most of the widespread software, Zoho Wiki is a knowledge management system with uncomplicated features. It contains everything you require to set up a wiki-like knowledge base.

Best-suited for: Wiki-like private knowledge bases for small businesses.

Features:

Classify Content: Employ categories to organize the content properly.
Easy Content Management: Manage and create different kinds of content easily.
Third-Party Incorporations: Zoho Wiki supports incorporation with several services, including many other Zoho products.
Regulate User Permissions: You can regulate which groups or individuals can view the content.

HelpJuice

HelpJuice is a contemporary and simple to use knowledge base software that is ideal for small businesses and start-ups. This software is being employed by numerous reliable big brands namely, Walmart. Dissimilar to other KB software, HelpJuice is easier to set up and manage. It also has an innovative editor that allows you to create well-structured content while keeping change history.

Best-suited for: Public knowledge bases

Features:

Easy Format: HelpJuice has an easy setup. You can have a knowledge base running actively within a few minutes.
Authoritative Editor: The content editor facilitates several beneficial functions – controlling access and collaboration.
Third-Party Incorporations: It supports Zendesk, SalesForce, Slack, and other integrations.
Customizations and Themes: You can tailor-made the designs of your knowledge base utilizing pre-made themes.
Frequently Asked Questions
What are the major types of knowledge management systems?

There are three main types of knowledge management systems that aid you in business knowledge sharing and managing. They are knowledge work systems, intelligent techniques, and enterprise wide knowledge management systems.

How is knowledge management used in organizations?

Knowledge management is used by organizations to boost the proficiency of decision-making ability. Ensuring all customers and employees have access to the complete expertise held within the enterprise, a smart workforce is created who can make quick and informed decisions that assist the overall organization.
Conclusion
While these aspects of the knowledge management systems can differ, the objective is the same – inform your users so that they can efficiently use and interrelate with your services or products. Contact Monoubed to get a robust knowledge management system that can aid you to decrease customer support costs, increase customer satisfaction, and increase the ROI of your organization.