In the early days of the internet, companies could effortlessly make their online presence by developing a simple website. But today, with a myriad of websites and web apps in the market, it has become hard for start-ups to meet the high demands of innovative website trends.
Being a start-up or an entrepreneur, you ought to come up with the best web app ideas and deliver something exclusive to form your brand and upsurge its marketability.
Whether it is a mobile app idea or a web app idea, you have to deliver out-of-the-box features continuously to be on top.
In this blog, we have curated a list of some of the most lucrative web portal development ideas for startup. With thorough research and a good development team, one of these ideas for a new app will earn you a massive user base.
But before moving forward on the simple project web app ideas, let's understand what a web application is.
A Brief Glance At Web Applications
A web application is application software that functions on a web server, dissimilar to computer-oriented software programs that are collected locally on the Operating System (OS) of any device.
Web applications are retrieved by the users through a browser having a vigorous internet connection.Such applications are programmed by utilizing a client-server model arrangement – the users are provided with the services by an off-site server that is presented by a third-party.
Instances of widely-used web applications comprise online auctions, web-mail, online banking, and online retail sales.
What are the advantages of using a web application?
Web applications can run on multiple platforms irrespective of device or OS as long as the browser is well-suited.
Compared to software development, in web development all the users have access to the same version of the app, eradicating any compatibility concerns.
It is not installed on the hard drive, consequently removing space restrictions.
It lessens software piracy in subscription-based apps like SaaS.
It decreases the costs for both end-users and businesses as there are less maintenance and support required.
Before we discuss project ideas for web development, let's look at the different kinds of web apps and which one you should prefer.
What are the Different Types of Web Application?
Web application software is a collection of functions and programs which is intended and formed to accomplish specific tasks.
From Web app vs Website, we can ascertain that websites are mainly informal and the users can normally access a set of documents through a browser.
On the other hand, web application is formed for the end-users as these applications straight away interact with them and execute the actions and tasks as directed.
Good web app ideas contain a website that caters to the users requirements and does explicit functions for its users. Web apps permit users to administer documents and materials with the capability to function on a browser.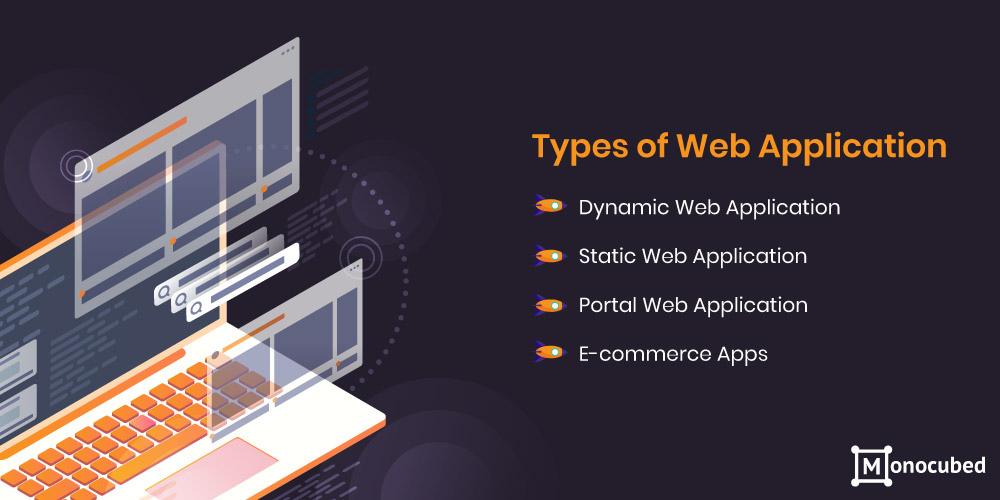 Below listed are some different types of web application:
Dynamic Web Application

This style of web app is technically more multifarious as compared to static applications.

In the event of dynamic web applications, they are exactly in place to retain forums or databases with a continuous ability to change or update the accessible information. This is ordinarily a result of a Content Management System (CMS).

Static Web Application

This is the most elementary kind of web application and has minimal content or room for any movement.These kind of web applications can be termed as a 'simple web app'.

Static web apps are usually formed using HTML and CSS and can manage animated content like videos and GIFS.

Altering the content of static web applications can be complicated, and to create any thoughtful changes, you may have the requirement to download HTML code, as well as alter and upload it to the server.

Additionally, if the app was not created by yourself or your company, you have to seek out the person who planned and generated the static web app.

Portal Web Application

A portal web app refers to an application in which many dissimilar categories or sections are accessible through a home page. This kind of page can range from chats, emails, browser pages, forums, and so on.

E-commerce apps

If you have bought anything online, you must be acquainted with one of the most usual web applications, and that is eCommerce.

If a web app is in the form of a shop or store, this kind of development is categorized as eCommerce.

The development procedure of eCommerce web solutions is more multifarious than the rest, as it needs a method to gather electronic payments. Frameworks like Ruby on Rails and CodeIgniter are best for eCommerce web apps.
Have a Web App Idea?
Confused where to start? Don't know how much it will cost? Wondering if it will be successful? We've got you covered. Let's talk.
16 Best Web App Ideas to Consider for Your Start-up in 2022
There may be too many questions popping up in your mind when you are looking for simple project ideas for web apps.
Yes, we have been over these patterns of questions.So, in order to be a little help, we have presented below the 16 best new web app ideas that you can consider in 2022.
CRM for Start-Ups And Small Businesses

CRM is primarily a platform that empowers you to manage relationships with customers and that too with complete ease.

Currently, there are some prevalent CRM software accessible in the market like Salesforce and Hubspot. However, they are focused on targeting medium and large scale companies.

If you are not certain about this notion, then you can produce an MVP form of CRM web application for startups and issue it in a week.

The foremost strategy here must be to be easy-to-use and simple. Furthermore, startups are very eventful. Henceforth you can suffice their ever-changing and ever-growing busifness effortlessly with dedicated web app ideas like CRM.

The CEO Dashboard Web App

In the present age of technology, we have enormous data. Nevertheless, the issue is not how to access the data, but how to understand it. The dashboard permits you to examine massive data in a distinct place.

Each CEO who belongs to the B2B SaaS field constantly looks at the newest marketing strategies and product metrics. For this job, they always ask their team associates to yield reports and then make an examination.

With the assistance of the CEO Dashboard app, CEOs can inspect several things on their own and their team can pay attention to other crucial tasks.

By building a scalable, reliable, and feature-rich Dashboard app, you can resolve matters of several people on the sphere together having all data consolidated in a single place. There can also be automatic visual representation of the data like graphs and charts.

Employee Orientation Web Software

Employee Orientation is an indispensable procedure for every business. It is the chief experience of any new employee in any company.

Owing to a mediocre orientation process, the HR of the organization cannot manage certain crucial things like providing essential materials to the new employee or finding documents.

If the employee is operating remotely, there is much concern confronted by HR. Additionally, there is not a procedure accessible to confirm whether these new employees have been through complete documentation or not.

By building an employee orientation software, the induction of an employee becomes easy and fast for HR team.

Utilizing an Employee Orientation web application, HR can do specific things impeccably:

Offer the needed training resources for the new employees.
Accumulate exhaustive orientation documentation.
Describe the orientation procedure without any interruption.

This is one of the most popular web app ideas, as there is a limitation of such technology right now. If you are planning to go into the web app business, Employee orientation web application development is a profitable investment opportunity.

Online Classroom Web App

Online learning platforms is one of the most trending web app ideas today. Due to the pandemic, most schools and educational institutions have had to shift online and facilitate e-learning.

Online teaching sources are going to remain popular even after the pandemic is over, as it is simple, reduces infrastructure costs and requires nothing more than a internet connection and a smart device.

An online teaching web platform provides students with several alternatives to learning and there is no constraint of topics.One of the best instances of an online coaching website is Udemy.

In online education web applications, a skilled professor or teacher can post their recorded or live videos of a specific topic and the learner can explore these videos, check the list, and review.

After analyzing all these things, they can finally purchase the course of their choice.

You can also permit the third party to demonstrate their advertisements and charge them accordingly. In this manner, they can monetize their online coaching web applications and you have a steady two-source of income from your web application idea.

Docket Management Web App

Law corporations have to administer an extensive collection of documents.

Storing all the documents on One Drive, Dropbox, and Google Drive is not always preferred as these documents are private and are in persistent requirement of advanced security.Henceforth, they have to save all the required things on their server.

To resolve their problems, you can develop a customized docket management web app for law corporations that is feature-rich, interactive, and user-friendly.

Some of the popular Docket management systems across the globe are ProLaw, DocketTrak, TMCloud, and FlexTrac.

Crime Alert Web App

It is sad to say that crime does not go away very easily. However, by utilizing the crime alert web application, we can make probable efforts to trace it as rapidly as possible.

This web app can be similar to available social network applications. But here, instead of posting social updates, the users can share the crimes occurring in their area.

By informing about local crimes happening around, other people in the neighborhood can become careful.

You can also monetize this app on prominent platforms in the province. At present, there are only two contenders in the marketplace, namely Nextdoor and Citizen.

Therefore, this is an outstanding opportunity to issue a crime alert web app. By introducing a fully featured web app, you can save the lives of several users in your state.

Online Dating Web Application

Dating has turned out to be popular in current times with people engaging through several social networking platforms. Evolving technologies and applications have given an active enhancement to this tendency.

The mobile application market is extremely competitive as various dating apps like Tinder are utilized by numerous users.

In such a situation, you can come up with an web application idea that permits people to search for other people through a mode. A dating web app can be considered as the best solution in this event.

It exercises the algorithms to match explicit characteristics as well as behaviours, hobbies, likes and dislikes.

Besides, it can facilitate a steady collection of paying customers, if you have a supportive and well-planned marketing campaign to back it up. Thus dating apps are one of the innovative new app ideas.

Workflow Management Web Application

The companies that are into construction require to administer a great deal of information associated with the properties.

They ought to take sanctions of dissimilar applications from the diverse government organizations and track the status of the applications to accelerate the approval procedure.

With a customized workflow management web app, you can raise an appeal for proposals, produce invoices, administer tasks, and get timely updates about the application approval.

Facilitating customers and employees with real-time information, the app permits them to take the required actions to get the approval of any application and track the movement of their application in that order.

Increase Your Efficiency With Custom Web Solutions

With custom-built web solutions, you can better manage your workflow and increase your productivity and efficiency. Just like our custom project management software that spiked productivity by 33% for our client.

Invoicing Web App

Invoices are the basic necessity of all businesses. The law binds all enterprises to generate invoices for every sale they make.

But creating invoices is a time-intensive task, and businesses have to spend more time and effort managing multiple invoices.

Thus, an invoicing web app has a wide range of potential users, and it solves a genuine problem.

You can include a free invoice generator in the MVP. And introduce features like estimates, purchase orders, credit memos, and payment receipts later on.

It is a lucrative web application idea because it has a wider audience and most businesses will be willing to pay for a professional invoicing software.

YouTube Radio

YouTube has greatly influenced a huge number of users of every age. Individuals love to educate and entertain themselves by viewing diverse content on YouTube.

You can avail the advantage of this opportunity by building a web app that has the best content accessible on the platform and displays it for the viewers.

Furthermore, the demand for YouTube Radio in the previous two years has been perpetual, eventually resulting in the launching of YouTube Music web and mobile application.

YouTube is the second most visited site after Google and the second biggest online video-sharing platform. Henceforth, you can build a radio web app and make it efficacious.

It is an inventive idea for a web application that can be accomplished with a very small investment. Utilizing this web app, you do not have to make an effort to produce a playlist.You just can start the radio and enjoy listening to it.

Customizable Payment Gateway

This is a pretty fascinating web app notion where businesses can produce a personalized payment gateway and incorporate it into their web application or website.

Generally, e Commerce website is enthusiastic to employ a customized payment gateway for their app.

This application permits organizations to remove or add functionality and fields from the payment gateway form created on the custom necessities of retailers or merchants.

This web-based form steadily gathers payment information of various shoppers and readdress the data to the definite page to view the transaction particulars or carry on shopping.

It sanctions the customers to do payments by using diverse payment choices such as debit cards, credit cards, and electronic check. A custom payment gateway is one of the profitable ideas for a website project.

A Social Platform for Hobbyists

Nowadays, people have a busy routine with hectic work diaries.In this condition, they rarely find adequate time for their hobbies.

Nevertheless, in this tech-era, you can aid people to fulfil their yearnings by developing a social platform app.

A web application that can connect people with others who relish similar things is needed. It can enable the users to chat with individuals, read news and blogs, exchange information, or perhaps write one of their own.

In this circumstance, you can build an app that will fulfil their necessities.You cannot expect that your users will pay for this app.

Still, you can serve them with advertisements, which will deliver possibly valuable data for the advertisers and also earn you income from the web app.

Automated Customer Service Chatbots

Automation has substituted a huge part of client service by chat.It sanctions the organizations to be accessible to the customers and reply to their inquiries 24*7.

This is a widely adopted and prevalent web startup idea. Nevertheless, you can invent chatbots that leverage artificial intelligence and machine learning libraries.

Also, these libraries are given to prospective clients who develop a support application to respond to the most asked customer queries.It is one of the popular web app ideas for startups.

Deal and Coupon Website

eCommerce websites or online businesses are trending and are going to amplify in near future.To avail more customers, the business people are offering coupons and deals on some special days or festivals.

Some individuals are still not receiving the rewards of coupons and deals because they do not find coupons certainly. To assist them, you can introduce a web application for delivering coupons and deals.

You can specify the name of these companies or industries offering deals with every detail worth mentioning.

You can straight away be paid from these businesses whose details you are presenting on your website or charge additional for exhibiting them in the top recommendation.

Book Review Web App

Bookworm searches for not only the record-breaking books but they also refer to reviews before making an actual purchase. Therefore, they look for a trustworthy platform that presents them with trusted ratings by honest readers.

A few companies acknowledged this requirement of such book lovers. They built a web app with active UI and progressive functionality and features. One of the most popular book review web apps is Goodreads.

What makes a book review web app one of the hottest web app ideas?

These web apps permit readers to form a database of books as well as share reviews about the books they have read. Utilizing the app, readers can:

Enter the books on their own
Enter the books they require to buy
Post reviews about the books

This is surely one of the top web app project ideas that permit you to reach the desired targeted market and get involved with them efficiently.

Professional Service Providing Web App

If you possess a huge network, then you can start a multi-service provider web application. In this type of platform, you can offer manifold services to the users by teaming up with various service providers.

Urban Clap is the predominant web app which is offering several diverse services on a single platform. Similar types of websites can be presented for yielding more profit.

By starting an app business like this, you can get countless service providers connected to those who need it easily in exchange for a certain amount of charge from the holders.
Want to Build A Custom Web App?
Get your idea validated by professionals. Discuss unique features to add. Know the cost of development. Know the timeframe.
How to Find Effective Web App Ideas?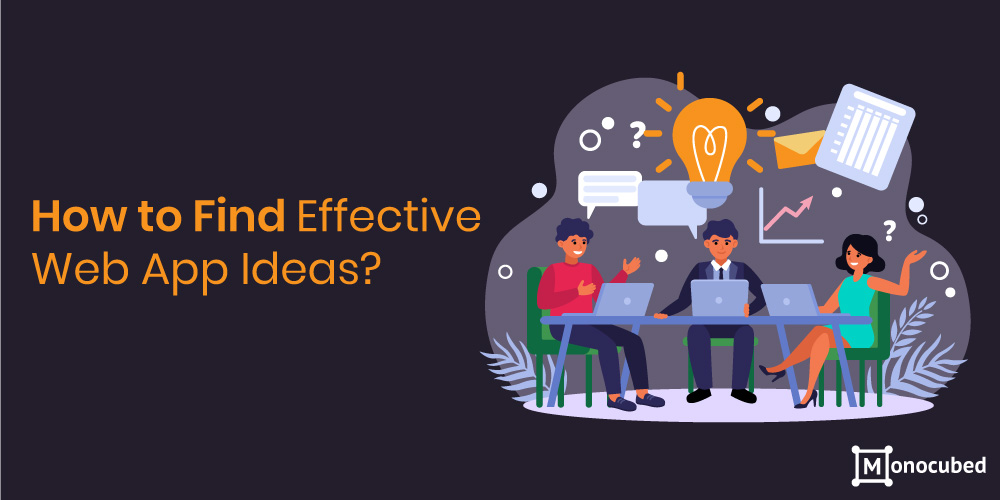 It may seem quite perplexing to remain competitive by introducing an exclusive idea when there is high competition. Additionally, it is tough to search the untouched one when the online medium has adequate web app development ideas.
It seems tough to find the best ideas for web application development, but it is not impossible.
All you require to do is analyze your diverse business facets.This will assist you in recognize the gaps and seal them by initiating the correct web solution.
We have listed some interesting web app ideas to make money above. Now let's look at how to convert these ideas into a profitable web app.
Get The Right Technology Partner

You can connect with a trustworthy web app development company that has a team of skilled and experienced web app developer. You may share and discuss your ideas to develop an app with them through a brainstorming session.

They may empower you with a comprehensive team that contains business analysts, project managers, web developers, quality analysts, and designers.

In this way, the tech partner can help you take your best web application ideas to a dynamic digital solution.

We offer custom web app development services to startups and businesses like you.

Know your users through Social Media

Social Media gives you thoughtful insights into the prevailing matters of customers and web applications that can address the demands of the customers.

It provides you with a more genuine viewpoint of customers' challenges that aid you develop more operative web solutions.

You can also keep a check on what people are commenting on a certain social media post and which posts they like or dislike. It assists you to get improved perceptibility about the pain points of the consumers.

Thorough Research and Study

If you need to discover inventive web project ideas to create an app, then you may require to perform comprehensive research and analysis in the existing market.

You must keep a check on your customers' expectations and your opponents' deliverables to them. Recognize the gap and develop an app that can fill the gap and satiates the customers' requirements.

Analyze Various Domains

You can analyze the web applications of various other domains that relate to your business' nature. Recognize the best characteristics and functionality from the companies of other industries that you feel are relevant to your business.

You can also check out if any of your competitors have made use of these traits. If they have not, then you can take the benefit of being a primary adopter of such exclusive characteristics in your domain by including them.
Frequently Asked Questions
What are web applications used for?

A web app is a computer program that permits you to log in to an address to submit and recover data to or from databases over the internet. The web applications allow manifold users to have access to the same version of an app. Such apps render improved efficiency, high levels of security, 24*7 accessibility, and easy installation and maintenance.

What is the main difference between web apps and websites?

A website is an assembly of universally accessible, interwoven web pages which possess a single domain name. Whereas, a web app is a program or software which is accessible utilizing a web browser. In a web app, the users can read the page content and influence the restricted data. Conversely, a website renders text and visual content that the users can view and read, but cannot affect its functioning.

What is a web app?

A web application is an app software that operates on a server, contrasting to computer-oriented software programs that are retained locally on the Operating System of the device. Web apps are retrieved by the users through a browser with an active internet connection.
Conclusion
There are numerous innovative ideas for web development for your type of business that can be efficacious. You can produce potential web app ideas by discovering, developing, and implementing them to stand apart from the crowd.
Besides being competitive, it can help you supply value to your domain and target customers by resolving issues and filling the loopholes.
Once you are done with the brainstorming of idea generation, you may need to connect with reliable web development service providers that can assist you in building the exact web applications you imagined.
Contact Monocubed and get a dedicated team that will develop a robust start-up web application that will fulfill all your business requirements.