When you decide to develop any kind of web application, the first thing you will do is start looking for the most successful web developers. Definitely, you will consider the developers who are fast, adaptive, and reliable. They use their own choice of web development framework and development tools best practices that make their work faster, efficient, and convenient to get the work done.
There are lots of things you and the developer have to take into consideration while choosing any programming language and at the same time you need to keep an eye on the latest happenings in the technology world. In this article, we are going to discuss the basic elements of choosing frameworks for having successful web app development.
Web frameworks have changed the world of programming and become significantly important in each web app development process. A web framework simply automates the process of the most insignificant part of an application that contains coding. Let's understand what are web frameworks and types of different web frameworks.
What are Web Development Frameworks?
A web development framework or web application framework is a software tool that is designed to build and run web applications such as web services, web sources, and web APIs. As a result, developers don't have to write code on their own and waste their time searching for possible computation errors and bugs.
In the old era of web development, developers used to have all the applications that were hand-coded and it can be changed or edited by the developer only. Web frameworks are introduced as a simple solution to this problem. Web-specific languages appeared when all the troubles occurred when developers struggled to maintain the appearance of general performance and find it difficult to change an applications' structure once the code is written.
Types of Web Development Frameworks
Now there are various types of web frameworks available in the market for both static and dynamic web pages. Depending on your requirements you can choose which type of framework is suitable for your web app development. There are two types of most popular web development framework –
Server-side (backend)
Client-side (frontend)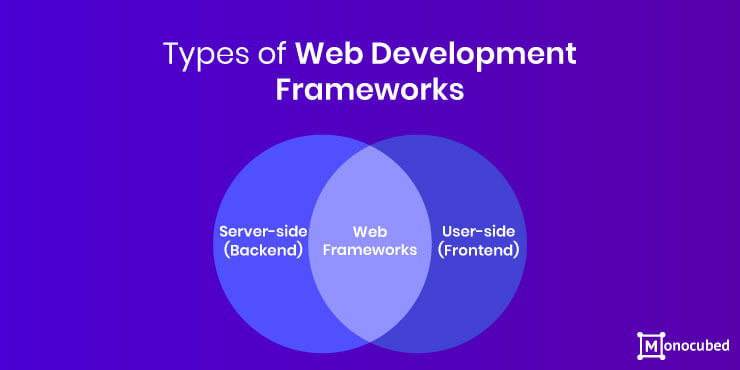 Basically, the inside stuff of the application is the work of the backend framework, and what a user sees when they open the application is called front-end which is the external part of a web application. Let's check out both types of frameworks in detail.
Server-side (backend) Frameworks
With the server-side framework's rules and architecture, developers can create simple pages, landings, and different types of forms. On the other hand, to develop a web application with an interactive interface, you will require a wider functionality. Such web frameworks can also shape the output results and help you improve the security against web attacks. All types of elements can definitely help you and developers simplify the development process. Server-side frameworks work mostly individually but play an important role in application development. Here are the top server-side (backend) frameworks and the languages they support:
Client-side (frontend) Frameworks
Contrasting to the backend, client-side frameworks have no connection with business logic. It only works inside the browser. Thus, it gives an opportunity to improve and implement new user interfaces with ease. With such frontend web application frameworks, developers can create various animated features for single-page applications. Each client-side (frontend) framework has different functions and uses. Here are some of the popular client-side development frameworks:
Backbone+Marionette
Angular
Ember.js
Vue.js
Now you must be worried about which one of the above is the most suitable for your needs. Apart from this you must be also thinking about some other questions such as –
How will you choose one out of so many options?
Which one will be the quickest to develop?
Which one will be able to fulfill your long term goals?
Are there any additional costs associated?
8 Things to Check Before Choosing a Web Framework
Well, there are many developers who are wondering about the same questions listed above. Unfortunately, there are no one-stop solutions for all the questions. Choosing the right frameworks for web development platforms will depend on many different factors that you need to consider before moving ahead and investing your time and efforts.

To save your little bit of time we are going to discuss 8 things that you need to consider before choosing an ideal web framework for your upcoming project.
1. How old is the development framework?
Looking for the time-frame of the framework gives you many ideas about the popularity of the framework. A newer framework may be around for a while and if it ends up being unsuccessful it will be problematic for you. That does not mean that it can't be a success but this question is worth looking for the consideration because it will be harder to find support whenever you will have issues and there may be some elements that might not be tested yet successfully.
Equally, make sure the framework you choose has not been around so long that it is inactive or not popular in the market. This little step will help you avoid the situation when you finish development after a year, in case the framework stops providing updates and security patches, you know the resolution to it. In such a case you need to find a middle ground. Look for a framework that has been around for a long time and tested enough to give you support for any bugs, but at the same time not so old that you get concerned about its life.
2. Is it open-source?
Choosing an open-source web framework means when there is no "formal" support, there are other people who will help you maintain the code. More people will be there to maintain the code so there are fewer chances of becoming the framework inactive because there will be enough people using it. Just make sure you consider the speed of contributions to the framework equally. If the open source frameworks do not have many recent performances or updates, the framework is in the danger of being inactive.
3. Consideration of Licensing
Checking the licensing element is an important factor in choosing a web framework. Is the framework really free to use? If it is not, is the licensing cost worth investing in? Is it valuable to spend time and effort? Apart from this, you should also consider if you need any other development tools that you will need to use with the framework and if there are any additional charges associated with that.
For example, if you choose .NET, the framework is free but if you want to use the express version of it (Visual Studio .NET), it will add cost to your development. Sometimes, few frameworks and development tools also charge you for support.
4. Documentation Availability
When you are checking for the document availability you should find a popular framework so that you find good documentation available for your support. Good documentation for support can save you a lot of development time both in the setup time and when you got into trouble during the development. Make sure you spend some time checking such documents and the details they have provided.
5. Ease of Start-up and Learning Curve
Before you choose any framework you should consider the ease of start-up for a framework and the learning curve of it. Maybe you have chosen the newly introduced framework that seems really cool that you are hearing about, but there is no documentation for starting up the project then it is not worth it. Does it provide learning material? Is it different from the other frameworks? Is it similar to something that you have already used before? The cost of time and effort you take depends on the factors you consider before choosing any framework.
6. Unit Testing
Unit testing is one of the major parts of the development cycle. It can save your lot of time by catching issues before you notice the bugs causing problems. If the framework has built-in unit testing, this can automate lots of time. You should take time to research how easy it is to develop unit tests if you think you should take advantage of built-in unit testing.
7. Security Features
Many business owners ignore the security features assuming that the frameworks come with all the security elements. But, here the surprise is not all the frameworks provide security features, you have to check throughout features before making any decision. You can also search for the feedback of other users before you blindly trust any framework.
8. Future maintenance and support
When you are choosing any kind of framework, you choose it thinking over it is for an entire lifetime. Generally, framework providers give maintenance support such as fixing existing issues, preventative maintenance, and/or optimizing code is usually 50-80%. This is a huge amount of support they give compared to the preliminary web app development. The better documentation you get the less maintenance and support you will require. Still, you will require project maintenance for years and years once the initial process is complete.
As we have discussed, the frameworks act as an important element in developing web applications and there are some of the most popular web frameworks that you can choose for your upcoming project. Here is the list of 10 popular web frameworks for web app development in 2020 that you can consider. No doubt the selection of the best framework for the website must be based on the characteristics of a specific project.
Conclusion
For every business and every people thinking about web app development may hold different influences when it comes to choosing the best framework. There are many other things that you should consider before selecting a web development framework to use, but we have covered all the major points that you should think about before making any major decisions.
Just take little time to research before you make your decision so that you can save the extra cost and the time you invest in the development process. If you are unsure where to start or are stuck in the middle process, a professional web app development company like Monocubed can help you throughout the development process.
Frequently Asked Questions
1. What are frameworks in web app development?
The framework for web app development is a software or tool that is designed to help the development process of web applications such as web services, web resources, and web APIs. Developers use web frameworks to provide a convenient way to develop and deploy web applications on the internet.
2. What are the types of web development framework?
There are two types of frameworks available: one is server-side (backend) and another is client-side (frontend). Backend frameworks function in an inside part of the application and frontend frameworks function as an external part of the web application majorly what users view when they open an application.
3. Which framework is best for web design?
Every framework has its uniqueness that is why developers are using it. In this situation, telling which is the best framework for websites among various frameworks is very difficult. Defining the best web development framework completely depends on your business requirement and the project needs.
4. What is the easiest web framework?
All the most popular framework for web development has its own pros and cons and each of them provides unique features. It depends on the web developers, which is the best framework for web development and which is the easiest framework for their web development process.