User experience is the topmost priority for every business developing a website. All the amazing features and functionalities you have coded have to be accessible to your users. Your website has to load smoothly, be intuitive to use, and provide a seamless user experience.
This requires using frontend frameworks that streamline the development of interactive, user-centric websites. With our experience as a web development company, we have gathered the best front end frameworks for web app development. Using these frameworks you can build modern, user-driven websites and web applications.
Some of the most successful web apps like Facebook, Netflix, and Instagram use these popular frontend frameworks.Read on to find out which of the top frontend frameworks of 2022 is suitable for your project.
What are Front end Frameworks?
Front-end web development is the process of transforming the data to a graphical interface, through the usage of CSS, HTML, and JavaScript so that the users can observe and network with that data.
While popular backend frameworks like Django and RoR help in developing sound logic and functionality, frontend frameworks like Vue and React help in developing user accessibility.
There are numerous platforms and development tools like Joomla, WordPress, and Drupal that can be utilized to build the frontend of the website.Understanding which tools are the best fit for precise tasks marks the dissimilarity between a well-designed scalable site and developing a hacked site.
The front end developers consider these points while employing accessible techniques and tools to reach the end.With ongoing development for mobile devices, such as tablets and smartphones, the designers require that the site functions correctly in the browsers on all devices.
This can be quickly done by producing a receptive web design utilizing style sheets in CSS.Performance goals are predominantly concerned with the render time, deploying the CSS, HTML, and JavaScript to guarantee that the website opens up rapidly.
Front-end development, also denoted as 'CSS frameworks,' are packages comprising pre-written, homogenous code in folders and files.They offer you a ground to develop while still permitting flexibility with the final design.
Frontend Components
Characteristically, frontend frameworks comprehend the following components:
The grid makes it easy to establish the design features of your site
Well-defined font styles that differ based on its purpose (dissimilar typography for headings as opposed to paragraphs)
Pre-built site components like buttons, navigation bars, and side panels.
Benefits of Front end Development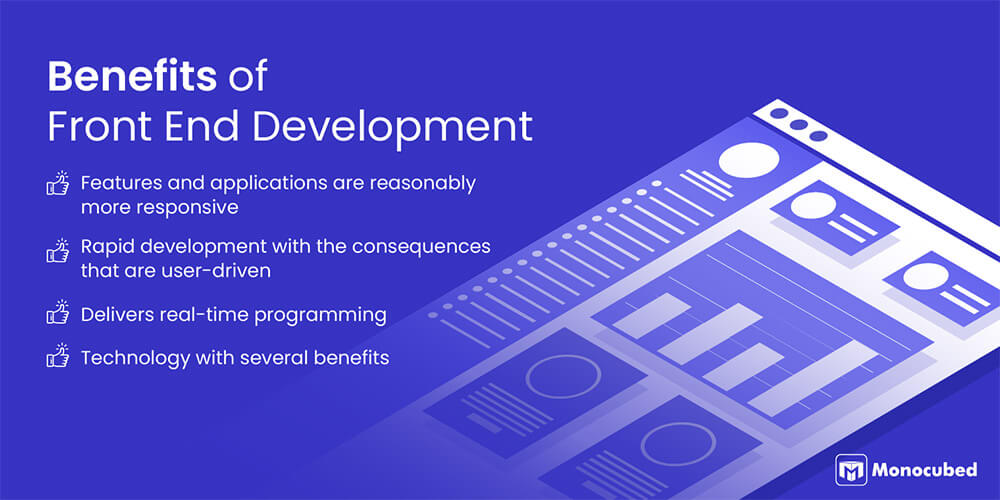 The primary uses of front end frameworks are that they create interactive tools and develop responsive websites. It builds consistent products for traffic gains and upgrades the look and feel of mobile and web applications.
Besides that, the following are the advantages of employing popular UI frameworks:
Features and applications are reasonably more responsive

The latest front-end framework empowers web developers to develop apps with fast-reacting features. They are flexible and quick in their assembly, which permits the app to react quickly with a tap and to function in that adherence.

Rapid development with the consequences that are user-driven

With the assistance of the current framework, it is probable to fasten the speed of the development of numerous elements of the site. Likewise, it curtails the real-time needed in the development procedure.

For example, the frontend portion requires going simultaneously with the backend development of the app, and if the latter is all set to function, then frontend space will also take a giant bloom in a few days.

Delivers real-time programming

The existing front end frameworks ones that are fairly benefitted by the front-end website development are its developers. From detecting all the alterations in the browser to not being afraid of losing the position of the web application along with the recurrence of loading the web browser pages, a web developer can attain everything.

Technology with several benefits

One of the significant benefits of a front-end web development framework is that it is supported by technology that is easy to scale, learn, and use.

These technologies have gone through countless detailed repetitions, and subsequently, they deliver user-friendly experiences in the layer construction. Not only for the commercial houses, but it is also easy for the developers to learn and follow.

Secured

Amongst several advantages, the coding of front-end web development is relatively secured.This is one of the prime benefits in the phase where cyber crawlers are waiting for a loophole to attack your digital regime.With this development, you are safeguarded of a smoother and secure site working on the web browser.
Have a Web App Idea?
Turn your idea into a complete web solution with our experienced developers. Talk to our consultants and validate your idea for free.

List of 10 Best Front end Frameworks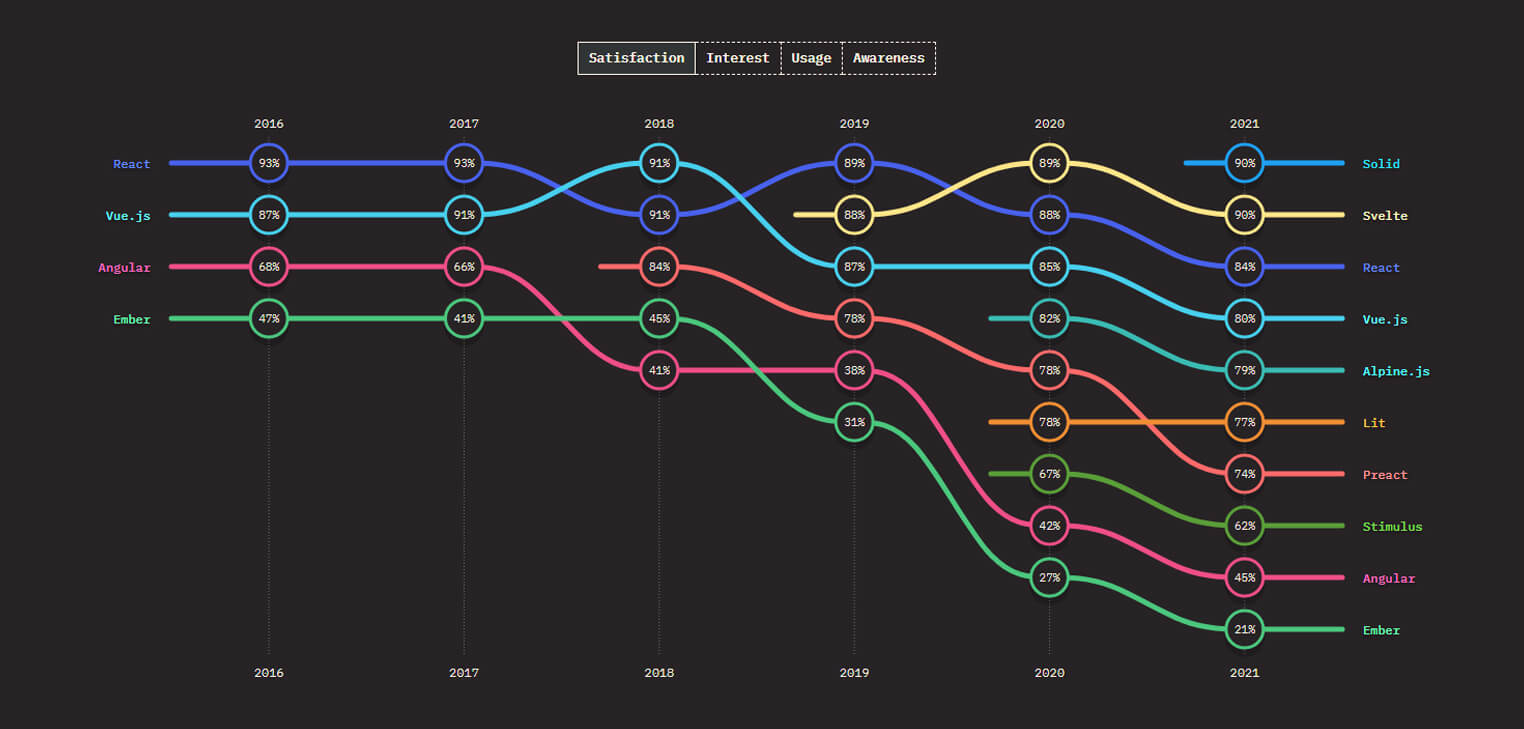 According to State of JS 2021, React and Svelte are the leading frameworks for frontend developers, as seen in the image above. Our team of experts has curated this list of the most useful web UI libraries for developing a clean and attractive UI. We also list pros and cons of each framework to make your choice easier.
The best frontend frameworks of 2022 are –
Logo
GitHub Stars
GitHub Link
Companies Uses
192K
React Framework

Dropbox
Instagram
Airbnb
Discord
Walmart
Pinterest

83k
Angular Framework

Microsoft Office
Deutsche Bank
Mixer
Santander
Gmail
Forbes

198k
Vue.js Framework

Nintendo
Passionate People
FindlayWebTech
Adobe
BridgeU
Gitlab

22.2k
Ember.js

Twitch
LinkedIn
Accenture
Square
DigitalOcean
Groupon

56.5k
jQuery

JPMorgan Chase
QTC Management
Wells Fargo
Edward Jones
The Walt Disney

50.1k
Semantic-UI Framework

Snapchat
Accenture
Kmong
Modanisa
Digital Services
Aumni

27.9k
Backbone.js

Racepoint Global
McCorkell & Associates Pty. Limited
AMC Networks Inc
University of California

32.5k
Preact Framework
NA
61.1k
Svelte Framework

Capital One
Snap! Raise
GoGuardian

29.3k
Foundation
Frequently Asked Questions
Which is the best frontend framework in 2022?

The most popular front-end development frameworks in 2022 are based on factors such as usage by company size and salary range, awareness, ease of use, the show of interest, and reach. Some of the top front end frameworks in 2022 are React, Vue.js, jQuery, Ember.js, Backbone.js, Semantic-UI, and Angular.

Which front end framework should I use?

Front end frameworks are the major blocks of any software development procedure. React is employed for building the user interface, chiefly when you require to build single-page apps. While Angular increases the performance of browser-based apps by dynamically modernizing the contents in much less time since it implies two-way data binding.

What are front end frameworks?

A front end framework is a platform for developing your front end. It generally comprises some way to construct your files, associate data with DOM elements, style your components and make AJAX requests.
Conclusion
Talking about the best frontend frameworks, we can ascertain that the market is epitomized by a huge variety. And what is more important, the UI developers have the probability to select from the top innovating ones.
The JavaScript UI frameworks such as Angular, Vue.js and React have attained their highest positions in the market. These frameworks are immensely supported by the community and selected for their distinctive flexibility and features.Contact Monocubed, if you want to implement the best frontend framework to have an exceptional web application development.