Websites have become a necessity for a business to grow. It is the fastest way to attract potential users and convince them of your products or services.
But creating web apps and websites can be a huge hassle at times.
So, we have gathered some of the best web development tools of 2022 you can use. These tools will assist you in all possible ways to make your web development quicker and easier.
Being a custom web development company, we use many of these tools regularly in our projects. Be it choosing the right colours for your website or handling data requests, or providing an environment to share and collaborate with other developers, one of these tools will help you.
But first, let us understand what web app development tools are and why developers need to use them.
Why Use Web Development Tools?
Web development is a continuous lifecycle involving multiple stages and iterations. From choosing a programming language, an appropriate framework, to finding a supportive webserver to host your application on, it requires a lot of work.
Web dev tools are designed to simplify and streamline the development lifecycle for web developers without compromising on performance.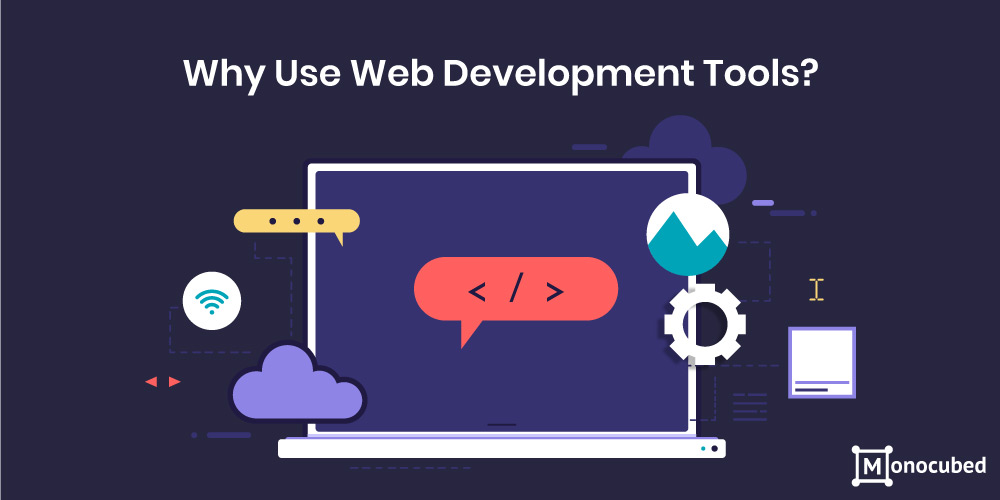 Different Types of Web Tools
There are many types of rapid web application development tools available that support and simplify a particular aspect of development.
Some of the most used tools by web developers are-
External libraries like BootStrap –
They contain pre-written code snippets and templates that can be reused and recalled in your code.
Code editors like Sublime Text–
Come inbuilt with features such as syntax highlighting, debugger, and code auto-completion that simplifies the code writing and editing process
Version control systems such as GitHub
Provides a central platform to manage and write code collaboratively.
Database systems such as MySQL
Assists you in creating, editing and maintaining a database. You can also create different queries to access databases.
Establishes a connection between the server and client browsers and processes user requests.
Automates and performs repetitive tasks in your code so you don't have to micro-manage each task.
Local Environment like Laragon
Create an environment on your PC to test and run your web apps and solutions without requiring an internet connection or investing in web hosting
Package Managers such as NPM
Helps you in downloading and installing dependencies of your frameworks and libraries in the right way.
These are just some of the many tools available for web developers. Moreover, with the evolving world of technologies, new web frameworks and tools are being developed every day.
Even the existing tools to build apps are getting exciting new updates. It is essential for your company to stay up to date with new tech and cater to ever-advancing customers.
To help you find your ideal fit-out of the expansive pool of tools for the web, we have curated a list of some of the best tools for web development, both frontend and backend.
These top web development tools are in use by thousands of developers, and we assure you, you won't regret using any of them.
10 Top Frontend Web Development Tools
Frontend development is a significant part of the web. With the massive growth in web technologies, it is no surprise that frontend web development has also grown multifold in the past years.
Frontend development focuses on the client-side development, meaning what the users view.
Front-end web development requires a technical understanding of web languages such as HTML, CSS, and JavaScript, knowledge of design principles, colour palettes and schemes, and code debugging and testing.
Do you need to use frontend tools?
Frontend web developers are responsible for designing an accessible, attractive UI-UX design for web pages and web applications. They decide the feel and looks of the website.
Tools and frontend frameworks will be of enormous help as they can automate and simplify a lot of these tasks.
Frontend tools help accelerate the process of developing a web app by providing drag and drop elements and various built-in features to create a more attractive design layout.
Frontend tools include CSS frameworks, JavaScript libraries, UI-UX designer tools, UI libraries, integrated development environment, and HTML drag-and-drop tools.
Here is a list of the top 10 tools for frontend development to help you in your next development project.
10 Top Backend Web Development Tools
People are dazzled by beautiful, easy-to-use web apps. But if the website was slow or did not fulfill its purpose, no matter how good the looks, you would attract no users.
You need the backend development to be immaculate if you want a well-functioning website.
Do you need to use backend tools?
To make a website run smoothly, you need the right backend frameworks, the proper coding environment, the perfect hosting services, and a seamless data management system.
Backend tools help manage databases, build queries and help in seamless retrieval of data when user requests it.
Session management, HTTP requests and version control, is all supported by various backend tools
We feature a list of some of the best back end development tools a web app developer needs to have in their arsenal in the next section.
Here, we come to an end of our discussion of various application and development tools in web technology with their features. Please read on for answers to some commonly asked questions.
Frequently Asked Questions
Is web development a dying career?
Not at all. In reality, the need for web development applications is growing at an exceptional rate. The field has become so vast that it is now being fragmented into multiple job profiles. So, just being a web developer won't cut it anymore. For a successful career, all you need to do is focus on one aspect of the development process.
What technologies are required to learn web development?
HTML and CSS are a must-know for web development. Along with that, you need to learn a web scripting language, be it Python, JavaScript, or PHP. Select a web framework supporting the programming language, and you are good to go!
What tools are best to use for HTML coding?
There are two kinds of HTML editors used for HTML coding- a text editor or a WYSIWYG (what you see is what you get) editor. We would recommend using WYSIWYG editors like Dreamweaver, Wix or Kite, if you are a beginner, as it does not require a lot of prior knowledge. You can use HTML syntax editors such as Sublime-Text, Atom or Notepad++ for a more customizable web browser experience.
Conclusion
Web development is a fast-growing community of dedicated developers, coders and designers. Multiple web development frameworks and tools are being developed to cater to their every need.
The web application development tools mentioned above are the best of the best. We recommend it to all developers, experienced or newbies alike.
If you prefer working with Angular, check out our blog on Top 8 AngularJS web tools.
Do drop in comments below if we missed your favourite web tool. Feel free to chat with us on Facebook or tweet to us MonocubedCanada.
Contact Monocubed for any development-related queries and get expert help from our team of qualified developers and designers.