More and more businesses, especially startups these days are adopting Ruby on Rails to build their websites but many people are still confused and have no idea what is Ruby on Rails used for. The reason is that, according to Builtwith, 515,058 live websites using Ruby on Rails and an additional 1,839,369 sites that used Ruby on Rails and this number is rapidly growing. This proves that Ruby on Rails is one of the popular web frameworks for back-end development among businesses.  
See the below graph for more clarity.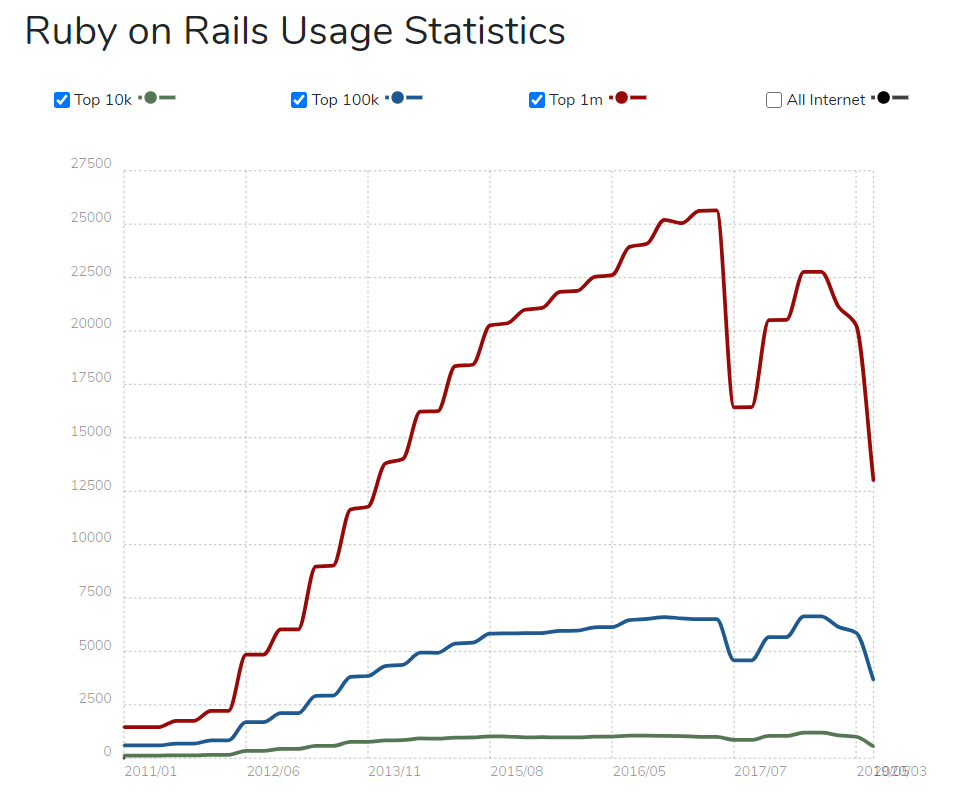 image Credit: Builtwith
Well, before we get started, let's understand some basics of Ruby on Rails and why it is popular among the businesses.
What is Ruby on Rails?
Ruby on Rails (RoR) is an open-source framework that was founded in 2003 by David Heinemeier Hansson aka DHH. It is written with the Ruby programming language and developed "for programmers and coders happiness". On the other hand, Rails is a web application that works with Ruby and enables developers to develop efficient websites. RoR is not very different from the ton of other languages but the unique quality of this language is that it is great fun and super easy to code in.
So basically, Ruby on Rails is very flexible and easy to learn the language that allows developers and coders to spend more time on increasing their programming basics and elements. This framework helps RoR development companies rewrite every single portion of source code in the development of web applications and help them reduce the time they spend on tasks. This framework considerably makes the process simple for the website and application development by taking common repetitive tasks off the developers' shoulders, such as the creation of forms, menus, and tables. With RoR development don't have to build a new website or web application from scratch, because they can use out-of-the-box solutions for their repetitive tasks. Now let's talk about what is Ruby on Rails used for and why it is in demand and brings popularity among real-life applications.
What is Ruby on Rails used for?
Now that we know about what is Ruby on Rails, the next thing you might want to know about what RoR is used for and what kind of businesses should use it. Ruby on Rails is a versatile tool that can be used for a variety of projects from various spheres to develop various types of applications.
eCommerce application development
The most stunning example of using Ruby on Rails is eCommerce, where you can use this web framework as it offers a wide range of tools that help businesses grow. Basically, this framework is a great choice for an eCommerce project nowadays. RoR is good for building online stores well covered by multiple payment-related gems.
Social media applications/website
There are many social media apps which are using Ruby on Rails framework that scale up social media platform and the business needs. Build large-scale projects using Ruby on Rails by developing a social networking real-world application or website. It also allows you to increase a large project even with a small number of developers.
FinTech
Ruby on Rails helps you eliminate the most immense programming problems of banking, insurance, transactions, and payment services. It helps to deliver a complex FinTech project quickly because of fast prototyping and building complex FinTech apps in the most cost-effective way. RoR is stable, secure, and supported by a thriving community that is the reason FinTech can trust this framework.
Live-streaming apps
Live streaming service is one of the fast-growing services in current mainstream development. Ruby on Rails enhances the live streaming web and mobile apps with full potential. It will help you build applications that are aimed at increasing the variety of their customers' leisure and make their lives as comfortable as possible. Basically, Ruby on Rails has the full potential for developing the most popular live-stream services.
News, trading and data analytics platforms
If you are into the news, trading, and data analytics, and going to start a new project, RoR is the best solution for all of these industries. It offers a wide range of highly professional and reliable features for developing all kinds of web apps such as analytics, data services for news, trading, and data analysis which is its core element for generating revenue.
You may also like: An Undeniable Battle: Ruby on Rails vs JavaScript
Real-life Examples of Projects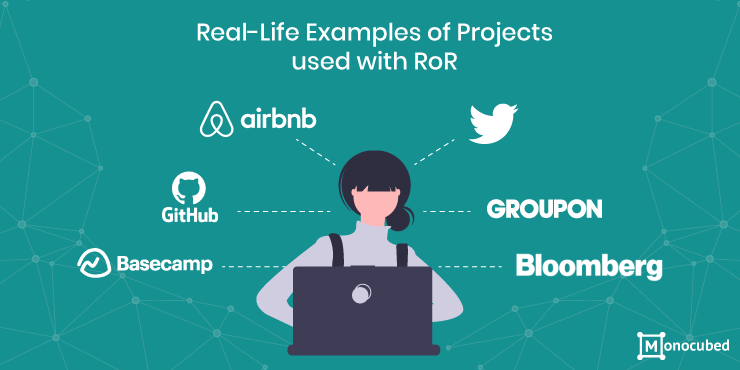 Well, RoR is genuinely a cross-industry framework that can help you build web app development for almost every industry. As we have mentioned earlier that Ruby on Rails is used for many industries, and there are many Ruby on Rails websites examples, it is proved that it got support from world giants and innovative start-ups all over the world, and the numbers are increasing day by day. Let's go in detail and see what big companies use Ruby on Rails for.
Basecamp
Basecamp is considered to be the #1 project development based on Ruby on Rails and one of the most important projects in the history of RoR. There is a direct connection between Basecamp and RoR, as Rails was invented in 2003 by David Heinemeier, a partner at Basecamp.
Github
Github is one of the most popular projects developed was built entirely with the Ruby on Rails framework. In simple words, it is a version control system. Each and every software needs time-to-time maintenance and updates which help them modify the source code each time. Similarly, Github finds RoR easy to stock up old data and codes and store them in a central database or repository. RoR stores updates and new developments that the developers make during the project and ensure the efficient development of the project.
Airbnb
Everyone knows that Airbnb is one of the best choices for cheap accommodations and has more than 160 million users and has bookings in more than 70,000 cities all over the world. But very few people know that this eCommerce website is based on RoR in the core of its system. Airbnb hired Rails developers to upgrade their transaction process as they deal with millions of dollars each day. Payment gateways are important for any eCommerce website because that is what builds the trust factor with its clients. In this respect, Rails is highly dependable and easy to code, thus ensuring Airbnb, a significant thrust in securing their gateway.
Twitter
Twitter a well-known social media app with a net worth of $10 billion was initially built with Ruby on Rails. Twitter represents one of the finest and most well-organized social media platforms with the help of RoR. Such an association clearly represents the reliability of Rails, and if you are thinking of having a similar project then you should opt for Ruby on Rails development for your next project.
Groupon
Groupon is one of the largest online coupon provider and widely popular among the people. Currently, their total eCommerce offerings are more than $15 Billion and it is growing day by day. It is the perfect example of why you should hire Ruby on Rails developer for carving out your online venture.
Bloomberg
If you are from the financial background or a currency trader, you must know about Bloomberg which is an online trading platform that allows investors to make currency transactions, identify profitable openings, and make sure attractive profits to its users. Bloomberg used Rails as its core framework, which not only defines its database but also the front end of the new version of the software. It is also one of the largest platforms that are using Ruby on Rails.
Business Benefits of Using Ruby on Rails
As we discussed earlier, Ruby is the programming code that is embedded in a scalable, secure, and robust development tool known as Rails. We can say that Ruby on Rails can be leveraged to bring excellent outcomes for the advancement of the web apps and websites of the various industries and there are lots of examples of Ruby on Rails. This seems like a consistent framework to offer the necessary boost to most businesses out there. Here are some significant benefits of using RoR for your next project.
Open-Source
RoR as an open-source platform helps you out decrease the development budget, and with that saved money you can fulfill the other aspects of your business. The RoR framework is an ideal open-source platform that anyone can download and use to develop it without paying for any licenses, not like other programming languages frameworks, which comes with expensive licenses. Not only this, Ruby on Rails runs successfully on Linux that is also open-source.
Faster Development
Everyone handing business understands that getting their project done and launching it into the market as fast as possible is very important. The sooner your web application development is live; the improved outcome will be there for your business. When you use RoR as your development framework, it increases your development speed up to 25-50% faster compared to other languages.
This framework comes with a lot of plugins and modules so that developers do not have to write endless code and avoid writing unnecessary code. Moreover, Ruby on Rails programming language is very easy and fast for reading, writing, and understanding compared to other languages.
eCommerce Friendly
There are a lot of new businesses that are getting into the eCommerce industry, and RoR is one of the trustable frameworks to build eCommerce web apps and websites. When you use Ruby on Rails, you will be able to maintain a big database and integrate chat applications. Moreover, RoR is also well-matched with other complicated web application development.
Secure
Cyber-security is one of the major concerns of businesses, and there are lots of questions they need answers for, such as how can they secure its data from being hacked? How can they protect their web app against malware attacks and viruses? The simple answer to these questions is, have Ruby on Rails.
RoR's framework comes with essential security features by default. That means you can have security without taking any extra coding efforts, the framework is quite safe and secure. RoR developers implement a secure development lifecycle that helps you build applications build on Ruby's highly secure platform.
Easy to learn
Learning with RoR is much easier compares to other available server-side languages available into the market. It is easy to understand, read, and write. This effortlessness of learning and using makes Ruby one of the trouble-free programming languages that programmers want to adopt. Learning to develop and work on this framework is so simple and easy and there are numbers of tutorials available on YouTube and other websites from where developers can use to learn Ruby on Rails.
Scalable
As a business owner, you may require a small web all, but with the time passing day by day you expect your business to grow; and at that time you might need stronger application level. This is where Ruby on Rails stands out. It is the perfect solution for businesses or new startups as it is cost-effective and easy to code. Ruby on Rails is scalable that means whenever your business grows you can scale it up with RoR whenever you want to.
A Huge Library
RoR offers an extensive library that business owners can use to develop projects even faster. You will have various tools, functions, rich-elements, and add-ons that you can use from these libraries. These add-ons are known as Jewels, you can find it to do almost anything you need in RoR without coding. And RoR keeps adding new Jewels to the collection regularly.
Any time Support
When you choose any technology stack, you must be worried about the support that you will need if you come across any issues while developing the solutions or after the launch of the web application. RoR provides time-to-time community support and there are hundreds of technical documents available to help you.
Quality Matters
RoR's test-driven development and behavior-driven development method ensures there are no bugs left when you are about to make your web applications live. When you choose RoR you don't have to pay for third-party tools to run quality checks on RoR development, it already has a testing tool that will help you resolve all the quality matters. With RoR a developer or tester can run required diagnostics using quality checks of the code for your new web application.
So, as we have seen in the article that what does RoR mean, what Ruby on Rails is used for, why it is a good option for businesses, Ruby on Rails development examples, and what are the benefits of using this programming language. If you are looking to develop a web application based on Ruby on the Rails development, you can contact our experts anytime. Our experienced and talented development team will be there to help you convert your ideas into reality.
Frequently Asked Questions
1. Why Ruby on Rails is a Good Option for Businesses?
Well, we have mentioned in this article about why RoR is a good option for businesses. Still, there are many benefits Ruby on Rails offers for various industries and to various business types. If you want to know more about its benefits and how you can process with your ideas and what kind of features you will need for your web framework.
2. Which version of Ruby on Rails do I need?
As a leading technology provider we use all the latest versions of Ruby on Rails for developing web applications. Depending on your requirements we will choose the best suitable version for your project.
3. Do you integrate Payment gateway in Ruby on Rails?
Yes, we can integrate payment gateway in Ruby on Rails for many mobile and web apps. We have expertise in using various payment gateways such as PayPal, Braintree, Stripe, and many others for our client's projects.
4. Which online collaboration tool you use for project coordination?
Our project development teams use different tools to manage the project development process. For source code revision control, we use Git. For repository hosting we use Bitbucket and for project management we prefer Basecamp.