In a digital world like ours, websites are essential for growing businesses in today's digitally-driven world. It is imperative to have a high-functioning website that will bring in potential clients and customers. Designing the front end of websites is essential for creating a seamless user experience. Frontend web development should thus be a top priority when you build your custom web solution.
If we are talking about the frontend, we can not ignore JavaScript. All the top-ranked websites use JavaScript for their development. Every time you visit a web page with something more than just static information, JavaScript is involved. Periodic content updates, displaying shuffling tabs, animations, scrollable videos, and interactive maps are examples of JavaScript powers.
We have curated a list of some of the most popular websites built with JavaScript. If these giant companies trust JavaScript, it is, without a doubt, the best choice for you. But before we start, let's first understand what JavaScript is and why it is so popular among developers?
JavaScript – A Brief Glance
JavaScript is a high-level object-oriented programming language that follows ECMAScript (A JavaScript standard specification language for ensuring interoperability across web browsers) JavaScript can be considered a general-purpose programming language that is used for both frontend and backend web development.
Developers use it to write server-side and client-side code for sites that are interactive with their users.
CSS, HTML, and JavaScript form the core technologies of the World Wide Web. HTML is used for creating and displaying the basic structure of a site on the web. CSS is employed for formatting layout, elements, and presentation. Finally, JavaScript defines the behavior of the frontend elements.
JavaScript is one of the most popular programming languages, and with good reason. Around 97.5 percent of websites on the web use JavaScript.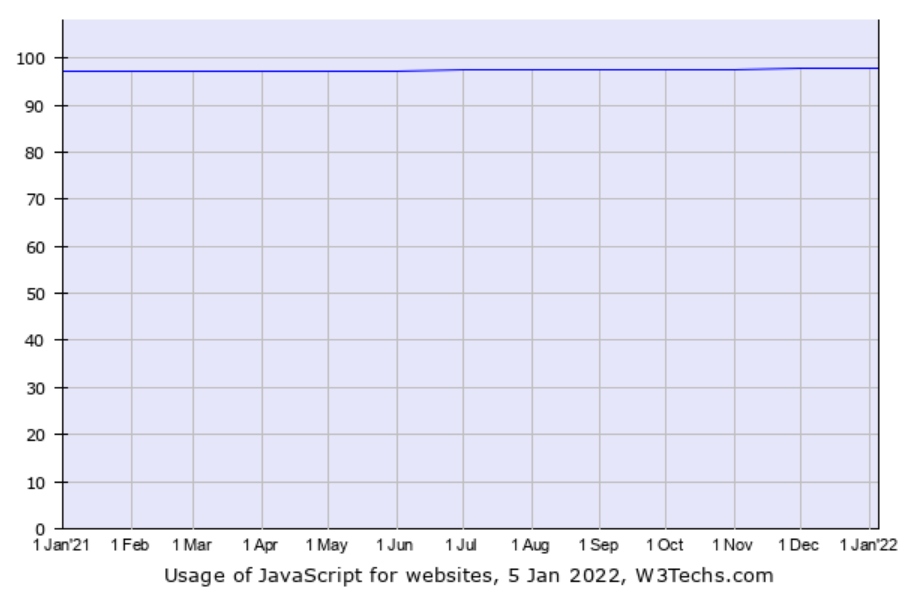 Although there are a few alternatives like Ruby or TypeScript, JavaScript remains on top and is almost impossible to replace. For a more nuanced comparison, you may like to read our blogs on TypeScript VS JavaScript and JavaScript Vs Ruby on Rails.
Read on to understand why all developers love using JavaScript and why you should start using it too!
Why Should You Use JavaScript?
JavaScript is everywhere. Be it a small startup or a multinational corporation, it is used by all for developing their websites. Although initially, it was meant for frontend development, today, it is used for writing server-side code too. Let's look at a few features and technologies offered by JavaScript that make it a top choice for web developers.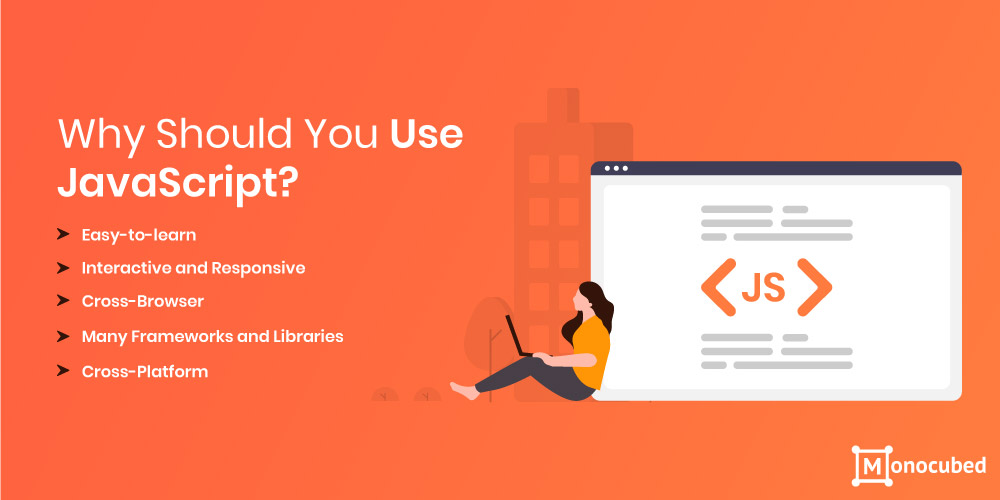 Easy-to-learn

There are many available resources and documentation from where you can learn JavaScript. It is one of the best programming languages to start with as it has a smooth learning curve.

Interactive and Responsive

Perfect for web developers who want to build user-friendly web pages. You should prefer using JavaScript for designing user-oriented web applications and sites with interactive web pages and creative interface designs.

Cross-Browser

All browsers support JavaScript, which allows videos, animations and other media to get displayed beautifully on web pages. JavaScript engines were formerly exercised in web browsers only, but now they are also inserted in certain servers.

Many Frameworks and Libraries

It can be a little hard to take in JavaScript in its entirety. That is why developers use front-end JavaScript frameworks and libraries that provide pre-built components to make the development using JavaScript easier. To read more about JavaScript frontend frameworks, check out our blog- 10 Best Frontend Frameworks of 2022.

Cross-Platform

JavaScript is so widely lauded for its frontend development because it is cross-platform. It can be used for developing apps that work on browsers, desktop, even smartphones.
Apart from this, it is also used in some backend architecture (using Node.JS) for developing cross-platform apps, native mobile apps for Android and iOS, content management systems such as WordPress, and many more. Some new technologies like the internet of things (IoT) and artificial intelligence also have implementations in JavaScript.
Want to Build A Custom Web App?
Get your idea validated by professionals. Discuss unique features to add. Know the cost of development. Know the timeframe. Let's start building.
8 Popular Websites That Use JavaScript in 2022
Now that you understand the vast array of advantages of using JavaScript, let's look at some JavaScript website examples. We have highlighted the tech giants of the web that showcase JavaScript in action.
Frequently Asked Questions
Can I use JavaScript without knowing HTML?

JavaScript is a programming language that requires coding logic. You can use it for a variety of applications without HTML. But if you are using JavaScript for the frontend, you may not be able to do much with JavaScript without CSS and HTML. They give structure and elements to the web page, without which it is impossible to design a web page.

Are Java and JavaScript the same?

No. Java and JavaScript are written, assembled, executed differently, and even the capability of both languages vary significantly. Java is a compiling programming language used for server-side development, while JavaScript is a scripting and programming language preferred for developing client-side scripts.
Conclusion
These were some of the websites made with javascript for frontend and backend web development. It is clear that with such top brands and companies in its portfolio, JavaScript is a massive force on the web. As a developer, having an understanding of JavaScript is a must if you want to develop a user-driven site.
All the examples of websites in this blog have brought massive growth to their companies. Whether you are a startup or an established company, you need to create websites or web apps that give a rich experience to your clients and customers. Know more on Website Vs Web App.
In case you have any queries or confusion and need assistance from expert web developers, you can get in touch with us through our contact us form. To get more detailed articles and blog posts in your inbox, do subscribe to our newsletter.