Python is one of the prominent and high-level languages that was first released in 1991. It is largely used for the development of software, server-side web development, artificial intelligence, and scripting. It runs on manifold platforms like Mac, Windows, Linux, and Raspberry Pi.
The best Python IDE and code editors are intended for developers to code and debug programs effortlessly. Using such Python IDEs, you can administer a huge codebase and attain rapid deployment. Before discovering more about Python IDE, let's understand what an IDE is.
What is an Integrated Development Environment?
An integrated development environment is a software app that offers wide-ranging services to computer programmers for any software development. Such an integrated development environment (IDE) usually comprises build automation tools, at least a source code editor, and a debugger.
Some of the IDEs, namely, Eclipse and NetBeans, have the required interpreter, compiler, or both; while others, like Lazarus and SharpDevelop, do not.
The border between an IDE and other fragments of the wider software development ecosystem is not clearly defined. At times, a version control scheme or several tools that streamline the structure of a graphical user interface (GUI) are unified.
Various contemporary IDEs also have an object browser, a class browser, and a class hierarchy illustration for usage in object-based software development.
What are Code Editors?
A code editor is a text editor software package intended explicitly for editing the source code of computer programs. It may be built into an IDE or maybe a standalone application or web browser.
These source-code editors are a vital programming tool, as the chief task of software programmers is to write and edit source codes.
Source-code editors have characteristics specially planned to streamline and speed up the typing of source codes, like indentation, autocomplete, syntax highlighting, and brace matching functionality.
Such editors also render a suitable way to run an interpreter, debugger, compiler, or another program pertinent to the software development procedure.
Therefore, while numerous text editors like Notepad can be utilized to edit source code, if they do not augment, mechanize or ease the editing of code, they are not the best code editors.
9 Best Python IDE to Use in 2021
Necessities for Python Coding Environment
There are some of the major and standard requirements that are needed by every project in and after its development phase. A project can possess more necessities than the ones mentioned below, but these are the fundamental ones that any IDE must contain:
Implementation from Within the Ecosystem
It must have an inbuilt compiler to perform your code. If you are not implementing it in similar software, then perhaps it is a text editor.
Save and Load Again Source Code
The top Python IDEs and code editors should save your work and reopen the whole thing later, in the same way it was when you left. Hence, this saves time for development.
Being capable of finding out variables, keywords, and symbols in your code quickly make reading and understanding the code easier.
Automatic Code Configuring
This is a fascinating feature where the code marks itself as the developer utilizes functions, loops, or any other block code.
The debugger in most of the Python IDEs and code editors delivers moving through your code and executing breakpoints for the code's fractional performance.
Why Are IDEs Essential for Python?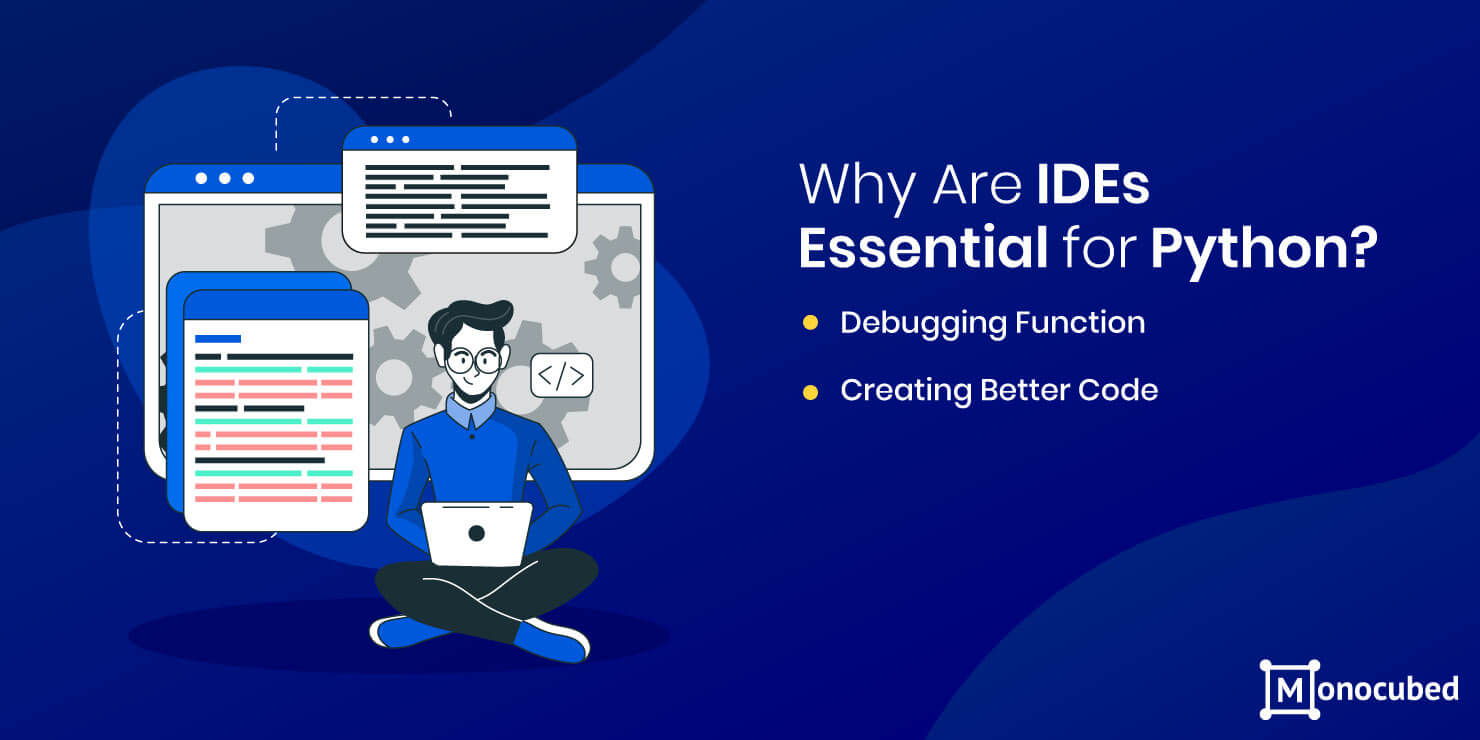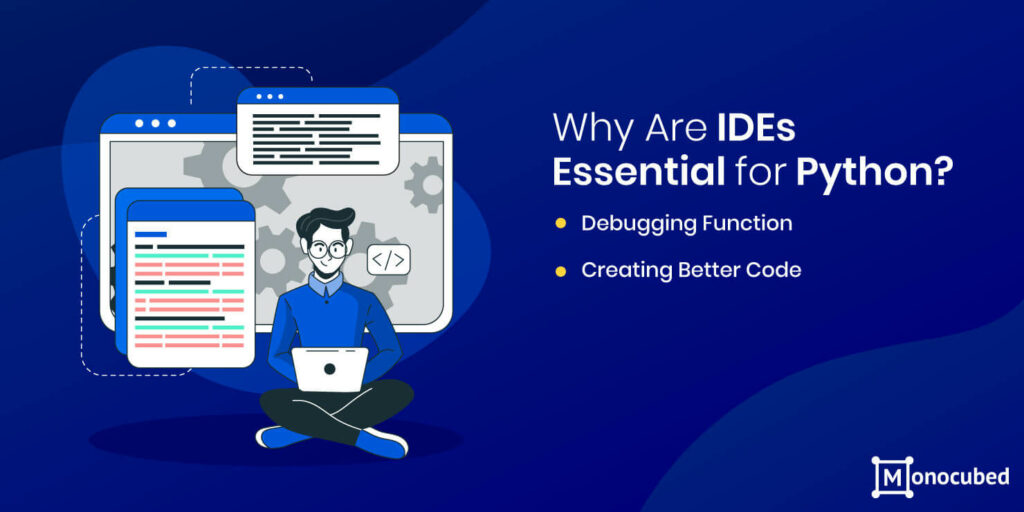 The overall objective and foremost benefit of an integrated development environment (IDE) are enhanced developers' productivity. Python IDEs for Windows increase productivity by increasing the speed of development tasks, decreasing setup time, keeping developers updated and regulating the complete development process.
Debugging Function
Identifying bugs or errors in your code is a procedure called debugging. Most of the expert developers in the globe spend time debugging. Writing seamless code on the first documentation is practically difficult. Subsequently, the debugging competencies of your Python IDE for Windows are crucial.
Inopportunely, the debugging abilities of native Python tools are nearly non-existent. If you devote time to debugging, you rapidly discover the native tools are bothersome as they do not tell you about the code.
Creating better code
A decent IDE encompasses a definite amount of intelligence. For instance, the IDE can propose substitutes when you type the inappropriate keyword, or it can convey that a specific line of code merely would not function as written.
The more intellect that an IDE comprises, the less difficulty you have to work to transcribe better coding. Writing enhanced code is crucial because no one wishes to spend hours looking for bugs.
Which Python IDE is Apt?
Only you can choose the correct Python IDE as per your business requirements. But here are some of the basic recommendations:
If you utilize a text editor for other related tasks like documentation or web pages, you must look for code editor resolutions.

If you are already building other software, you may find it simpler to affix Python capabilities to your prevailing toolset.

Developers that are new to Python must try the solutions with as few customizations as possible. The less time gets in the development procedure, the better it turns out to be.

For large-scale businesses, they prefer best Python IDEs like Atom, Sublime Text, PyCharm, and Wing so that they can avail all the characteristics with extended support for all the matters.

Whereas, for medium and small scale companies that use Python, they look for open-source tools, mostly prefer PyDev, Spyder, IDEL, and Visual Studio Code for their projects.
Frequently Asked Questions
What are the best free IDEs for Python?
In Python programming, you have numerous choices for a great open-source integrated development environment. Some of the free best IDE for Python are Pyzo, Eric, Eclipse with PyDev, Spyder, and PyCharm.
Is PyCharm good for beginners?
PyCharm is one of the most prevalent editors utilized by professional Python programmers and developers. The immense features of PyCharm do not make this IDE tough to employ. Many of the features like debugging, profiling, testing the code, quick fixing, remote development, error detection, and auto code completion aid in making Pycharm good for beginners.
Is Visual Studio a good Python IDE?
Visual Studio Code is a python code editor that was formed primarily for the web app development and debugging of the latest cloud and web projects. It is an open-source that is proficient in merging both editor and good development traits very effortlessly. It is one of the prime choices amongst Python developers.
Conclusion
Python is one of the most popular programming languages used worldwide. As with most chief languages, you have an assembly of practical, useful, and robust IDEs, paid as well as free. The chief Python IDEs and code editors which are favored by most of the software developers universally are enclosed in this article.
Observing the advantages and disadvantages of each IDE, the developers can decide to select the best Python IDE for heir web application development.
Contact our Python experts at Monocubed, if you are still confused about which one to opt for your next Python development project.