In today's digital landscapes, businesses are always exploring strategies that can aid them to stand apart in this acute competition. In recent times, web and mobile applications have become a basic need and useful marketing means for any successful company. To construct user-friendly web and mobile applications, frameworks are used. Amongst the best javascript framework, AngularJS is the most popular framework used for front-end web development. Before considering its popularity, let us understand 'What is AngularJS used for?'
AngularJS is a significant and trending technology nowadays for structuring exceptional single page web apps. It is a structural framework that fundamentally expands the HTML DOM with added features and helps in forming a scalable and responsive application to the users' acts. It aids its developers in upholding the web infrastructures with simplicity and ease. Let us examine AngularJS, its concepts, usages, and popularity.
What is Angular JS?
Angular JS is an open source JavaScript framework that is maintained by Google and a community of developers to address challenges faced in forming single web page apps.  With an introduction to Angular, we can gauge that Angular JS programming renders the highest simplification to the complete development procedure and the constitution of JS coding.  It has a motive to ease the development and thereby, testing of these applications.
This is practiced by supplying a framework for model view controller (MVC) and model view-view model (MVVM) patterns, besides the components usually used in dynamic web applications. It is the front-end portion of MEAN stack, comprising Express.js web app server structural framework for dynamic MongoDB database, Node.js server runtime environment, and Angular.js itself.
AngularJS Concepts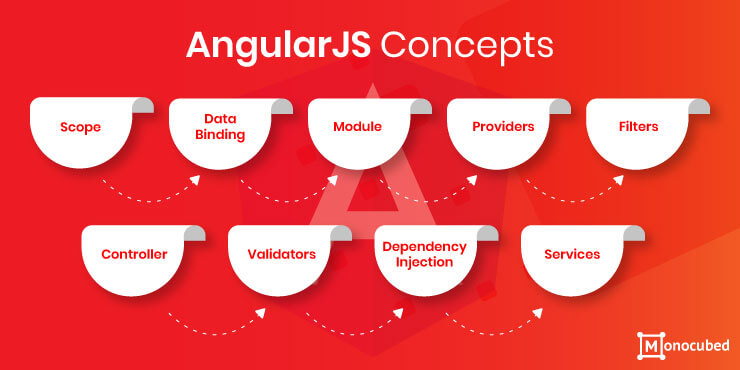 Each framework is a compilation of components and so is this front end framework – AngularJS. To avail a better understanding of this technology, we have enlisted its concepts.
1. Scope
Scope is an inbuilt entity in AngularJS that has application methods and data. The Scope can transmit the data from controller to view and backward. Developers can form properties to a scope object within the controller function and allocate a value to it.
2. Data binding
Data binding is a dominant trait used in AngularJS that creates a link between business logic and view of the applications. It generally follows a two-way data binding pattern which when the data in model changes, you can notice changes in the view, or if the data in this view changes, the model also gets restructured.
3. Module
Angular module is a collection of functions characterized in a JavaScript file. It splits the Angular app into sub-parts having functional and reusable components that can be included with some other angular apps.
4. Providers
Provider () is the function which is utilized to generate configurable facilities in AngularJS. While forming a service to regain data from API, the user is required to put an API key for each application.
5. Filters
AngularJS contains inbuilt filters that are exercised to design data. But at times, these default filters fail to meet the requests for filtering output. In such a case, users can produce their personalized filters which are functioned to pass the output in the required way. Below is the list of some of the most utilized filters:
uppercase – converts text to uppercase
currency – formats the text into currency layout
lowercase – converts text to lowercase
order by – orders arrangements based on some definite criteria
filter – filter the collection on the stated criteria
6. Controller
Controller is the function of a JS constructor that comprises properties and functions, needed to enhance Scope. Every Controller allows the scope as a factor, which mentions the application or module that the controller requires to manage.
7. Validators
Controls and form offer superior user experience and validation services. With this, the user gets a caution on entering an invalid input before submitting the form. AngularJS employs client-side validation where the users avail immediate feedback on how to rectify the error.
8. Dependency Injection (DI)
This concept aids to fabricate a freely coupled structural design to get user-friendly web applications. Before designing it, the user is required to follow these two principles:
High-level modules must not be dependent on low-level modules
The details must depend on abstractions but not vice-versa
9. Services
Services are the functions of JavaScript exercised to carry out only definite tasks. These are the separate entities that are testable and maintainable. In this framework, the controllers and filters identify services on a prerequisite basis. Typically, services are injected by means of DI method.
Why use Angular JS?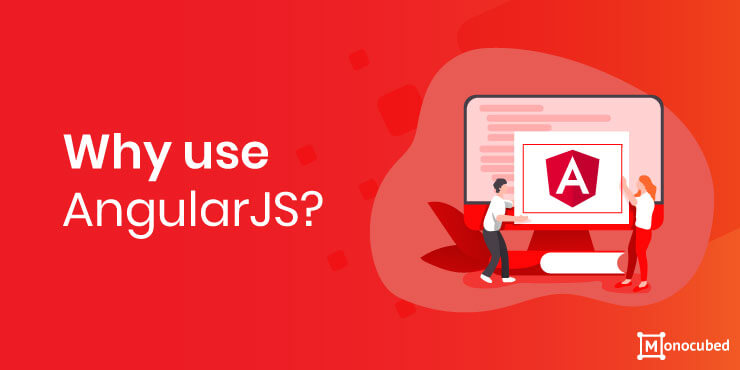 AngularJS, a JavaScript framework, simplifies web application development when compared to RESTful services for an absolute responsive project solution. If we check the difference between Angular and AngularJS, it simply states that AngularJS permits you to enlarge HTML syntax to express the components of your applications in a lucid manner. The most important reasons to use AngularJS are as follows:
1. An explanatory user-interface
Angular employs HTML to describe the user-interface. HTML is an explanatory language that is more direct and less complicated than stating the interface in JavaScript. HTML is less breakable to restructure than an interface written in JavaScript which validates that the things here are not expected to break. In addition to this, you can team up with more UI developers while the view is formed in HTML.
These peculiar attributes specify which controllers to apply for every element. They determine 'what' gets loaded, but not 'how'. So, instead of investing time in the flow of the program and the loading procedure, you can simply mention what you desire and Angular will look after the dependencies involved.
2. Flexibility
Filters sieve the data sooner before they arrive at the view and can occupy something as easy as reversing the form of an arrangement, composing decimal places on a number, or filtering an arrangement based on a factor. This feature is so resourceful that it is feasible to craft a suitable HTML table by the usage of only filters without forming any JavaScript.
3. MVC facilitates
Many frameworks apply MVC by commanding you to divide your app into MVC components, then make it necessary for you to write the code to string them up collectively all over again. This involves much work. Whereas Angular practices MVC by requesting you to divide your app into MVC elements, then just allow Angular to perform the remaining functions. Angular administers your elements for you and also functions as the pipeline connecting them.
4. Usage of Directives
Directives bring the much needed added functionality to HTML. They are an attribute of AngularJS framework which can be operated to make custom-built HTML tags that facilitate new and tailored widgets. Also, these can be used to 'decorate' elements and components with essential behavior and can influence Document Object Model (DOM) characteristics in the most engaging way.
5. Unit testing
What explanation of AngularJS would be termed to be complete without discussing its unit testing promptness and why use Angular? The entire Angular meaning is correlated collectively by Dependency Injection (DI). It is what it exercises to handle your scopes and controllers.
Because all the controllers rely on DI to send information, these unit tests are capable of seizing DI to execute unit testing by injecting data into the controller and analyzing the behavior and output. This breaks the conventional way of testing apps by crafting an individual test page that calls upon a component and then connecting with it to observe if it functions.
6. DOM manipulation
Usually, the view amends DOM to offer data and manipulate the DOM to affix behavior. DOM manipulation code must be included in directives and not inside the view. For AngularJS, the view is just a different HTML page. Without worrying about manipulating DOM and focusing on your MVC app presenting business information into views, can become more fun for web developers. By outlining jQuery calls and DOM manipulations, the user-interface designers are able to aim at the view without any distractions.
7. Less Coding
All the mentioned points up justify that you can perform functions well even with fewer codes. You are not required to craft your MVC channel. The view is defined by utilizing HTML, which is clear and concise. Data models are simple to inscribe without any setters or getters. Data-binding means that you do not ought to place data into the view physically. Since directives are separate entities from application coding, they are coded by different teams with negligible issues.
What is AngularJS used for?
AngularJS web applications can be seen everywhere over the internet. No wonder it is one of the most popular web frameworks since its release in 2009. It has proven to be the best front-end framework for developing single page web apps. Moreover, it renders tons of custom extensions. In addition to all this, it has an affluent standard library and a huge community.
As per BuiltWith report, 1,012,519 websites are using Angular JS for their user-friendly web app development. AngularJS would help you built a robust web app with the finest user experience if you are looking for the following: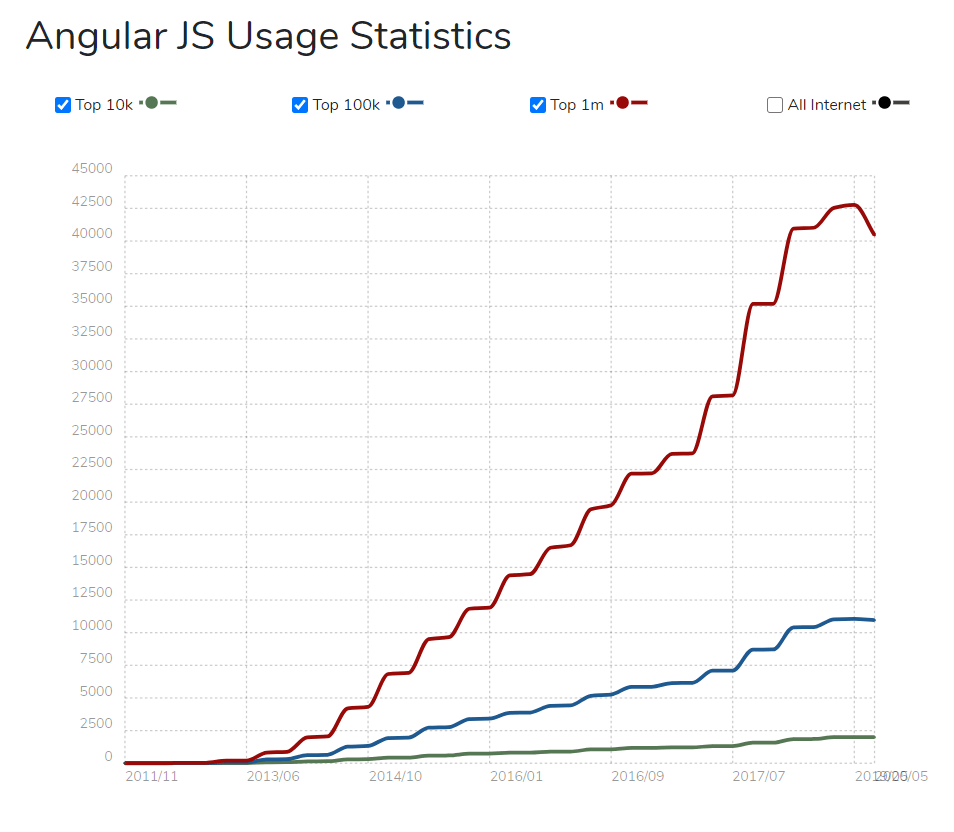 1. User-Review Application
Lately, consumers were more interested to get information about everything that they were concerned about, before taking an action. This aided them to make a sensible decision and be protected from impulsive wastage of money. The instance for this is GoodFilms, providing reviews of several movies.
2. Weather Application
A direct and easy interface with good performance is what actually matters in building any weather app. An exemplary example of this is Weather.com, one of the most visited weather forecast sites built with AngularJS.
3. Travel Application
Many robust features can find its utilization in AngularJS development of travel apps. The web app of JetBlue is an ideal example of this. The famous American low budget airlines board millions of people yearly and fly to 95 cities in the US, Latin America, and the Caribbean. The present version of this site uses this framework.
4. eCommerce Platforms
Several good eCommerce sites have been developed with the use of AngularJS. A classic example is IBM. With a view to adapt its enormous data and analytics services to mobile platforms, IBM launched its Mobile-First Platform Foundation. It is also referred to as IBM Worklight. As a result, to preserve the original look and experience between both mobile and web versions, they implemented Angular JS.
5. Social Applications
LinkedIn is a popular example of an app working on AngularJS. Its complete mobile portion was built by employing this framework.
6. User-generated Content Portals
Upwork and Freelancer are some great examples of sites using AngularJS as their foundation. Such sites are made to handle countless posts, chats, and projects every day.
7. Video Streaming Application
AngularJS works well for video streaming applications. Its notable examples are Netflix and Youtube for PS3. Netflix opted for this framework as its frontend tool with a motive to examine and analyze security of Amazon web services. While the backend portion of the project is maintained by Flask and Python. The presentation of data is administered by utilizing AngularDart.
Frequently Asked Questions
1. Why is AngularJS so popular?
It is much popular because it is a customizable and flexible Javascript framework. Modularity in AngularJS allows its developers to form manifold modules for a distinct web app. These modules rely on one another, making developers combine them easily to build a single running app. It has various filters that are of great assistance when you transform the stored information in AngularJS quick responsive design.
2. Does AngularJS use jQuery library?
Yes, AngularJS can utilize jQuery if it is available in your app and when the app is being bootstrapped. If jQuery is not available in the script, Angular JS turns back to its own functioning subset of jQuery, named jQLite.
3. Is Angular JS a templating system?
AngularJS does resemble just like another templating system. But there is an important cause why Angular JS templating system is unique which makes it a fit for application development – bidirectional data binding. Here, the template is assembled in the browser and the assemblage step yields a live view.
4. Angular.JS vs Angular – Which one is better?
For component-based pattern and data binding, Angular is preferred; whereas Angular JS has two-way data binding which supplies easier and faster data binding without any involvement of developers. The elements of any Angular app are much self-sufficient and independent, making them test friendly and reusable. AngularJS facilitates quicker prototyping and coding, diminishing the development period enormously.
Conclusion
AngularJS is a robust web framework used to develop enterprise, scalable, and performance client-side web site applications. It is easier to learn and perform. With its valuable concepts and features, it gets the application to run fast and be stable. We hope that the above details published gave you vital answers to the question, 'What AngularJS is used for?'. The major benefit is that with this framework, the developers can build single page applications for business.
If any user has to develop a web app using a JS framework, AngularJS is the most preferred technology. It is a perfect front-end framework that aims to supply AngularJS code testability and quality. Contact us for building dynamic desktop, mobile, and web applications with the web framework that is best suited for your business. An AngularJS developer can employ HTML as his or her template language and it transmits application elements utilizing HTML syntax.