For most of the front-end developers, Angular is one of the most well-known and popular frameworks for developing web applications. If you are new and don't have knowledge about Angular, you can read the introduction to Angular and all about what is Angular. Because of its pleasant advantages, it is considered ideal for small and bigger applications, so it is worth using it for your next project. Now, you must be concern about which version of Angular is best for your business, and what is the difference between Angular and AngularJS? So, for your clarity, we going to cover everything you need to know about Angular and its versions.
The technologies enable developers to process, change and evolve the development at fast speeds because the requirements keep changing, and with the advanced versions, developers can build better versions of the software. Angular is one of those technologies that provide potential benefits from their version upgrades.
"Angular is the second most frequently used technology in the Frameworks, Libraries, and Other Technologies" , according to StackOverflow Developer Survey 2018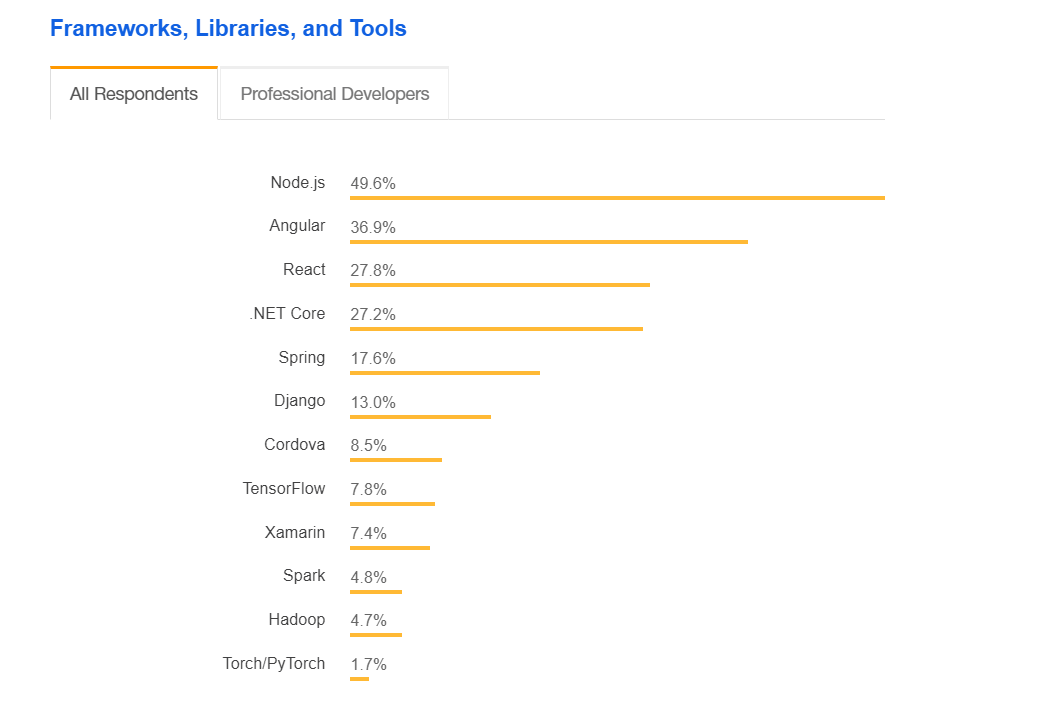 Whether you are a software developer looking to develop a web application or a businessman looking to increase your business footprints through the interactive applications, the difference between AngularJS and Angular debate must be of your interest.
No doubt there will be magnificent differences in each version, but each of them offers excellent advantages. Before we jump into in-depth comparison, let's understand the major version history of Angular.
Versions of Angular Framework
AngularJS was developed by Google in 2009 and its 1.0 version was released in 2012. Since then it has ruled the world of open-source JavaScript frameworks with its overall support and extensive adoption. As a result, we got to see the evolution of this technology from the AngularJS to Angular 2.0 (aka Angular) and presently developers are using the latest Angular 4.0.
AngularJS – This is written in JavaScript-based open-source front-end web application for developing dynamic web applications. It used HTML as a template language. AngularJS creates an environment that is easy to read, extremely expressive, and quick to develop.

Angular – This name is used to refer to Angular 2.0 and angular 4 which is the latest Angular version and all other versions that came after AngularJS. Both Angular 2 and 4 are TypeScript-based front-end web app platforms which complete open-source.

Angular 4 – This is the most recent version of Angular. Even though Angular 2 is a fully revised version of AngularJS, there are not any significant differences between Angular 2.0 and Angular 4.0. In other words, Angular 4.0 is just an improvement and it is backward compatible with Angular 2.0.
You may also like: 11 Reasons to Consider Angular Framework for Web Development in 2020
Difference between Angular and AngularJS
Now you must be wondering about which of the versions will be best suitable for your business. Before you choose any version for your new project, you need to get some answers by asking a few most important questions such as –
What is AngularJs?
What is Angular?
Angular vs AngularJS
What kind of libraries do you want to use?
Are the libraries compatible with the version?
Does it provide mobile support?
Is the version well-suited for web browsers we want to support?
Now let's see which one you should choose based on the features the different versions offer. Here is the feature comparison and battle between AngularJS vs Angular.
| Key Features | Angular | AngularJS |
| --- | --- | --- |
| Architecture | Angular uses components and directives. | Works on MVC (Model-View-Controller) Design. |
| Language | Angular code is written in typescript. | AngularJS code is written in javascript. |
| Mobile | Angular developed applications are mobile browser friendly. | AngularJS code is not mobile-friendly. |
| Expression syntax | () and [] attributes are used to bind data between view and model. | {{}} are used to bind data between view and model. Special methods, ng-bind can also be used to do the same. |
| Dependency Injection | A hierarchical DI system is used in Angular. | DI is not used. |
| Routing | Angular uses @RouteConfiguration{(…)} to define routing information. | AngularJS uses @routeProvider.when(),to configure routing information. |
| Management | Angular code is better structured, it is easy to create and manage bigger applications. | AngularJS project is difficult to manage with increasing the size of the source code. |
Pros and Cons of AngularJS and Angular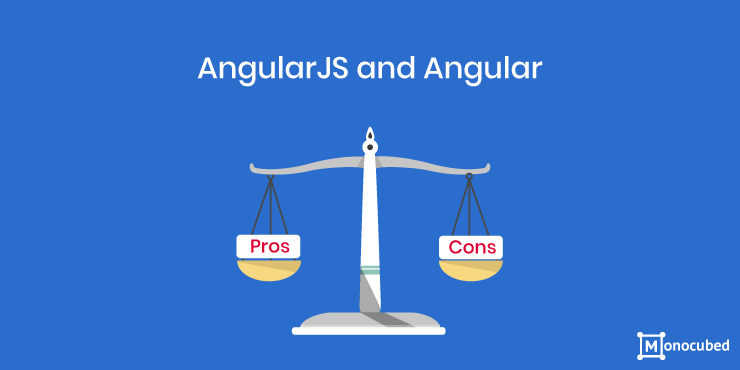 Every technology has its own advantages and disadvantages of using any framework or the platform. The same implies to AngularJs and Angular. Both the version has several advantages and disadvantages of using it and depends on the requirements of the business; they need to choose the best suitable platform for their project. Here are some of the pros and cons of both versions.
AngularJS
Pros
Unit testing can be done at any point.
It has great MVC (Model-View-Controller) data binding makes application development faster.
Developers can use the declarative language using HTML to help it turn more intuitive.
It provides the much-structured front-end development process, as it does not need any other frameworks or plug-ins to work.
Developers will be able to run AngularJS apps on iOS and Android devices, including phones & tablets.
Cons
It is not just big but also complicated because of multiple ways of performing the same thing.
It has the scale of the implementation which is little rough and poor.
On disabling the JavaScript of an AngularJS app, users get to see a page which is basic.
Further UI gets cracked up with the rush of more than 250+ app at one time.
Angular
Pros
TypeScript allows code optimization using the OOPS concept.
It is a much mobile-oriented framework compared to other versions.
It provides the enhanced dependency injection along with the modularity.
Developers get the choice to integrate Dart, TypeScript, ES5, and ES6.
It also provides the simplest routing.
Cons
Complex being compared to AngularJS when it comes to set up.
Not an ideal choice if the aim is to create simple web apps.
Conclusion
Angular is no doubt a great framework and offers many improvements compared to AngularJS. In a short time span, it has become more popular and well-suited to small to big applications, so it is worth choosing for your business applications. If at any point, you need help with choosing the right framework for your next project, we at Monocubed have certified Angular developers who can help you develop the best web applications. Contact our experts and get the quote now.
Frequently Asked Questions
1. Is Angular better than AngularJS?
Definitely yes. The current Angular version is one of the better versions of AngularJS. As described in this article there are various benefits of Angular and AngularJS but it depends on the requirements of the businesses. After knowing the feature like components, directives & the difference between Angular and AngularJs you should decide which one is the best suitable for your applications.
2. Why is AngularJS called Angular?
According to the Angular Branding Guide, the rewrite of AngularJS was called "Angular 2", but that led to confusion among developers. To simplify, the Team of Angular announced that separate terms should be used for each framework with "AngularJS" referring to the 1.0 versions and "Angular" without the "JS" referring to versions 2.0 and up. In short, the latest version of Angular 2.0 is called Angular because it is an advanced AngularJS version
3. Which is the latest Angular or AngularJS?
As we have discussed, Angular is the latest version which is the most popular and widely used among the developers. We at Monocubed use all the latest versions and previous versions according to their requirements to help businesses develop applications and stay competitive in the market.