eCommerce has come a long way since the last two decades and it is growing every day. Furthermore, it is in its formative years and the best of it yet to come. Each day brings new innovations in the eCommerce industry, thus choosing the best platform for developing an outstanding eCommerce website is also a big challenge for the business owners. Most of them don't know which one is the best suitable for their needs, whether they should choose PHP web development or other scripting languages? If you choose PHP web development then which framework will be ideal to support it, CodeIgniter web framework, or other frameworks? Well, you will get all the answers in this article. First, let's see why having an eCommerce platform is the need of today's businesses and which is the best suitable framework for building an eCommerce website.
What is The Future of eCommerce?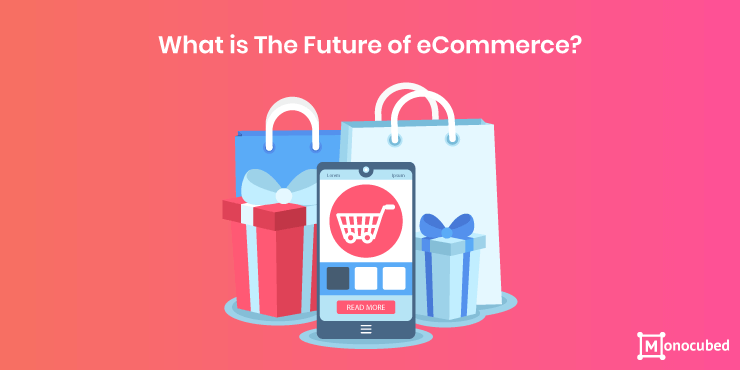 eCommerce is the ever-changing industry and the trends are continuously altering and upgrading so it is able to shape the way people like to purchase products from every corner of the world. A lot of big things are about to change the eCommerce world over the coming years.
"In 2019, retail e-commerce revenues from apparel and accessories sales amounted to 103.13 billion U.S. dollars and are projected to increase to 194.4 billion U.S. dollars in 2023." – Statista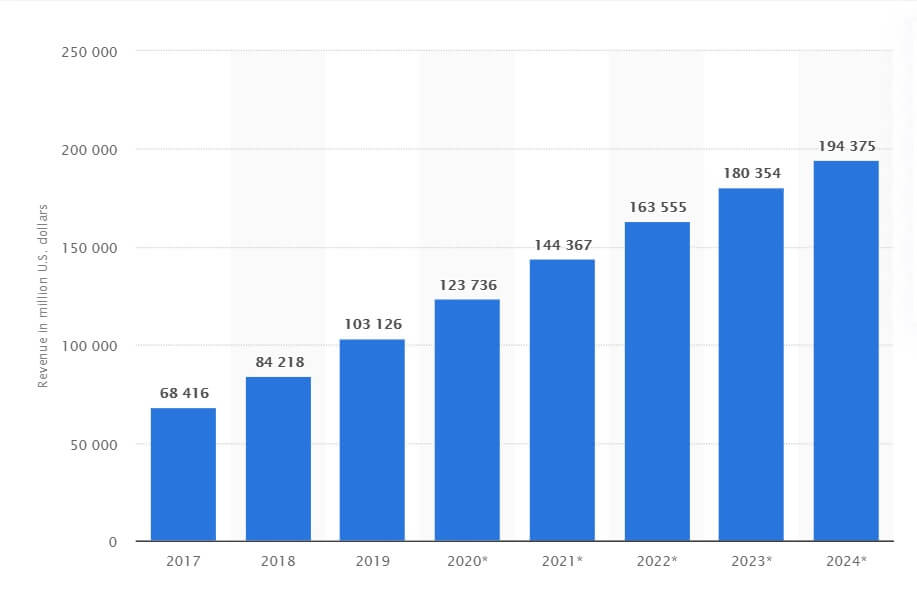 Although we cannot predict the future of eCommerce at full length, the above-given stats are enough to predict that it will flourish the eCommerce world and the demand for developing eCommerce websites will increase day by day.
Keeping this in mind businesses are now focused on providing personal retail experiences through their eCommerce platform. eCommerce is not something where the attendants will help you browse and recommend products face-to-face. That is why it is important for businesses to keep the user experience on top and keep it personal and appealing whenever they decide to have eCommerce development. Businesses are more concerned about keeping track of customers' preferences and keep updating their platform based on their likes and interest. Thus it becomes important that whichever language or framework they choose should match their constant requirement. Most of you are familiar with CodeIgniter but might have no idea how CodeIgniter in PHP will help them develop an eCommerce website. Let's see why you should choose CodeIgniter for eCommerce websites?
Why is CodeIgniter Framework Best For eCommerce?
Currently, there are large numbers of open-source platforms available in the market, which is used by various developers to create useful web pages without wasting too much time. For developing eCommerce websites, most of the CodeIgniter web development companies prefer CodeIgniter because it is popular among a large number of businesses due to its unique features it offers such as quick support and rapid development. You can read what is CodeIgniter? Core features you should know about for more details.
Why has it gained this much fame? Because it is quick, has appropriate documentation, and has lots of the extension and different library sets for quick web applications. So, we can say CodeIgniter is unbeatable.
As per the current scenario, online stores control the present world due to its popularity, and most of the people like to purchase their products using the offered online platform. However, to make these online stores more capable business owners need to use a capable platform that comes with in-built features.
The framework which is able to fulfill the business requirements effectively is CodeIgniter and it provides the best solution for developing eCommerce web development. It has excellent characteristics that are beneficial for businesses and web developers to build useful eCommerce web sites. These are:
1. A more productive solution
The most important advantage of the CodeIgniter is that it allows businesses to use a simple yet effective strategy and highly productive web development solutions. Apart from this, the interface of a given structure is relatively trouble-free, which makes the web development to take place effortlessly and quickly.
2. Less time consuming
The core benefit of using CodeIgniter is it significantly helps in reducing the time taken to develop an eCommerce web application and maintaining source code. Besides that, it also offers the favor to the businesses by eliminating the integration of the individual system.
3. Built-in collection of features
For building an eCommerce website, which is highly appealing, CodeIgniter has all the essential features including product management system, faster development with fewer codes, good Community Support, easy error handling, excellent Documentation including a user guide for the project management, shipping cart management and payment gateways which are essential to have a good user experience for the customers of the businesses.
4. Faster data management
CodeIgniter offers the easiest management of the data for making the trouble-free process for the developer. Besides this, it also offers regular updates of the database for better data management and keeps the data safe.
5. SEO friendly
CodeIgniter is considered as an SEO friendly PHP framework that helps businesses in achieving a higher rank on a search engine like Google.
You can also read: 6 Key reasons to choose CodeIgniter Framework for your next project.
Other Advantages of Using CodeIgniter Web Framework
Configuration
Security and encryption for source code
Less coding & quick development
Outstanding documentation
Quick community support
Faster error handling
Integration with database
Structure and updates
Rich library sets
Conclusion
At present, online stores are part of a major role in this changing world. With the high demand of building an online store, businesses should consider the most suitable platform for their web store to avoid conflicts and provide the easy to use eCommerce store. CodeIgniter is one of the most suitable web development frameworks which comes with pros and cons of CodeIgniter for businesses. It is simple and productive and one of the best solutions for eCommerce web applications. We at Monocubed, help you get most out of the CodeIgniter framework using best practices and implementing an effective web development framework. If you are looking for such a solution contact our experts now.
Frequently Asked Questions
1. What is CodeIgniter used for?
As we have discussed in our previous article, CodeIgniter is a well-known PHP MVC framework that is used for building web applications quickly. It provides innovative libraries for comparing the database and performing various operational tasks such as sending emails, uploading files, managing sessions, etc.
2. Is CodeIgniter dead?
No not all. It is not dead. CodeIgniter offers lots of benefits to the businesses and still, big companies are using CodeIgniter web framework and taking advantage of it. As we have seen in this article how CodeIgniter can help the eCommerce industry with its outstanding features, so there are still more that businesses can use it for getting more profits.
3. Is CodeIgniter a CMS?
CodeIgniter is not a CMS (Content Management System) but a starting point of a developing CodeIgniter based new project requires ready-made tools such as user management with role-based access control.
4. Is CodeIgniter good for large applications?
Yes. Codeigniter is the prevalent open source framework that is used to make powerful large applications. It has a PHP syntax framework which is the most notable platform, working with a linear and easily serviceable folder structure. With this platform, you can restructure your code to ease up the configuration. This will simplify the process of building a revolutionary web site and application..