A top knowledge management software will aid you in employee knowledge empowerment, information asset management, and self-service customer support. With a vast quantity of data being created each day, knowledge management turns out to be a necessity, particularly with extremely competitive industries.
As soon as the information is accumulated, you require a method to demonstrate it into a consumable design as well as share, analyze, and organize it. Without these platforms, your pristine knowledge would not have much power. To aid you in these steps, below are some of the best knowledge management software.
Features to Look for in A Good Knowledge Management System
What makes a knowledge management system exceptional and how its characteristics support in terms of using, installing, and compiling makes a difference. Several user-friendly features can support your organizational activities and performance in every way possible. The below table depicts some of the best Knowledge Management compared:
Knowledge Management Software
Platform
Features
Zendesk
iOS, Web-based, and Android
The scheme is good. It executes all the essential functions and is worth the price offered.
Document360
Web-based
It is easy to use with good functionalities.
It can be integrated with Intercom, Microsoft, Freshdesk, and Zendesk.
It supports third-party integrations and manifold languages.
LiveAgent
Windows, Linux, Mac, iOS, and Android
Easily customizable. I can integrate tracking codes.
Atlassian Confluence
iOS, Android, Windows, and Linux
Document and knowledge sharing is easy.
It supplies several useful features like copy and paste of images and exporting to PDF.
ProProfs
Web-based
It has the ability to create roles and permissions.
It is an online tool.
It can be incorporated with Zendesk, Live Chat, and Google Analytics.
ServiceNow
Windows, Web-based, and Mac
The system renders good functionalities and features.
It offers a tailor-made search feature.
It is simpler to use.
10 Knowledge Management Software
Zendesk

Zendesk is one of the most prominent customer service solutions available in the market. Zendesk Guide is a knowledge management system, integrates with customer service tools like the chat function or the pipeline manager. It has a complete support collection that intends to improve customer service efforts for companies of all sizes.

Still, functioning with Google Docs as a KM system? Now, you can simply import docs as help desk articles. With this software, it is quick to import your articles. Everything you build with this Guide is directly auto-saved and archived. This makes it easy to use and restore to a former point of your database. The design supports HTML, CSS, and Javascript for maximum modification from a skilled designer.

In general, the Guide appears like any other knowledge management software unless you incorporate it with Support – ticketing. It auto recommends related content, based on consumers' questions and permits you to produce fresh knowledge base articles from a ticket.

Features

Much easy to employ
Allows you to interact with customers through email, phone, social media, and chat
Has a good community forum and ticketing system
Easy to use and scale




Pros and Cons

Pros

Multilingual information
Has content history and facilitates restoring
Provides a free version
Articles imported from Google Docs
Incorporation with other products of Zendesk
AI-supported Answer Bot that mechanically replies to emails (charges at least $50 per month)

Cons

Not appropriate for internal knowledge base
No tailor-made SEO settings
Can become overpriced once you need live chat integration and more features

Want to Improve Your Customer Relations?

Let's develop a custom knowledge management system that helps you manage and improve your client services.

HelpJuice

HelpJuice's text editor is rich in characteristics and feels intuitive and modern. It comprises all the essential collaboration traits so that manifold author can function on an article and not disturb each other.

There are numerous stages of access that you can fix for your knowledge base namely, URL-based, internal, public, and definite users. In terms of modification, there are many ready-made templates that you can select from. Its exceptional customization tools let you scheme every facet of your knowledge base. This contains styling alternatives that make the layouts more user-friendly to your users.

HelpJuice presents some influential knowledge base analytics – search terms people use, articles' performance in all types of graphs and numbers, and authors' activity. It is insightful and can aid you to upgrade constantly.

Features

A complete customizable UI – on both backend and frontend
Comprehensive navigation and search capabilities
Robust and reasonable reporting and analytics




Pros and Cons

Pros

Provides great appearance customization
Has a rich functionality
Renders insightful reports
Appropriate for internal and external knowledge bases

Cons

No integrations available
High prices

ServiceNow

ServiceNow delivers knowledge management solutions that are both customer-facing and internal. The internal alternatives assist the IT team to record and manage incoming service requests by collecting service interactions to a chief database. This aids IT teams generate knowledge base articles that are founded on general employee difficulties.

ServiceNow is more appropriate for huge businesses. It is particularly ideal for creating onboarding workflows and shifts. It helps in the procedure of setting up your knowledge base on the cloud, in consort with your automated customer support system and workflows.

Features

Relative search by aligning text entered by customers and employees
Tailor-made search with manifold methods of sorting and filtering
SEO to let popular search engines index knowledge articles
Comprehensive search proficiencies with internal or external knowledge exhibited in a distinct result list
Generate several versions of track changes and knowledge articles to upgrade
Permit employees and customers to subscribe to knowledge bases and articles




Pros and Cons

Pros

Better customer support with automated chatbots and workflows
An innovative search function that matches the terms with preceding incidents to render better results
Offer similar articles to help users find solutions easily
Service Portal integration to let users access your customer support, knowledge base, and support tickets

Cons

Much advanced for start-ups and small businesses
Too expensive

Document360

Document360 is a great knowledge base tool that presents subscription plans for every taste and budget. It is perhaps the best knowledge base software for large teams as it has the finest choice of collaboration characteristics.

Its markdown text editor delivers all the required styling and editing features, where you can add images, links, code samples, videos, call-outs, and tables. With this software, you get the ability to create a consumer-facing knowledge base with a native user-interface easily.

It guides you through the formation procedure with its category manager, version control capabilities, and built-in customization tools. The structure comes with documentation tools to assist in organizing knowledge base articles. Furthermore, authors get a platform to discuss without any hassle.

Features

Real-time search function
Landing page editor
Version control
Category manager
Manifold documentation websites
Progressive formatting traits




Pros and Cons

Pros

Supports markdown for easier content management and editing
Search analytics gathers all the search queries
Simple user interface to organize and manage your knowledge base
Make private knowledge bases for your team and public knowledge bases for your customers
Search system supports auto-suggestions
Team analytics features imparting important metrics

Cons

Lack of integrations
Limited characteristics

HelpCrunch

HelpCrunch renders a clean interface intended to scale from the requirements of small companies to big enterprises. It is the ultimate platform for beginners who want customer service management, as it includes a user chat feature. It also offers pop-ups, email marketing, ticketing, and knowledge base functionality.

But, what is so enticing about the HelpCrunch Knowledge base? It draws much attention because it permits you to manually alter SEO particulars for each article to aid search engines to understand its content in a better way. You can also manually state meta description, title tag, and target keyword for all your articles so that they get better indexed by the search engines.

Features

A sleek, simple, and modern tool designed to be convenient
Knowledge base articles can be created in a WYSIWYG text editor
With its access control trait, you can set restrictions by trusted IPs or a password
The knowledge base is integrated into the chat widget




Pros and Cons

Pros

Presents 'Failed searches' report that exhibits knowledge gaps in the help center
Tailor-made SEO settings for each article and the whole knowledge base
Overall customization in appearance
Can be backed by live chat for unceasing customer experience

Cons

Not an ideal solution for internal knowledge base
No multilingual content
No role-based access control

Guru

Guru, a cloud-based knowledge management system, can be utilized through all the main browsers. It can also be used on mobiles and tablets. It is a knowledge management solution that is meant to keep your consumer-facing teams consistent, confident, and up-to-date with reliable knowledge that is available from each application they utilize.

It renders integrated support knowledge for omnichannel teams by merging your external and internal knowledge and mechanically keeping it rationalized. With this knowledge management software, you can fetch collective knowledge into one answer and preserve all of it, sifting by category or attribute and executing bulk actions when required.

Features

Has a browser extension as well as a web application
The tool renders recommendations for the content
Record, share and find knowledge while chatting with your team members
A browser extension is for numerous browsers like Firefox, Opera, and Chrome
Able to define groups and roles




Pros and Cons

Pros

Provides a verification workflow to remind when to update knowledge
Analytics permits you to avail insights into how knowledge base is performing
Exclusively for customer-facing teams
Reminds you of apprising knowledge base
Reports will give you information about which knowledge base is typically used

Cons

Some processes not streamlined
Not as flexible as other choices in terms of customization

LiveAgent

LiveAgent is an influential customer support software that offers tools as per your business requirements to convey a remarkable customer experience. The platform proposes a customized knowledge base software for medium and small-sized businesses that need to authorize their clientele. The app permits you to generate an internal knowledge base for employees and an external knowledge base for customers.

With an easy editor, it is simpler to edit articles that aid you to deliver rapid and conclusive replies to consumers' most unrelenting issues. Moreover, you can generate FAQ sections to answer the most general customer enquiries or to deliver technical and product details.

Features

Comes with a potent search function
Simple to make multi or single knowledge base
Easily customizable
Can incorporate tracking codes
Conveys a feedback forums and button
Easy editor for streamlined knowledge base article editing




Pros and Cons

Pros

Scalable for budding businesses
Simple onboarding and intuitive UI
Influential integrations

Cons

Customization is not flexible
Some occurrences of crashes or bugs reported

ProProfs

ProProfs knowledge base software offers a collection of diverse tools for all sorts of purposes – from training makers to brain games to live chat. It includes dynamic knowledge management software. It has smart settings, robust integrations, and unique features. The tool is of great assistance when it comes to forming an online documentation, knowledge base, manuals, FAQs, and help sites.

It assists in all phases of knowledge management – from customizing to content authoring and designing and lastly publishing it. The software is exceptionally easy to use. No coding skills or HTML is required and works well with commanding tools like Wufoo, Google Analytics, and Salesforce desk. The flexibility and convenience provided make it preferable to large enterprises as well as small firms.

Features

Automatic resizing of documents to fit the screen size of manifold devices
Collaboration available to share and create more knowledge
Security and analytics
100+ integrations and settings
Permissions and roles to control access to the knowledge base
Plan FAQs utilizing pre-made templates and branding features, or customize completely with HTML and CSS




Pros and Cons

Pros

Has a free version for 20 pages
Several themes to opt how knowledge base will appear
Some valuable integrations
Rich text editor
Unusual pricing scheme, where you pay only for pages

Cons

Can get costly for larger knowledge bases
The text editor can look slightly outdated sometimes

Atlassian Confluence

Atlassian has its knowledge management software for internal knowledge gateways known as Confluence. Here you can stock your company's plans, information, and notes. This software comes with templates for all types of requirements – from competitive analysis to project plans to how-to articles.

It has a cloud based content collaboration that sanctions you to share, create, and work collectively on projects in one place. It comes with a base where you can easily organize, access, and publish enterprise information in a central position so that customers can assist themselves. Confluence gives you a single source to keep the work of your team accessible and organized, making it simpler to search for the information required.

Features

Generate anything – plans and project notes with dynamic content and multimedia
Document management
Feedback in context through the page, file comments, and inline
Links to Jira to avail insights on development work
Sync between desktop and mobile
Search engine and organized hierarchy to find work information quickly




Pros and Cons

Pros

Handy templates for different tasks and purposes
Provides a free version for 10 people

Cons

Can get expensive for huge teams
Not an ideal choice for public knowledge base
Limited customization in terms of appearance

Bitrix24

Bitrix24 is a wide-ranging suite of communication, management and social collaboration tools for your team members. It proposes around 35 knowledge management tools to shape the way you collaborate and work. Some of its features are task and project management, enterprise drive, chat and video, CRM, calendars, social network, mail server, document management, and HR management tools.

It has a cloud platform, but you have the choice to utilize the self-hosted version to function on your server where you get complete source code access, control over data, and have supplementary tools like e-learning and helpdesk.

Features

Activity stream for an interactive and unified update feed
Heaps of tools for collaboration, communication, and management
Multi-user file syncing, document sharing, and online editing
Multi-device offline and online access
On-premise or PC integration or cloud deployment
Secure folder and file sharing
Social intranet for organization social networking




Pros and Cons

Pros

My drive supplies centralized access for all files
A single repository of all personal files
Easily delete existing files or upload new ones, grant permissions to access, and create new folders
Provides sync to co-workers
A simple search for documents utilizing various filters
Code is entirely modifiable
Integrate various apps with your knowledge base

Cons

Might need a bit of learning for some customers
Expensive for small enterprise owners

Want to Build Your Custom KMS?

Streamline your business processes using an effective knowledge management system. Talk to us and start developing your custom KMS.
How to Create Your Knowledge Base: Tips to Get Started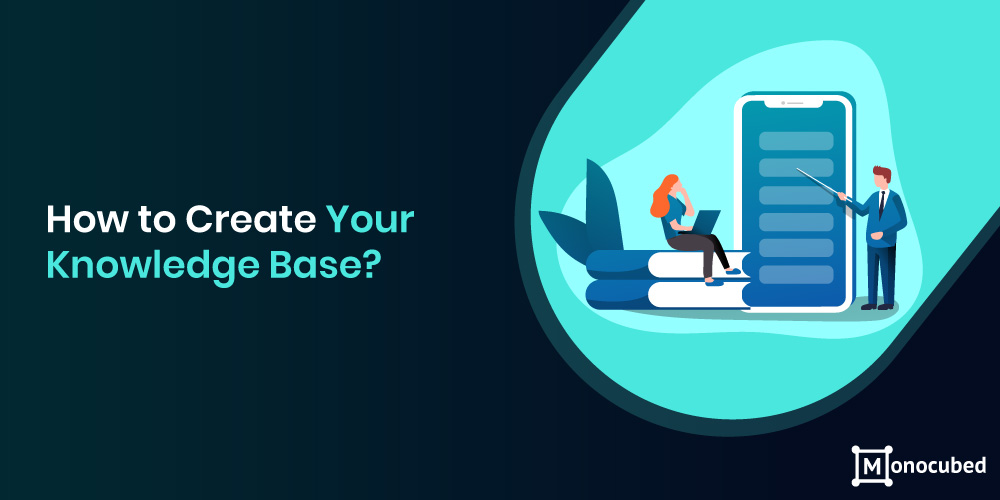 There are several benefits of knowledge management that aids you in managing and sharing your vital business information. The knowledge base tool consists of an online library. It is a self-service portal that can be retrieved by internal employees and customers easily. Your self-service knowledge base software must:
Be structured and simple to navigate
Be easily available
Be updated
Save customer time
Solve common issues
Create your knowledge base by following the below-mentioned tips to get started:
Choose Core Elements

If you are utilizing a suitable pre-designed knowledge base foundation, it will have all the essential elements included. These core elements are the contact support option, search function, and the FAQ section.

Pick Your Base Content

Making decisions on which help subjects, to begin with, can appear to be an overwhelming job. How do you evaluate the prominence of a topic? What must you write about? How do you recognize what your customers need assistance with? Start with small topics like no time-consuming consumer or behaviour research required.

Decide on The Structure

At this point, focus on determining the structure of your help content. Form a simple knowledge base template to utilize for each article. Put the most significant information first and that too in chronological order.

Write your articles

When writing the particular text for your knowledge articles, make your language as simple as possible. Assume your reader to be a complete beginner. Do not use industry-related jargon or advanced terminologies. Additionally, when it comes to formatting your text, minimalism is the key. Focus on forming your communication that is very easy to scan.

Support Your Content with Visuals

Visual resources keep users engaged and enhance your support content. The most noticeable kind of visuals to utilize are screenshots of novel products to display how things work. You can also exhibit GIFs and instructional videos or what you feel would support your content.

Publish

Got the whole thing ready? Great, it's time to publish now. Create your knowledge base simple to find both on popular search engines and your website.

Analyze And Adapt

The success of your knowledge base must be measured regularly to see where improvement is required. Examples of what to observe include a decreased volume of tickets and an increase in customer satisfaction.
Frequently Asked Questions
What is a knowledge management platform?

A knowledge management platform classifies the most searched visited articles and terms illustrating the company what the customers want to know. This demonstrates the rising importance of FAQs in various businesses. And this is the reason you can see numerous companies placing FAQ sections on their websites.

How do I choose knowledge management systems?

A knowledge management system must contain relevancy, accuracy, compliance, ease of knowledge migration, ability to update information and add new knowledge base content, and feedback loop to create users' engagement.
Conclusion
Here were some of the best knowledge management software compared explicitly to let you have a clear understanding before you select one for your business. Contact Monocubed if you want to get up a robust software to build the knowledge base that will help you attain your organizational goals.
If you have a small or new company, we suggest you get knowledge management software that provides much flexibility. You will be able to enlarge your knowledge base as your company expands. Also, in this way, you can save much of your budget.
Conversely, if you have a large-scale business, you must consider a knowledge management software that includes advanced features and easier management. This will help you serve several customers and facilitate a large team size.