Interested to know why progressive web apps are so popular nowadays?
Wondering which framework is best for developing progressive web apps?
To stay ahead in the market, companies have to adopt emerging technological trends quickly and efficiently. Amongst the latest technologies, smartphone technology has seen huge growth. One such technology that has taken over the mobile and web app development world is – progressive web app frameworks.
According to a Statista report, presently, there are 3.3 billion mobile phone consumers across the globe. This stats is estimated to reach around 3.8 billion in the upcoming years.
Some of the best Progressive web applications (PWAs) examples are Starbucks, Pinterest, and Twitter. These applications noticed a substantial upsurge in user-engagement levels when they substituted legacy native apps and mobile web experiences with PWAs. Let's observe some of the most popular progressive web app frameworks.
What Are Progressive Web Apps?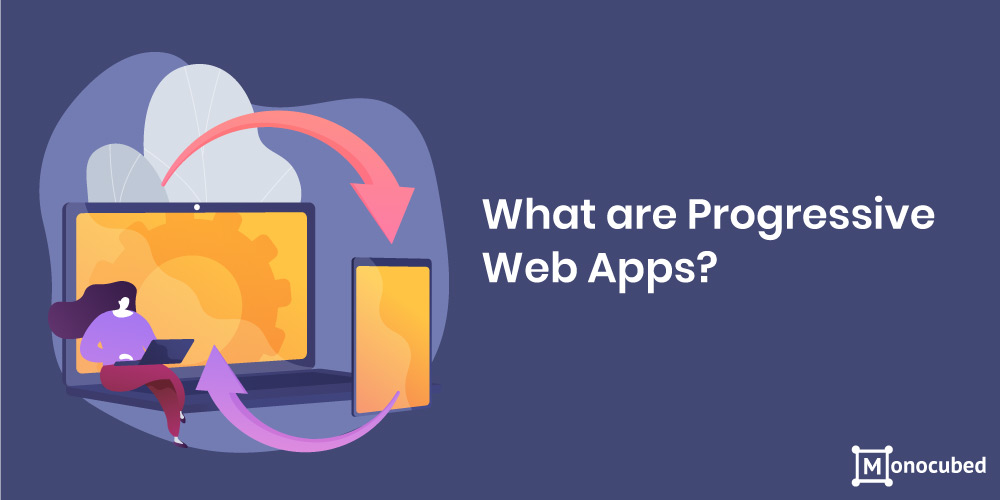 A progressive web application is a kind of app software conveyed through the web, developed utilizing web technologies comprising CSS, JavaScript, and HTML. It is designed to function on platforms that employ a standards-compliant web browser, containing both mobile and desktop devices.
Progressive web app (PWA) presents the gap between native apps and user experience in web-based applications. Since PWA is a sort of website or webpage termed as a web app, they do not need distinct distribution or bundling. Specifically, there is no constraint for users or developers to set up the web applications through digital distribution schemes like Google Play or Apple App Store.
Nevertheless, for several PWA suppliers, the absence of visibility of PWA in such distribution schemes is a drawback when compared to native apps. To fluctuating degrees, the main application stores began to take PWAs, permitting them to be found in these stores.
Since the beginning of 2021, PWA-related characteristics are supported to varying degrees by the Apple Safari, Google Chrome, Microsoft Edge browsers, and Firefox for Android. Numerous companies highlight noteworthy improvements in an extensive range of key performance indicators after PWA execution, like augmented time expended on conversions, revenue, or page.
Features of a PWA
Progressive web applications are intended to run on any web browser that is acquiescent with the proper web standards. As with many cross-platform resolutions, the objective is to aid developers to develop cross-platform apps more effortlessly than they would with native applications. Below are some of the vital features of a PWA:
Receptive It is suitable for any form factor – mobile, desktop, or tablet.
Advanced It works well for all the users, irrespective of their browser choice, utilizing advanced enhancement ideologies.
Independent connectivity The service workers permit on low-quality networks or offline usages.
Rapid after preliminary loading After the preliminary loading gets completed, the same page elements and content do not need to be re-downloaded every time.
Updated It is always kept up-to-date owing to its service worker update procedure.
Application-like It feels like an application to the users with app-like navigation and interactions.
Re-engagement factor It can implement push notifications to preserve engagement with the users.
Safe It is served via HTTPS to avert interference and guarantee that the content has not been meddled with.
Linkable It can be shared via a URL easily and does not entail any difficult installation.
Easy to install It provides home screen icons without the usage of an app store.
Do You Have a Web App Idea?
If you develop a PWA, your web app will be fast, mobile-friendly and work even in low network areas.
Interested? We are too. Let's talk and build an advanced progressive web app today.
Best Progressive Web App Frameworks For Your Next Project
The major and initial step in building Progressive Web Apps (PWA) is to choose which web development framework to employ. As there are numerous alternatives available, it is advisable to calculate the pros and cons of every PWA frameworks before selecting the most appropriate one.
Below-mentioned are some of the best progressive web apps frameworks:
Frequently Asked Questions
Which browsers support progressive web apps (PWA)?

The chief application stores began to embrace progressive web apps, permitting them to be discovered in app stores. From 2021, PWA-related traits are reinforced to fluctuating degrees by Apple Safari, Google Chrome, Microsoft Edge, and Firefox for Android browsers.

Is progressive web apps the future?

A progressive web app is certainly considered the future of multi-platform app development because of its application on several devices, the improved speed, and the ease that requires no installation or updates. It is available on both Android and iOS and makes PWA an app of the future.

Which are the popular progressive web app frameworks in 2022?

React, Polymer, Angular, Vue, PWABuilder, and Ionic are some of the popular progressive web app frameworks in 2022 that provide heaps of tools and resources to leverage, eradicating the requirement to write a huge portion of code physically.
Conclusion
Progressive web app framework selection is the critical and chief step for a PWA project. There are numerous determinant aspects to consider before making an appropriate choice. Contact Monocubed for creating a PWA that will be scalable, responsive, user-friendly, and robust.
These days, websites are being moved to HTTP which makes it much easier to introduce a PWA in a controlled and secure environment. As every framework has its capability, its complexity, size, presence of media or interactive components, and expected scalability play an important role in choosing the solution.