The reason we use programming languages is that they enable us to write efficient programs and help us develop robust digital solutions like mobile applications, web applications, and games, etc. Businesses use programming to automate, support, assemble, evaluate, and interpret the processing of the data and information they are going to gather from the applications and/or websites they have created. Programming languages have their own unique ecosystems and benefits to offer. Python is one of the easy to use programming languages, compared to other languages, but you must be thinking what is python used for? Well, we will cover everything you need to know about this programming language here in this blog.
Soaring Popularity among Businesses
Python is an open-source, general-purpose, and high-level programming language. Many businesses use Python for developing websites, web applications, and desktop GUI applications. This is one of the higher-level programming languages that enable you to focus on the major functionalities of the applications by looking after some common programming elements. Like other programming languages, Python comes with some unseen elements that can be beneficial to your organization. Python offers multiple options such as object-orientated, functional, and structural programming that most of the developers use during software development.

The best thing about this scripting language is that they can use it in the cross-platform operating systems with simplicity. Businesses can widely use this language to develop a wide range of web applications, along with those planned for text and image processing. Some of the well-known brands like – YouTube, Instagram, and Quora are some of the popular sites that use Python as their programming language.

If you are new to the programming world, you might have no idea about what you can do with the programming language like Python. But, if you start looking for the benefits of using Python, you will realize you have access to lots of new and powerful elements that will make your development stronger.
So, what exactly can you use Python for?

Well, this is the common question people ask. The simple answer to this question is, there are so many things that you can develop using the Python programming language. But, majorly businesses use this language for –
Web Development
Data Science – machine learning, data analysis, and data visualization
Scripting
The functions of this programming language can be carried out with simple commands and less text compared to most of the other languages. This is the reason it is soaring in popularity among developers, business owners, students, and tech giants.
7 Reasons You Can Consider Python as your Programming Language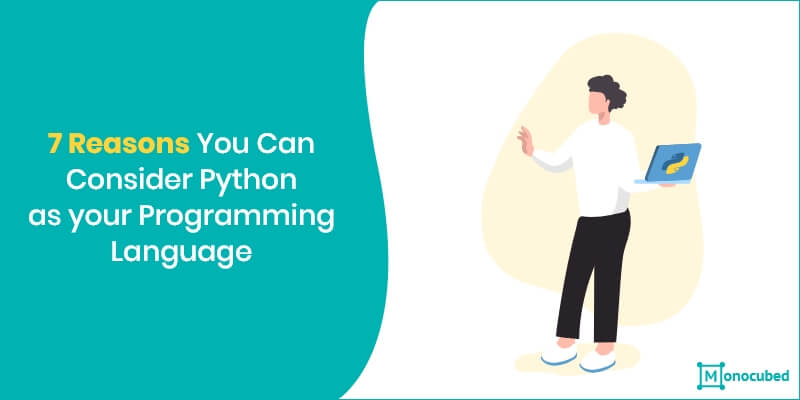 Python is one of those hidden forces that are present in our smart devices, web searches, and games, etc. In short, it plays a major role in our everyday life and became an important part of the businesses because of the advantages it offers. Here are some reasons you can use Python for:
1. Develop Applications
You can consider using Python for web development, web applications, software development applications, graphic UI (user interface) based apps, scientific and numeric applications, games and 3D apps, and network programming. Apart from these, where you can use python is other emerging business applications like Robotics, scripting, AI (Artificial Intelligence), data analysis, machine learning, face recognition, 3D CAD apps, audio or video-based apps, and apps for images. It basically helps you make an interactive interface and smooth development of applications.
2. Multiple Programming Paradigms
Developers also use Python because it provides continuous support to several programming models. For example, it supports object-oriented and structured programming. This language has features that also support a wide range of concepts of functional programming language. It is also used for dynamic type system and automatic memory management. The features and programming elements allow developers to develop small applications as well the large applications. They can also develop some really complex software applications using Python.
3. Powerful Standard Library
Python has a powerful and large standard library that you can use for developing robust applications. It also help developers use Python over other languages. With the use of a standard library, you can use a different range of modules available in python. Such modules can help you add functionality without writing any additional code. You can also refer to the documentation on the Python standard library to get more information about the various modules. The standard library documentation will be helpful while you develop any web app, implement web services, perform string operations, and customize interface protocol.
4. Compatibility with Major Systems and Platforms
Python is mainly used for developing applications because it is compatible with major platforms and systems. You can run python code on specific platforms and tools as it supports many OS (operating systems). It allows you to run the code on multiple platforms as it is a clearly high-level programming language. You can also execute new and modified code without recompiling and you will be able to monitor and check its impact. That means you do not have to recompile the code after each and every change you make. This feature will save a lot of development time and let developers develop the application efficiently.
5. Database Accessibility
When you use Python, you will be able to access the database easily. Python will help you in customizing the interfaces of various databases such as Microsoft SQL Server, Oracle, MySQL, and/or other databases. It is also used for standard database API and available for free download.
6. Easy To Read Code
When you develop any kind of application using python, the code is easy to read and maintain. You can easily reuse it whenever it is required. It is having a simple syntax that allows you to develop different concepts without writing any additional code. Eventually, the code you use for your application should be of good quality and you should be able to maintain the source code easily to simplify the maintenance, which is highly required to develop the software application. It also highlights code readability, which is a must-have feature for the developers. With Python, you can build custom apps and clean and easy to read code will help you maintain and update the applications without implementing extra efforts on the same code.
7. Test-driven Development
As we have seen earlier that Python makes coding easier for developers, apart from this, it makes testing easier with the help of Test-driven development approach. You can write the test cases easily before starting any code development. So, whenever the code development starts, the written test cases can start testing the code at the same time and provides the result at the same time. You can also use the test-driven approach to check or test the pre-requirements based on the source code.
Apart from the above-given reasons Python has some other robust features such as analyzing data and visualization, that will help you create custom solutions without spending much time and putting extra effort. It helps businesses to visualize and present data with valuable insights.
Benefits of Using Python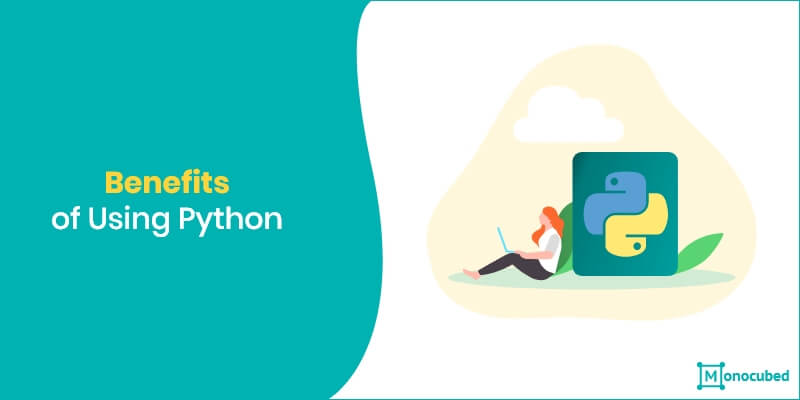 There are lots of advantages of using Python as your programming language, some of them are –
Speed up the application using custom runtime
Support the modules and packages
Encourage the program modularity and code re-usability
Provides an increase in productivity
Supports functional and procedural programming language
Open source and can be freely distributed
Compatible with platforms and database
Most of us know that Python is one of the best open-source object-oriented programming languages available in the market. Some of you will use Python for web development; some will use software development using python; some will use it for some other reason. Whatever reason you are using it will allow you to build with simple and readable code that can be used in all the major operating systems and platforms. Not only this, but it also offers a test-driven software application development approach for data science, data analytics/machine learning capabilities to build outstanding applications.
Development using Python might take only a few minutes for the developer to write code and execute the application compared to other programming languages. The main benefit of using Python is that it reduces the time developers spend in coding through a complicated language for programming during the development process.

Obviously, this is the fact that when you are writing any code for your application it needs high-level thoughts and capability to run a smooth development process of application. For that, Python is one of the scalable and fast languages that is useful for many real-world applications. Plus, Python is also used for flexibility and freedom to develop innovation that would be more complicated, difficult, and time-consuming to achieve for other languages.
Conclusion
As we have seen in this article that there are various reasons where businesses can take advantage of Python as one of the major languages that are used for the development of both desktop and web applications. The core reason businesses adopt Python is to take care of their common programming tasks. We at Monocubed, help you find relevant Python based web development solutions, what is Python programming, what Python is used for, Top python frameworks, and how it is helpful for your business.
Frequently Asked Questions
1. What is programming in python?
As we have discussed earlier in this blog, Python is a high-level programming language that is designed to be simple to implement and easy to read. It is an open-source programming language, which means programming in Python is free to use. Python is used for web development, application development, data science, machine learning, creating software prototypes, and robotics, etc.
2. What is python language used for?
When you use Python for your development, you can automate a specific series of tasks and make it more efficient. Consequently, Python is used to develop software applications, web development, pages within a web browser, the tests of operating systems, and some games and 3D games.
3. Does coding for Python easy to write?
Yes, writing code in Python is easy and simple to write. The syntax of Python is very simple, clean, and easy to learn compared to other languages. Even beginners can start learning and writing code in Python very easily from the Python tutorials. Before you start writing code, you need to have the basic concepts clear in your mind.