In this contemporary world, individuals want to do things rapidly without the requirement to wait on getting assistance from customer services. This customer empowerment is what makes all the difference.
Consequently, finding practical systems to make knowledge more obtainable can be enormously beneficial to your business's achievement. Let's understand knowledge management strategies to imply by having a glance at some of the best knowledge management examples.
Knowledge Management System, At A Glance
Knowledge management System (KMS) is the cognizant process of structuring, defining, sharing, and retaining the experience and knowledge base of team members within an enterprise. The chief objective of KM systems is to enhance the efficiency of the organization and preserve knowledge within an organization. Some benefits you can avail by incorporating types of knowledge management are:
Well-organized access to information and knowledge
Rapid decision-making
Improved communication throughout your company
Augmented idea generation and collaboration
Elevated training
Additional security for intellectual property
Enhanced quality of data and information
7 Examples of Effective Knowledge Management Systems
Canva

Canva is the best knowledge management system that makes it easier to search for resources for getting started and solving issues. Canva comprehends that the consumer interactions with their website and product play the foremost role in their overall accomplishment..

By providing consumers with a voice, Canva has gained the opportunity to learn from its clientele. This means that they can take the essential actions to augment their business and meet the requirements of those who matter the most.

Do you know what the best part is? Canva's help center design strategies and knowledge management process are completely simple to implement, even for those individuals who are not design-savvy. Its help center renders a detailed sidebar of information with simple well-designed organization methods and category titles, creating a simple process for self-reliant consumers to discover answers.

Moreover, it hosts a noticeable search bar – the main knowledge management exercise – and fresh graphics on general customer queries. It declared a novel valuation of US $6 billion from the US $3.2 billion. This magnifying valuation is credited to Canva's rising eminence as a workplace teamwork platform having robust knowledge management and sharing.

At present, Canva is embraced by approximately 30 million individuals each month to design around the sphere, collaborating on marketing materials, presentations, videos, and social media content – at 80 designs per second.

Want To Smoothen Your Business Processes?

Let's talk. We will develop a custom knowledge management system that streamlines and enhances your business processes. Validate your idea today for free.

Evernote

Evernote is often preferred as one of the greatest knowledge management system examples, owing to its simplicity at exhibiting information. You will get their search bar at the centre, making it accessible and visible. This makes navigation much easier.

This KMS makes it tremendously simple for customers to find precise issues and get the answers they are looking for. This is crucial to an efficient knowledge management solution. By placing the search function so evidently, it aids its customers to select where to initiate their information search. If that does not work, there are other easy-to-use alternatives available like their support email address to aid find what they require.

Evernote makes navigation clear and simple to the users, assisting them to search the critical data they need, whenever they require it the most. There are around 225 million consumers that trust Evernote's products and consider them as the home for most of their important ideas and thoughts. Furthermore, 100% of your note content gets synced and served from an entirely novel storage scheme in its cloud.

Vend

The help centre of Vend makes it easy to avail the rudimentary visions on getting started or when something is not functioning. This retail management software company's KMS has a consumer-centric design method. It displays the most explored information at the top and structures it around product zones for smooth navigation that the users can further screen by classification.

Its exquisite knowledge base that you see on the front is braced by a refined knowledge management platform – Knowledge-Centered Service (KCS). It is a knowledge management approach that empowers a support squad to be responsive and develop its help centre over time by authorizing agents to contribute to information creation, sharing, and upkeep.

Here, this states each agent is a knowledge administrator, having the authority to produce content. "When a ticket comes in, the agent searches for the answer and either apply it to the ticket and solves it or if the article doesn't exist, they write the answer as an article to be published to our help center." – Talei Wood, Vice President of Support at Vend.

Since the implementation of KCS, Vend has observed a 650% upsurge in help centre articles, 40% escalation in one-touch solves, and 29% rise in customer satisfaction.

Spartan Race

Spartan Race is a global leader in imparting a customer-centric self-service approach. It understands that its clients' association with the brand is not one-size-fits-all. This Knowledge Management System recognizes that presenting the knowledge aligned with a client's distinctive needs is important to its knowledge management victory.

Utilizing content organization best practices like labels permits Spartan Race to guarantee that its users can search the correct content for their explicit needs easily. Also, it uses AI to put its knowledge to practice, before a client navigates to the help centre.

After getting a huge volume of frequently asked questions (FAQ) over chat, it integrates Answer Bot in Web Widget to deliver self-service together with live customer support alternatives, such as on the website's homepage.

Spartan Race utilizes the data from how clienteles interact with Answer Bot to incessantly mend help centre articles, keeping consumers at the center of the content maintenance. Largely, it also builds a more engaging experience as the agents can resist repetitive customer questions and hence, improve their productivity.

From the time when Answer Bot was deployed, Spartan Race has examined a 9.5% reduction in chat volume and was able to outspread live chat availability of its customer support team by 3 hours every day from the time saved.

Khan Academy

One of the notable Knowledge Management System examples is a non-profit organization, Khan Academy. It functions to make free education accessible for everyone and anywhere. It understands that consumer interactions with its website are one of its major success aspects, particularly during demanding times of the school year, or when schools shift online.

Its help centre contains an evident search bar, clean content categories, and crisp knowledge organization centred on its main consumer groups: teachers, parents, and learners.

Availing the influence of peer-to-peer knowledge sharing is a vital part of the business experience and a striking knowledge management example.

Tesco PLC

Tesco, a grocery giant, is a knowledge management system example that states how self-service develops the customer experience. It can also allow an improved experience for your internal customers – your employees. With its technology division, handling around 40,000 tickets per week, its internal knowledge base plays a critical role in getting the pressure off its help centre managers. This allows them to deflect repetitive inquiries.

Its knowledge base system carries together with the several service desk contributions within the whole organization into a single knowledge base. This provides a one-stop-shop for data for its 460,000 workers situated across 9 nations.

As a part of its internal knowledge management systems, Tesco inspires its entitled help centre managers across the organization to contribute and edit the content. This ensures that the articles posted are upgraded and best served as per the needs of its customers.

Amazon

Amazon might be recognized for its top-notch customer service, but it has been outshining at knowledge management too since it dived into e-commerce platforms in late 1990. The organization implements various user experience and core knowledge management tools in delivering as per the needs of its users.

One such belief is that of covering a single interface to encounter the requirements of all its consumers. This makes all the items easy to find and index, and has endorsed Amazon to climb up and expand its business from retailing books to possessing its product segments.

How Amazon stores, classifies, and manages its massive quantity of information is one of its highest competitive benefits. Through the use of progressive knowledge management (KM) techniques, the organization's sales have seen a rise of 28% annually. Also, it fetched $75.4 billion in revenue, which is a 26% increase over 2019.
Things Common to All Successful Knowledge Management Systems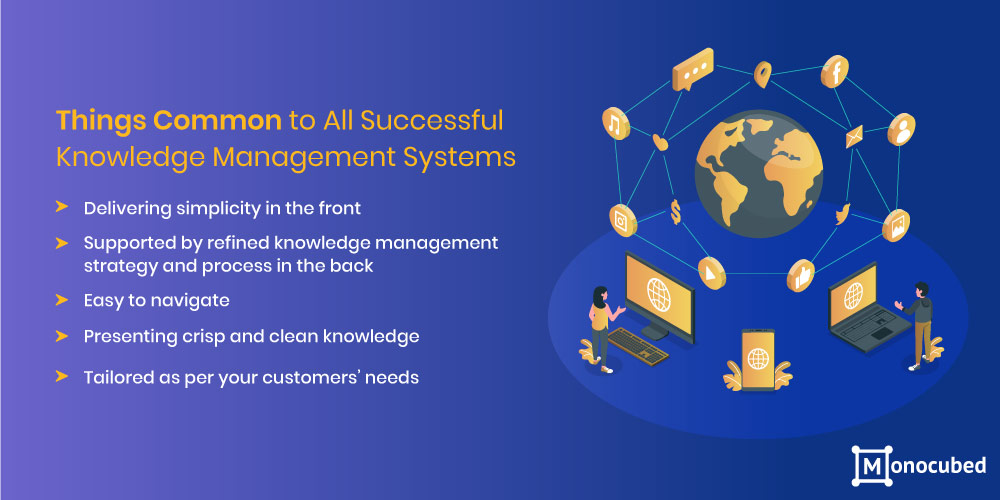 All the knowledge management system examples have certain things in common. There are many benefits of knowledge management systems. Here are the common things that a successful KMS has:
Delivering simplicity in the front
Supported by refined knowledge management strategy and process in the back
Easy to navigate
Presenting crisp and clean knowledge
Tailored as per your customers' needs
Frequently Asked Questions
What makes a knowledge management system good?

A good knowledge management system in an organization comprises features like being flexible to edit and update information, interactive and must be easy to use and access for both customers and employees.

What are the types of knowledge?

According to Krathwohl, knowledge can be characterized into four types – conceptual, factual, metacognitive, and procedural knowledge.
Conclusion
These are a few best knowledge management examples ensuring that the critical information is accessible to customers or team members who need it. Contact Monocubed to help you accumulate and disperse significant organizational knowledge to your customers.
A Knowledge management system, when employed efficiently, can increase brand loyalty, reduce costs, and increase customer satisfaction.