Most of us know about the JavaScript framework, but those who do not know about it, JavaScript is a front end scripting language that helps you build web applications.  Most of the JavaScript frameworks have their own philosophy of building web applications, some of you might need to spend some time to learn the basic concepts of the JavaScript before you make any decision for developing an application.  Apart from this, choosing the best suitable JavaScript framework is also equally important.   Angular is one of the best platforms of JavaScript frameworks.  Let's learn all about Angular definition and meaning with examples, and why businesses consider it for their applications. 
What is Angular?
Angular (Supported by Google), is an open-source development platform for building user interfaces (front-end) of applications (web, mobile web, native mobile, and native desktop). Currently, Angular (latest version of Angular) received warm recommendations from the development community.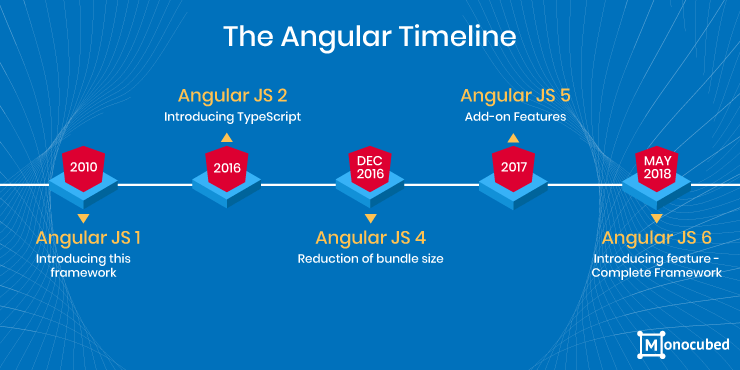 Basically, Angular is a platform and framework for building mobile and desktop web applications using HTML and TypeScript.  It helps you execute core and optional functionality as a set of TypeScript libraries that you can import into your applications.  Angular allows you to extend HTML's syntax to show your application's components clearly and concisely. 
The Angular architecture of the application depends on particular fundamental concepts. Angular is not a sole piece in building the client-side of a web application in a well-defined structure. This makes it opinionated about how to create, read, update, and delete applications should be built. But as it is resolute, it also tries to assure that its opinion is just a starting point that you can simply change. Angular comes with the following out-of-the-box features:
Data-binding
Essential templating directives
Validation of
Routing
Deep-linking
Reusable components
Dependency injection
Testability story – unit-testing, mocks and test harnesses, end-to-end testing
Why Angular? What are the benefits of using it?
So, why should you choose Angular or AngularJS for developing an app? Well, the core reason is it supports various platforms (web, mobile, or desktop native). Not only this, but it is also powerful, modern, and has a nice ecosystem. Let's see the other advantages you can take from Angular.
Angular not only provides the Angular development tools but also design patterns to build your application in an effective way. When you build an application using Angular, you won't mixing-up classes and methods that are difficult to modify and even complicate to test. When you code in Angular, it is structured and you or your Angular developer don't have to spend much time in order to know what is going on.
It is known as JavaScript but better. Angular development with TypeScript depends on JS ES6. When you choose Angular, you don't need to have an entire knowledge of a totally new language, but you will be able to receive features such as static typing, classes, namespaces, decorators, etc.
You do not need to reinvent the cycle of development with Angular. Angular provides lots of tools to start developing the application right away. You have directives to give HTML elements dynamic behavior. You can power up the forms and set up various validation rules. You can easily send asynchronous HTTP requests of various types. Routing also gets easier with little hassle. And there are many more features Angular offers.
Angular offers decoupled components. Angular web components strived to remove tight coupling between various components of the application. Injections happen in NodeJS so you will be able to replace various components in Angular easily.
When you use Angular, you do not tightly couple presentation and the application's logic makes your markup much cleaner and simpler because all DOM operation happens where it should happen.
Whenever you develop any application you need to test it throughout the development process. Angular is meant to be systematically tested and it supports both end-to-end testing and unit testing along with tools like Jasmine and Protractor.
Angular provides one framework for multiple platforms, in other words, it is mobile and desktop-ready. Not only this, but it is also actively maintained and has a large community and ecosystem. You can find lots of learning materials on this framework as well as there are many useful third-party tools available.
Hence, we can say that Angular is not just a framework, but it is a platform that empowers developers to build exclusive applications for the mobile, web, and desktop. 
You may also like: What is The Difference Between Angular and AngularJS?
Angular: Pros and Cons
Under the right conditions, Angular provides lots of benefits for its users. Overall, this is no doubt an excellent JavaScript framework that can save lots of time while completing repetitive tasks, improve the form and the functions of the final product, and will sharpen your skills as a developer. Like other platforms, Angular comes with its pros and cons. Review the below-given points and decide which one is good for your business.
Pros
Angular is supported by Google, which makes it a reliable framework
Angular development environment providers easy third-party integrations to the framework
Angular provides quicker load time and improved security by using an excellent concept regularly known as "ahead-of-time compiler"
Angular elements and modules give more power to the developer and designers through the customization
Cons
The major drawback of using Angular is its limited SEO options and poor accessibility for search engine crawlers.
Another drawback of using the Angular is that some people might find it difficult to learn at the initial stage.
If you are not working on a project of appropriate size and complexity, Angular might put you down.
Conclusion
In this article, we have discussed all about Angular, a client-side framework that supports multiple platforms.  We have also covered some of its features, advantages, pros and cons, and how it is different than the other frameworks.  If you still have any queries regarding Angular, you can Contact Us for more details.
Frequently Asked Questions
1. Why is Angular development the best option for businesses?
When you choose Angular for your web or app development, it will let you develop dynamic and clutter-free applications. We have already mentioned the core reasons why you should choose Angular to design descriptive, websites. Still, if you are confused, to help you out our team of skilled Angular developers and project managers will describe all the benefits you will get.
2. Why should I hire Angular developers?
In simple words, Angular is an open-source framework that is based on JavaScript and the good thing about this is Google maintains it. If you want to create a faster and dynamic web application, then you should definitely hire an Angular developer. Hiring the best Angular developers will help you create interactive dashboards, content management tools, music/video streaming apps, theme development, plugin development, and much more.
3. What should I keep in mind while selecting an Angular development company?
There are many development companies available in the market which offers services to better than the other does. To find the best one among them, you need to compare their features and offerings, so that you will have a clear picture in your mind about the characteristics of the best Angular company. You should choose the best company that ensures you a high-quality performance and gives consistent performance. And make sure that the company works according to your requirements and specifications. The most important thing to keep in mind is you must read reviews about the companies before making any decision.