With each passing year, we see the tech ecosystem getting proliferated with novel version releases, changes, and innovation. One such server-side web application framework, Ruby on Rails or Rails, has received constant upgradation and demand, since its inception in July 2004. However, with the advancement of technology and thereby change in frameworks, several web developers get skeptical and question, 'Is ruby on rails dying?'
Over the period, a decline in Ruby on Rails popularity is observed when compared to PHP, Python, or other recent languages. Despite this fad, there are 34 established companies – Airbnb, Dribbble, GitHub, Shopify, Bloomberg, to name a few, that trust Ruby on Rails and use it in their applications. This inclination from these world giants and innovative start-ups validates what is ruby on rails used for. It is the first choice when it comes to MVPs and prototypes development. According to BuiltWith reports, there are over 523,339 RoR live websites and it has backed over 45,000 GitHub stars.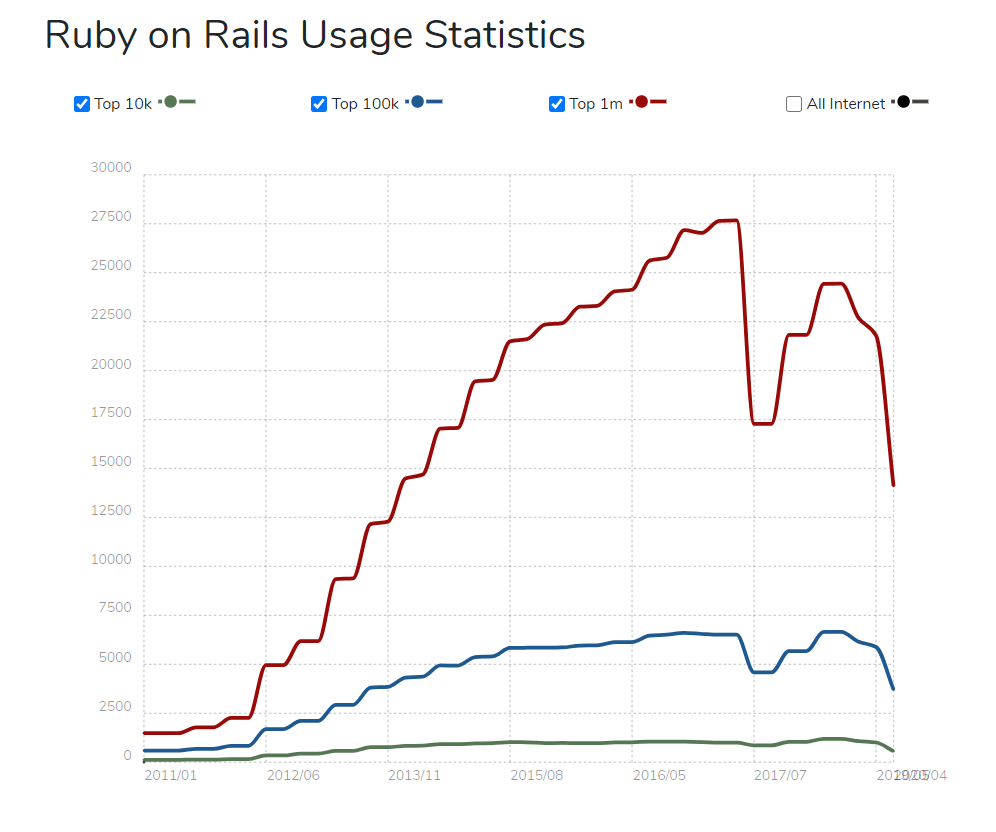 Considering the stated stats, Ruby on the Rails popularity declined not because of its obsolescence, but the current competition. Its emergence in 2005 significantly influenced web app development, through its advanced features like seamless database table creations, migrations, and scaffolding of views to empower rapid application development. And since then, its demand has remained stable to date. So, whether to select Ruby on Rails from the trending technologies available for your business?
Let's look at the listed vital points to consider Ruby on Rails in 2020 for developing a web application.
Why is Ruby on Rails Considered to be Dying?
Before getting on to this discussion, let us get a brief understanding of RoR.
1. The gem: Ruby on Rails
Rail is a server-side web application framework written in Ruby, a robust, comprehensive programming language derived by David Heinemeier Hansson while he was working on a project management tool Basecamp at a web application company also named Basecamp. He published an open source journal in July 2004 and committed rights to the project in 2005.
2. Understanding what is Ruby on Rails
Usually known as 'RoR' or 'Rails', Ruby on Rails is an open source framework for getting web development in Ruby and is an object-oriented programming (OOP) language resembling Perl and Python.
The web servers that are supported by CGI, Rails are designed to run on them. For frameworks like MySQL, SQL Server, PostgreSQL, Oracle, and DB2, Ruby on Rails programming is adopted. As Rails being an MVC – view model, controller framework, all the layers are supplied by Rails, as opposed to dependence on other supplementary frameworks to attain complete MVC support.
3. Features of Ruby on Rails Development
Don't Repeat Yourself (DRY) principle stating each code snippet must have a single and clear authentic submission. This would create fewer bugs as compared to various Ruby on Rails alternatives; also, Rails developers can restructure or refactor the code.
Faster speed and web application development with ease, as it can make a cost-efficient website with the use of a huge RubyGems library.
Convention Over Configuration principle illustrates libraries, systems, languages with assumed logical situations that are set by default. So, rather than recreating the wheel, you can create your rules at any given point of time.
It offers you an intimidating choice to make websites that contain built-in security against all sorts of attacks – XSS, CSR, SQL Injection.
4. Why use Ruby on Rails
The below-cited points would clearly answer – what is Ruby on Rails used for:
The main difference between Ruby on Rails programming and other alternative frameworks is the ease and speed of the development process that the developers and their community enjoy. Without consuming much time and performing the related steps, usually involved in web development, the changes made are instantly done in the applications.
The reason behind RoR being faster as compared to other languages is that the nature of Ruby is object-oriented.
In addition to this, there is an enormous collection of open source code accessible to the Rails community.
The conventions make it much easier for a developer, who uses Ruby on Rails, to shift between varied Rails projects, as every project has a tendency to follow the same structure and coding.
Ruby on Rails uses an active focus on testing and possesses a good testing framework.
For rapid application development, Rails is considered good because the framework builds it easy to make room for changes.
Using Ruby on Rails makes its code very much readable. Such use of Ruby on Rails amplifies productivity, as it leaves less need to create documentation separately, making it more feasible for developers to get onto an existing project.
5. Reasons for assuming Ruby on Rails is dying
When compared to C++, Ruby and Rails take more time to perform code but it tends to act fast when you write code, making you cast your project in a few months. Hence, RoR being slow while performing, but has a dynamic speed at MVP's and prototypes' development.
RoR is often claimed to be non-expandable and obstinate for developers who would start programming on Rails. We must consider that such a hindrance can be due to any database performance malfunction. Hence, being inflexible is not a problem of programming framework or language. Considering Shopify, who has agile flexibility to support over 500,000 businesses with RoR.
We can try to identify which element is responsible for a slowdown, before castigating it. In fact, Rails is a better option to utilize the preferences available:
Optimization of code
Service-based architecture
Horizontal flexibility
Boost in AI and Machine Learning:
With a boom in AI-powered applications, it is significant for any programming language to be Machine Learning friendly. And as we know Rails is exactly not designed for ML, which made many developers wonder, 'Is Ruby on Rails dead?' An expansion of such new languages and frameworks for specific applications and solutions form an immense competitive base for RoR to prevail.
Also Read: An Undeniable Battle: Ruby on Rails vs JavaScript
Ruby on Rails still in Vogue
In recent times, although RoR programming is losing its popularity due to the competitive alternatives available, Rails is still in the market for more than 15 years due to the following reasons:
1. Convenient
RoR is much convenient because it has quick development, readable syntax, and immeasurable built-in solutions. So, for many software development companies, RoR still provides convenience and is proved to be useful and functional.
2. Large Community
Due to the continuous evolution of Ruby on Rails language, the size of the active RoR developer community is increasing day by day. Platforms like, Dev and Stack, are frequently used by developers where they discuss the issues, share their solutions, tricks and articles as well.
3. Suitable for Content Management Systems (CMS)
If you require a content management system that is easy to use, has conducive navigation, and has a convenient way to upload files, images, and content, then Ruby on Rails content management systems is apt. The built systems of RoR are suitable platforms for content creation and regulation, as it aids in reviewing, revising, storing, and publishing. Moreover, to get a hike in search engine rankings and visibility that renders a huge traffic and thereby, return on investment, Rails is one of the best SEO instruments.
4. Companies adopting Ruby on Rails
To suffice the question, 'How popular is Ruby on Rails?', we know that these world-renowned companies like Github, Imgur, Twitch.tv still make use of RoR as an app framework. This justifies that if the functionality and characteristics of RoR serve the best, these giant companies will be constantly using it for their app development.
The alternatives to Ruby on Rails Django, Laravel 5, Asp.Net Core, Symfony, though, got remarkable features, but if you want a speedy release, using Ruby is a perfect choice. It is so because it contains shortcuts and configuration features that make it simpler for any web application to integrate the complex features.
Is Ruby on Rails for a millennium?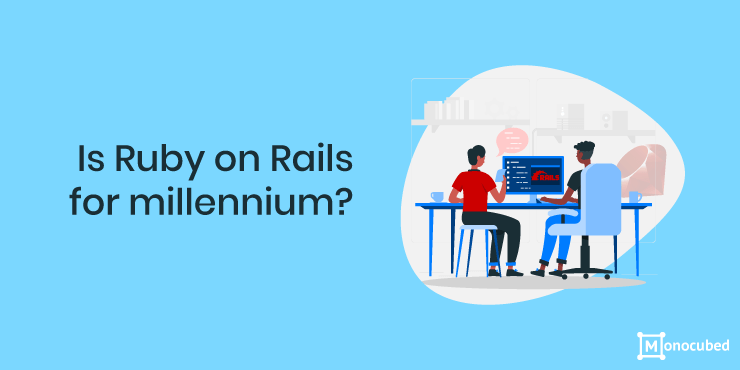 1. Updated and prominent version
Owing to the increase in convenience, the updated versions of Ruby are propitious. The future of Ruby on Rails is anticipated to be pioneering with the release of the latest version of Ruby stable version 6.0.3.1. The set goals for the framework are:
Static analysis
JIT / Ruby 3×3 / Performance
Concurrency
Eventually, new features of RoR are promised to be at least three times faster than the previous version which would make the administration of concurrency and duck interference better, as static types would be introduced in the best possible way.
Also, being in the competition with other technologies, Ruby has embarked on its position amongst the most prominent programming languages.
2. Forming a niche
Even if a group of developers falls for a new available framework, there is still compelling demand as we look at the Rails community, which suffices the question – 'Is Ruby on Rails dead?' There is a possibility that due to its continuous evolution, it has intended to be a mature framework that is forming its niche. Developers utilize it as one of the tools of their stack and play to its strengths, rather than employing it to be the main tool for building apps. Due to Rail's pace of development and simple business logic execution, it is still widely used. It has a quality of affixing that binds the backend and the frontend together perfectly, forming a way for its future.
Frequently Asked Questions
1. Is Ruby on Rails versatile and suitable for Public Websites?
Ruby on Rails programming language is said to be ideal for both public websites that are dealing with single-page JavaScript apps, and complex enterprise core system apps that usually look more generic, but tend to compensate for this flaw with numerous business logic. Thus, it is beneficial that RoR is versatile and has the capacity to compete.
2. Is Ruby on Rails the right choice for start-ups in 2020?
Developers community performing Ruby on Rails needs less time as compared to the rest of the frameworks for programming an application. Apparently, it proves to be a notable advantage for start-ups. Also, if there is a necessity to deliver solutions backed by proof within a limited time, then RoR app works as the best prototyping means. This benefit can be considered for a large-scale project too and thus, makes it invalid to assume that Rails is dead. Furthermore, being open-source, it is an ideal option for cost-saving in any start-up.
3. Is it worth learning Ruby on Rails?
Having a high relevance and demand in today's market, Ruby on Rails is the most powerful way to develop web applications quickly. Many enterprises like Airbnb, Hulu, Fab.com, have built their projects using this technology. Getting equipped with RoR offers great opportunities to experiment and use static web pages with CSS and HTML, and make object-oriented programming.
4. Is Ruby on Rails dying?
Despite the myth that Ruby on Rails is dead, the survey mentioned here justifies that it is one among the most demanded programming languages. Also, it has a wide potential market for Ruby on Rails developers.
Conclusion
For optimal results in MVPs, app concepts, prototypes, small to medium-size web apps, RoR is efficient and convenient to use. Considered as a mature framework and enhancement to the latest versions make the functioning of your business smooth and safe. The Rail team is parallel with the organization's needs in the market better than before. Having an existence of 15 years, still, Ruby on Rails allures many new developers and encourages them to examine the advantages of its unique feature 'convention over configuration.' Ruby on Rails framework always understood its users' needs and strived to change since version 1.0.
Whether you are a start-up or an enterprise, RoR can aid you in delivering an effective website within the given time frame and budget. It is definitely paving its way in the future, maybe to form its niche; and for an enterprise to create something quickly, using Rails is the best option. As we have authenticated that every update is favorable for businesses for delivering additional values, we must practice Ruby on Rails in 2020, despite the prevailing myths.