We say – Online marketplace. 
What comes to mind?  
Amazon? Etsy? eBay? These are the top growing online marketplaces that sustain more than 1 billion users per month.
But these are not the only online marketplaces available.
There are smaller marketplaces developed especially for business niches like selling vintage car parts or selling all types of slime. One of our clients approached us with one such unique marketplace idea – a place to get online interior design consulting services. 
In this case study, you will get to know about our custom php website development journey from ideation to challenges we faced and their solutions. To help you develop a similar marketplace solution for your business, we have also included the section – Use Cases.
Lack of Budget-Friendly Interior Design Consultancy Platform Online
The annual market size of the interior design industry in the U.S. is 17 billion dollars as reported by IBISWorld.
Even after the economic decline of 2020 due to the Covid-19 pandemic, the industry stands strong. With most construction projects being resumed, corporate, non-residential interior designers are starting to work on projects.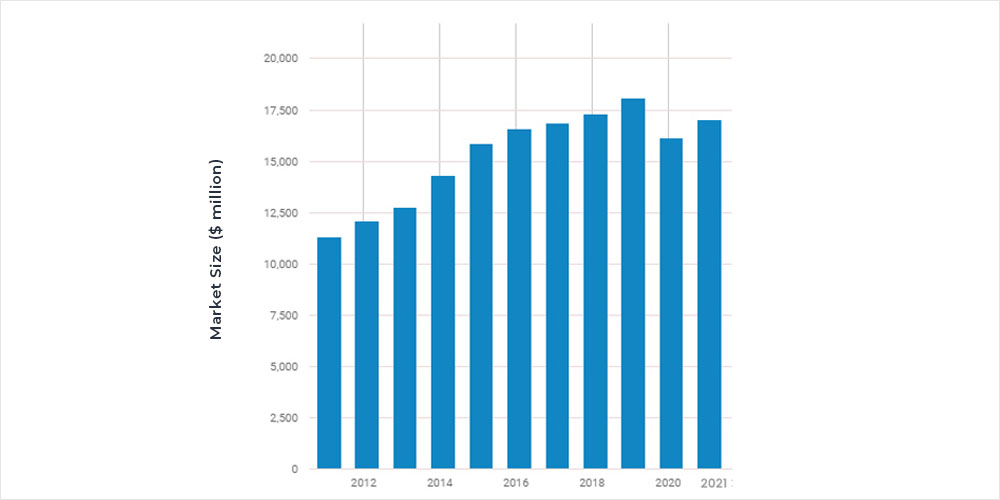 But just as before the pandemic, interior designers find it tough to look for residential work. This is mainly because when we think of residential interior designing, we imagine it is for posh, luxury homes. It is uncommon to think of hiring interior designers for smaller houses and apartments. And most people don't have the budget for it either.  
Consider this – you are designing your new home or thinking of redecorating some of your rooms to give it a new look. Are you going to pay hundreds of dollars to hire an interior designer that will just skim you through different colour palettes?
Of course not. For small-scale residential projects – like buying a new pair of curtains or redesigning your kid's playroom – you don't need a full-time interior designer. Plus you probably don't have the budget for it.  
Still, you also want your house to look beautiful and comfortable while being functional. Your home is a place of ultimate comfort for you. You don't want it to drain your energy or irritate you, which can happen more often than you think. For instance, if you are a nature-loving person, you will feel suffocated in a high glam apartment with deep colours. You would feel more 'right' in a house with softer colours like cream, terracotta, or soft yellows. 
Therefore it is extremely important to design each room to your convenience and style. This requires design expertise. Interior designers know how to make your small 1-bedroom apartment feel large and spacious. Just like they know how to convert your kitchen into a functional yet stylish place. They have deep knowledge about colour schemes, working with spaces, and creating an ambiance for a room. 
"Here is the problem we wanted to solve when we started working on this project. How do we provide budget-friendly interior designing help to homeowners?"
About The Client
Our client faced a similar problem when trying to design and furnish her own home. She was unable to find any online solution or website that let her talk to interior designers about small problems like choosing curtains or deciding where to put her coffee table. So she decided to create a marketplace for online consultancy on interior design. 
Finding us through Upwork, she approached us with her idea. She wanted to create an online interior design platform where homeowners like her could talk and consult with top interior designers for a minimal cost.
Our Solution
Together, we began developing an online consulting platform for homeowners to get professional consulting on interior design. We wanted an easy-to-use system where people can look up experienced designers around them.  
If they liked the designer, they could schedule calls with them and get expert advice on their personal design problems. It could be something as small as where to place the house plant or giving suggestions on buying furniture that match your personal style.
We set out to develop an MVP website for the idea. Here we explain how we went about integrating each functionality until we got a web solution that both us and the client liked. 
Want to Test Your Idea Before Investing?
Validate your idea with our professionals. Get your free personalized quote. Start developing a quick, affordable MVP to test your web app idea.
How Will Users Find Their Ideal Interior Design Consultant?
There are around 119,778 interior designer businesses in the US as of 2021 according to IBISWorld. How to match each user to their perfect designer out of so many?  
The client was clear that each person has a personal style and aesthetic. Just like each designer has a personal taste and style they specialize in. We didn't want the user to try and test 10 different designers before they found their ideal designing partner. 
So, we decided to integrate multiple filters for the users to minimize the pool of interior design consultants. Our client suggested several categories like location and type of room to decorate as filters. 
We ended up including 4 different types of filter options –
Location (city or zipcode)
Design style/ Aesthetic
Ratings of past customers
Type of room to decorate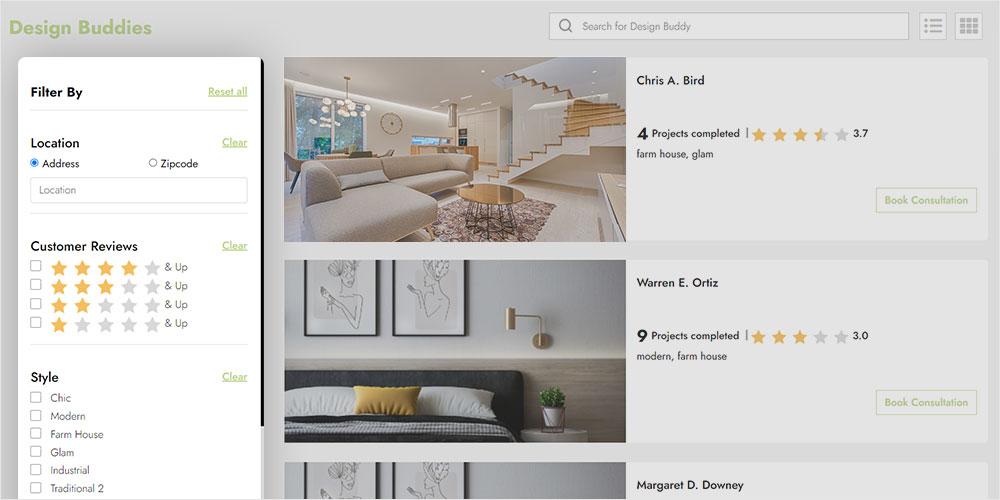 Users can mix multiple filters and can see the results immediately without needing to refresh the web page. For instance, if you are looking for a modern and minimalistic designer with a 3+ star rating, just apply the filters. You will find the appropriate designers as shown in the image below.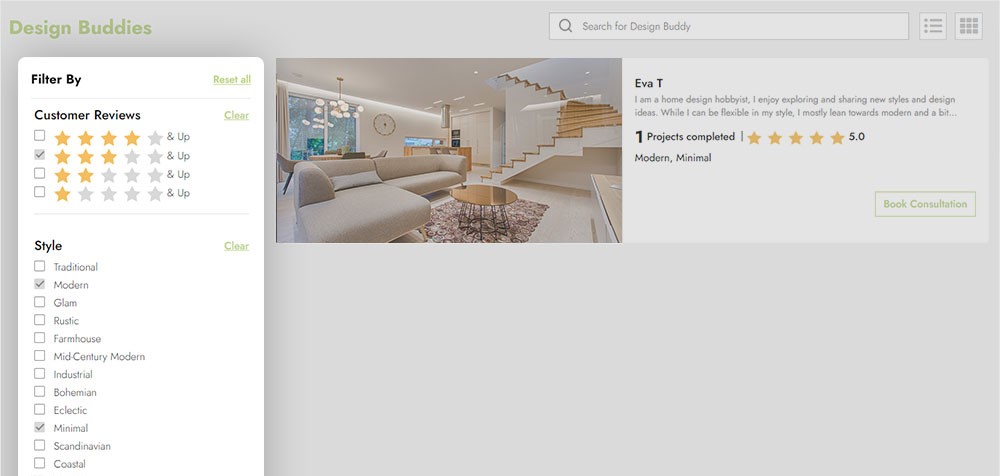 Have a specific style and aesthetic in mind? No worries. Mix and match the 12 different style types (Bohemian, Scandinavian, Classy, Rustic, and many others) and find designers who think like you.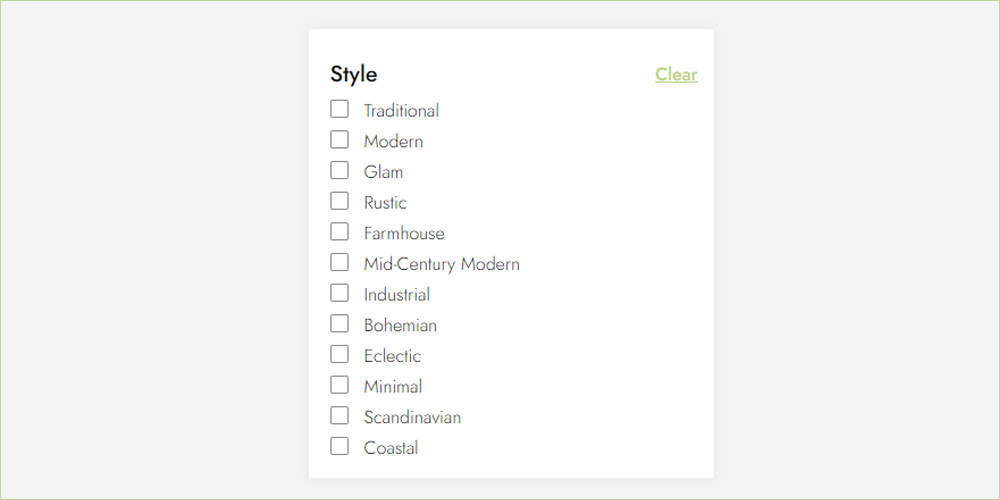 You can also filter using the type of room you are designing. There are designers who hold experience in certain rooms like a dining room or outdoor units or bathrooms.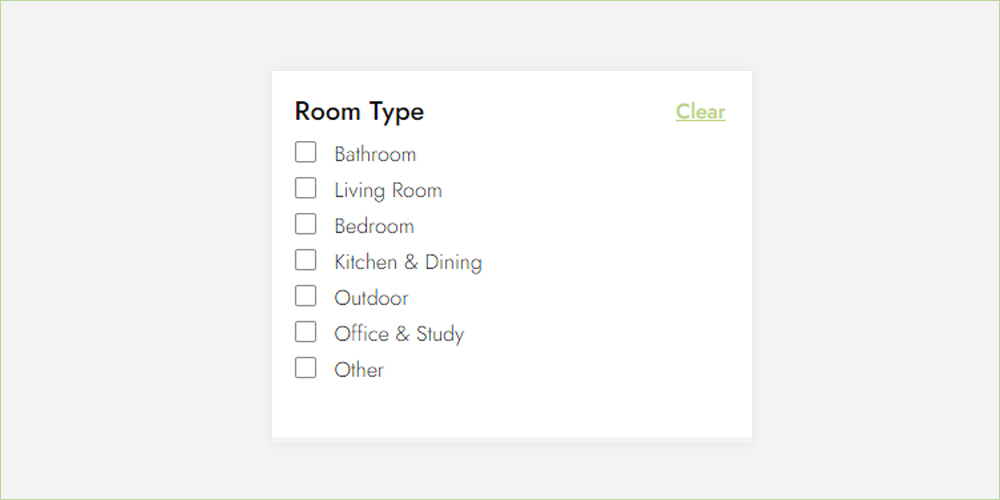 If you prefer to work with local designers, you can filter designers based on a city in the USA or for more concentrated results, by typing in your zip code. 
Working with a designer for the first time? Filter on the basis of customer reviews. Find top-rated, friendly professionals who will guide you throughout the whole process.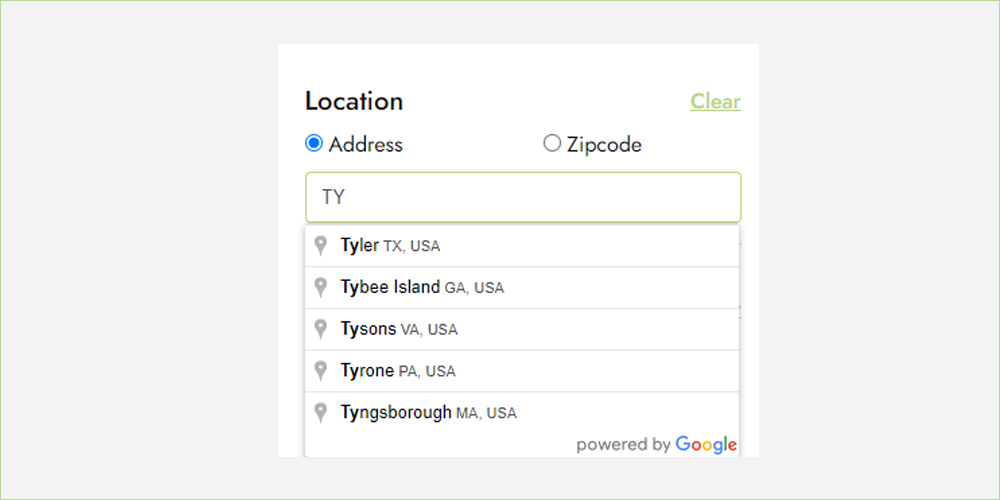 To make the process even easier, we introduced a detailed form for designers to fill when they sign up. It includes details like their style of work, their social media profiles, link to Pinterest boards, and a small description of themselves. Designers can also upload a few of their room designs.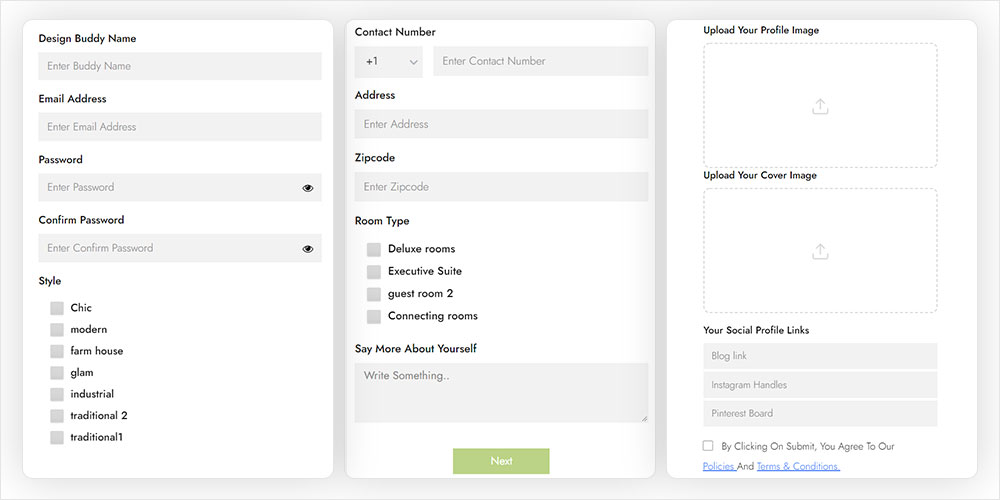 So users can look at the various designer profiles. Check out their descriptions, their past designing work, and read their client reviews. These will make it easier for a user to shortlist their designers of choice.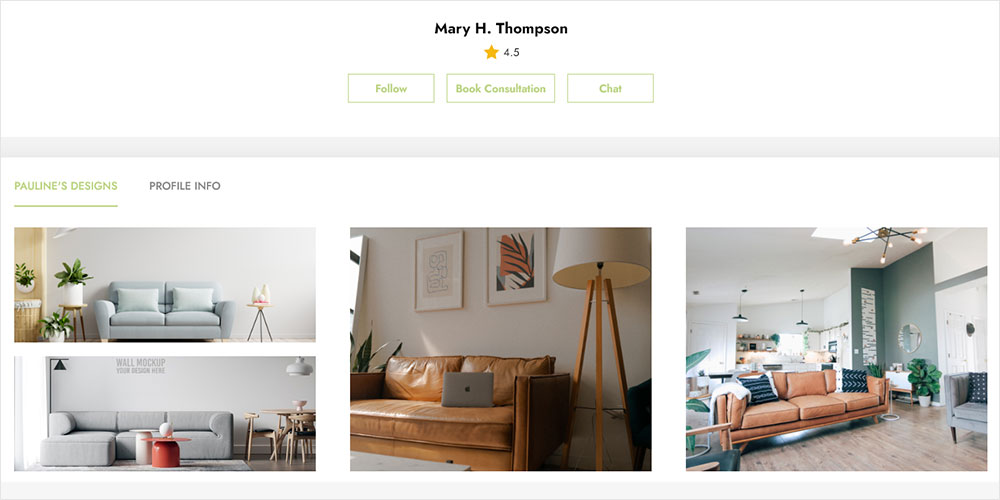 Another added feature – Following designers. If you create a user account, you will also be able to follow designers you like for future projects. You can find all the designers you like in a single place.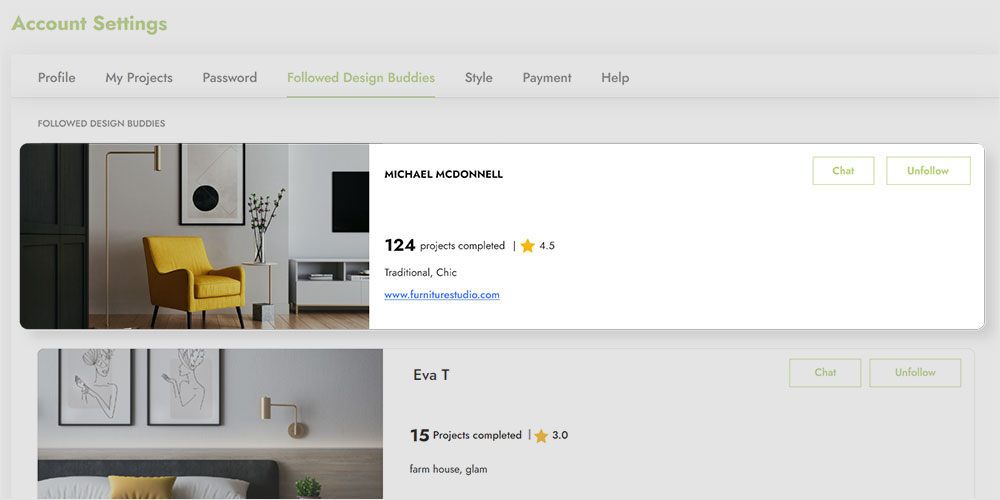 But Does The Interior Designer Actually Fit With The User?
So you filter out the best interior designers you could find. But are they available? Will they actually match your profile? Do they understand your aesthetics?   
To give users an opportunity to explore, we decided to add a chat feature between users and design buddies. If you like a designer's profile, start a chat. Ask them a few general questions. Share your room photos and give the designer a chance to study them. See if your decor style matches.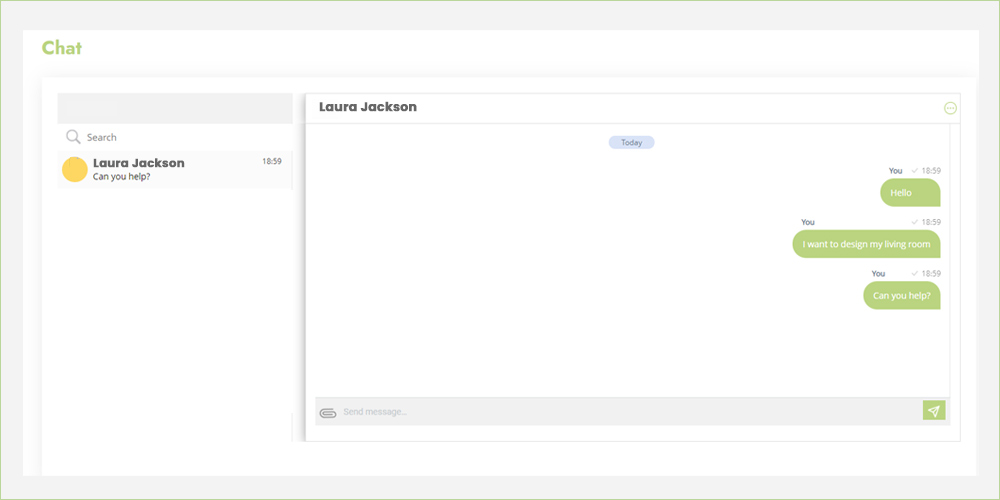 When developing, we faced some challenges initially. The chat feature was not working as expected on different web browsers. After thorough research, we decided to integrate Quickblox Chat API to ensure a seamless cross-browser chatting feature.
The user can easily start a chat with any designer. There is also an option to attach photos to the chat. On the designer's dashboard, the designer will get a notification when they receive a new text. They can quickly reply and manage their different conversations. Even the designer can attach photos of their sketches to give the user an idea.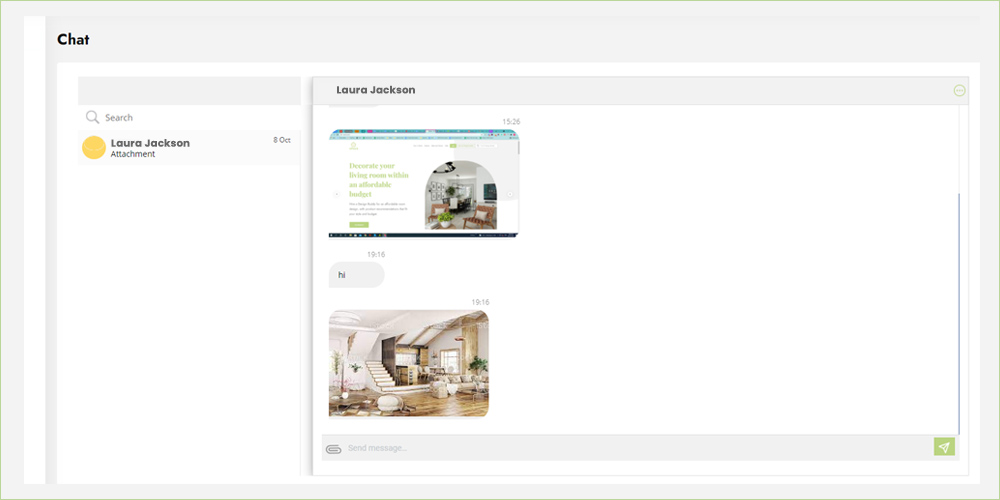 We ensured that, even on a mostly static website, the chatbox was smooth and easy to use for both designers and homeowners. 
Users can thus chat with the interior design consultant, show their living space, and discuss some basic home designs. They can even share Pinterest boards or make a mood board with them. 
Feel like they don't understand your style? No worries! Try another design buddy. 
You Vibe With The Designer. Now How to Get A Consultation Session With Them?
Finding the designer up to the mark? Schedule a consultation session. 
There are two available plans:
Basic
Premier
The only difference between them?
The time duration of the session.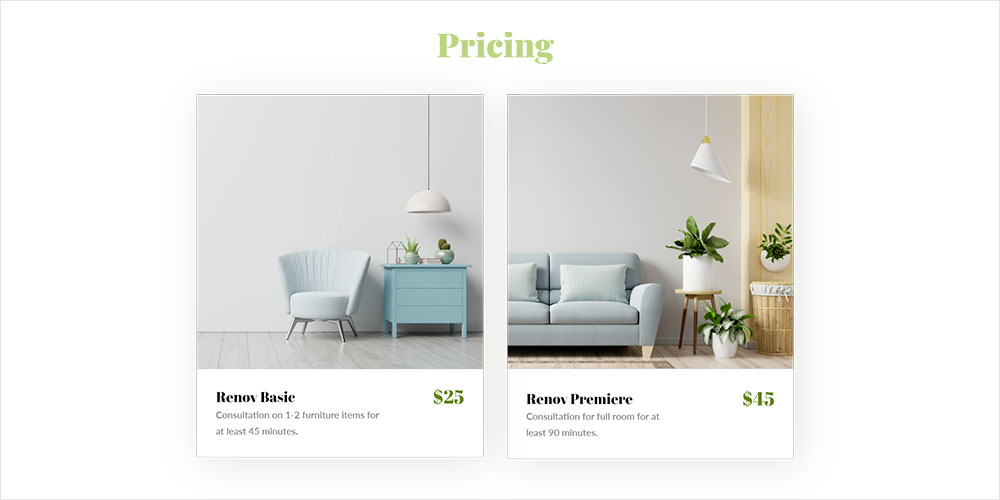 If you are looking for a small redesign or some expert opinion on 1-2 elements of your design, the Basic $30 plan is good for you. Within the 45-min allotted time, you can discuss your sofa, light fixtures, paint colours, or where to set the crib in your kid's room. 
The Premier 90-min consultation session costs $50. It is enough time with the designer to get complete help on your room decoration. You can discuss furniture layouts, lighting placements, and room decoration.
Book your choice of consultation plan and make the payment. To ensure safe and secure transactions for our client and you, we integrated the Stripe Payment Gateway. All credit card and bank information are stored on Stripe servers and follow the security and privacy policies of Stripe.
To ensure that the users are satisfied with their interior designer online consultation, the designer's account receives the payment after 7 days of consultation, giving the client a chance to solve any issues that may occur.   
You get to show off your rooms on a video call or take the designer virtual shopping for a piece of furniture.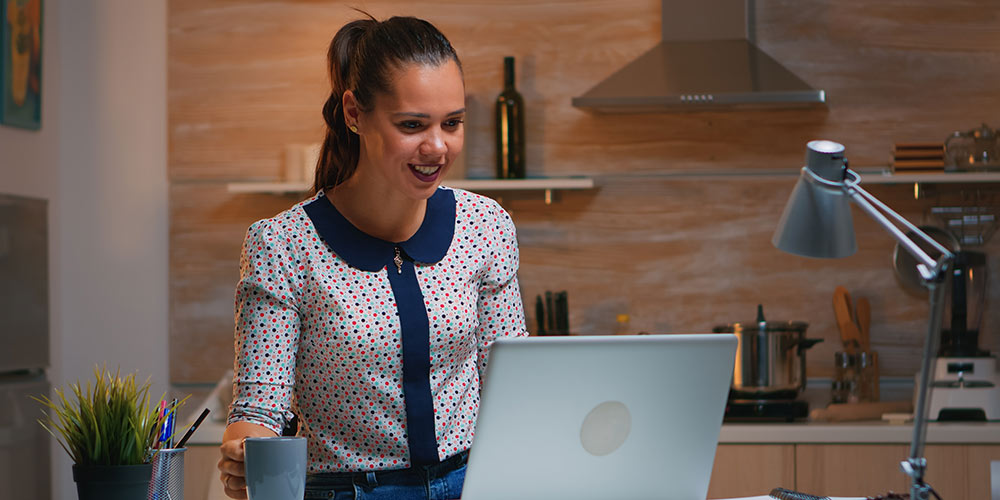 How Homeowners Looking for Online Interior Design Services Benefits From Our Web Solution
Seamless Hiring Experience
We developed a modern and sophisticated website that lets you search for your ideal design buddy. Chat with top interior designers, and get instant interior design recommendations from the experts themselves. House-owners like you, with low budgets, need no longer spend days agonizing over how to furnish and design their homes. Your dream home is just a click away. 
Find Your Design Soulmate
Want to achieve a bohemian design for your living room? How about getting a classy glam look under a budget? Using this website, find online interior designers that believe in your ideas. Your design buddy will guide you through designing ideas like a friend, ensuring you get the perfect room.
Maintain Go-to Favourite Designers
Like the portfolio of a designer? Follow them. The website helps you maintain a list of your go-to designers that you like for future projects. Browse their recent designs, chat with them, or just let them know they have a fan of their art.
How Interior Designers Looking For Freelancing Work Benefits From Our Web Solution
Manage Your Clients
With a simple-to-use dashboard, you will be able to manage all your clients with a click. Get a summary of your completed projects, active projects project name, consultation type, fees, and transaction date. Even when you become a celebrity interior designer with multiple projects, the website's project management feature will ensure you don't need a secretary.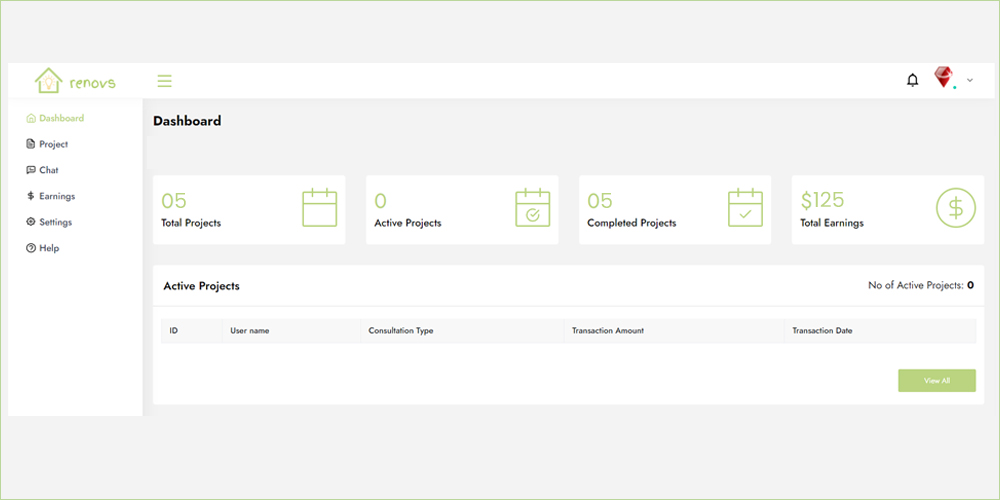 Keep Track of Project Payments
Payments in freelancing projects are almost always a hassle. But you can manage all your payment details in a single place with our web solution. Keep track of all your project transactions and even get a detailed summary of all your earnings. Fancy graphs included! 
Showcase Your Portfolio
Show off your designing talents to people who care. Everyone who visits the website is a potential client. They may not have a project right away for you, but when they do have one, make sure they think of you. Share the designs you are proud of, and let your customers find you.
Where Can You Use Such Online Marketplace Consultancy Solution?
We designed this website as a custom web solution for our client. But a similar software solution can work for a lot of other industries. As the world becomes increasingly digital, there are new opportunities for businesses to grow and make a mark in the world.
An online marketplace is a simple and efficient way to connect users to the professionals they require. Here is a list of a few businesses that can implement a similar marketplace website or web app solution.
Online Healthcare Consultation

The Covid-19 pandemic has opened up new ways to connect doctors to their patients. A marketplace consultancy web solution is one such innovative way. 

Developing a marketplace solution for the healthcare industry will allow patients to talk to professional doctors from the comfort of their homes. Patients can easily browse through different categories of doctors like a dentist, orthopedic, or cardiologist. They can get book consultations and get an immediate examination from experienced doctors for a low cost.  

Such a web app solution will also be useful for people suffering from mental illness. Due to the stigma around mental health issues, many patients may be hesitant to go to psychiatrists. With an online consultation platform, they can get much-needed treatment from experienced psychiatrists without dealing with external pressures. 

Even pharmaceutical consultation websites will be very popular. Users can consult doctors about different medicines and their doses before taking them. 

Want to Develop Custom Online Marketplace?

Let's talk. Get your idea validated by professionals and start developing a custom online marketplace solution.

Career Counselling

With the onslaught of new career opportunities, students are bound to get confused. They need guidance from experts who can tell what jobs they are suitable for and which careers they will enjoy. But they are the youth. And their world is a highly digital one. 

If you are running an offline career counselling business, you need to make changes fast. Today's students prefer to do everything on their phones. Developing a mobile or web application solution for your business can help you reach your target users.

Students can book consultation sessions over a voice call or video chat where they get career and interview advice. With a simple and efficient web solution, your business can reach students worldwide. With increased users, and minimal infrastructure and maintenance fees, your business is sure to see a huge ROI.  

IT Services

Being in the IT industry, you are bound to understand the importance of the web. Be it customer support, sales, or marketing, everything is done online nowadays. But one more advantage of being in the IT industry? You can help other companies and startups.

Many small to mid-level businesses are growing their digital presence. But they need expert guidance. Creating an online marketplace where such businesses can get IT consultation will be extremely profitable. Most businesses are willing to invest a lot in getting consultation from IT experts.  

The web solution can have multiple categories such as digital marketing, IT-business models, data handling, and cyber security. Users can connect to their specialists and book sessions with them to solve their digital challenges. 
Want to develop a similar marketplace solution? Our experienced PHP developers and UX-UI designers developed this website within 3 months, successfully solving every challenge that occurred during the development process. If you are looking for a trustworthy, experienced web development agency for your web project, contact us today.