Every one of us knows that PHP is the most known and popular programming language for developing high-performing websites and PHP applications. There are more than 50 PHP frameworks that offer tools to make programming and coding in PHP as easy as possible. Every framework has its pros and cons when it comes to comparison, it is completely developer's choice, which is suitable to their need and depends on the type of web application he/she is coding for. However, there are some PHP application development frameworks that perfect for all types of use and that phenomenal framework is CodeIgniter (CI). Let's see what is CodeIgniter? And why businesses should use it?
According to Builtwith research, "Currently there are 653,911 live websites using CodeIgniter and an additional 583,333 sites that used CodeIgniter historically."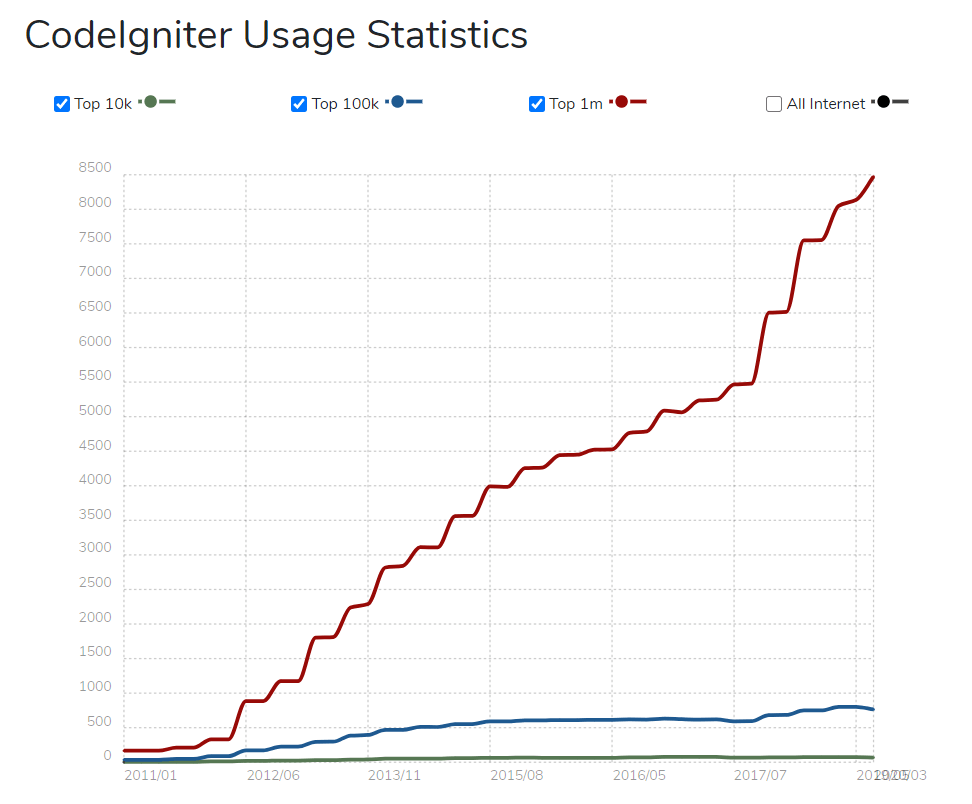 What is CodeIgniter?
CodeIgniter is a PHP open-source framework that is used to rapidly develop dynamic and comprehensive web applications and web sites in PHP language increasing the speed of the development process. CodeIgniter helps developers to solve the complex function of PHP and maintain high-performance with its libraries, plug-ins, logical structure, and simple interface. Apart from this, the CodeIgniter framework in PHP offers creative libraries that correlate to the database and perform various operations such as uploading files, send emails, manage sessions, etc. Basically, this framework is known for its vibrant speed and quick responsiveness compared to other PHP frameworks.
Features of CodeIgniter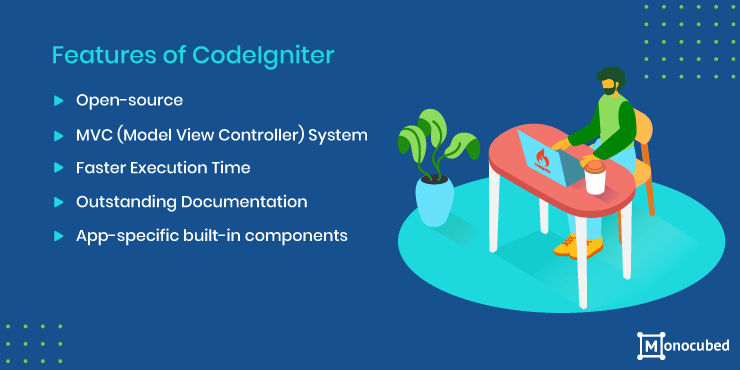 You must have got some basic knowledge about what CodeIgniter is. Well, that is not enough; you should also know why it is popular. The core reason for choosing codeigniter is its rich features. Let's see some of the unique features that make CodeIgniter the most recommended framework.
Open-source
CI is a well-known open-source web development framework for developing PHP based websites and web apps that facilitate the tasks of programming source code and development.
MVC (Model View Controller) System
CodeIgniter framework works on the idea of MVC (Model View Controller), where Model=data, View=the presentation layer, and Controller=application logic. MVC break the development process of applications isolates business logic from User Interface (UI). It helps developers develop core libraries for the system integrating their own existing scripts. It also lets its users follow the MVC method instead of using other practical ways. With CodeIgniter's MVC architecture developers can easily build and manage large applications.
Faster Execution Time
Users want to have applications that load faster. If you have applied and/or tried some of the modern frameworks, then you must have recognized that they take very little time to load after installation. When you use CodeIgniter development, you can develop applications built with CodeIgniter than can load around less than 50ms. Basically, this CI framework provides faster speed for CodeIgniter applications and websites.
Outstanding Documentation
This framework is well-documented and offers all the support through books, tutorials, and forum question-answers that developers or business owners need. That means, whatever challenges they will have, chances are there someone might have already faced the same issue, solved it and you will get the solutions on the spot through outstanding documentation that is created for the PHP framework.
App-specific built-in components
CodeIgniter in PHP has app-specific built-in components that help businesses send emails, manage database and session, and many more other advantages. You can explore the built-in components once you start using PHP with CodeIgniter for developing dynamic apps and websites.
Conclusion
As we have discussed in this article, CodeIgniter can be considered as an impressive CodeIgniter PHP framework in various ways that simplify the assigned tasks of PHP web development. This framework has world-class features and functionalities to support customized PHP development services. If you are looking for top-notch CodeIgniter development services, Monocubed is the trusted CodeIgniter PHP development company in the USA and Canada, contact us if you are looking for customized solutions for your next project.
Frequently Asked Questions
1. What is CodeIgniter framework?
As we have mentioned earlier in this article, CI (CodeIgniter) is a PHP MVC framework that is used for developing web apps and web sites rapidly. It provides all the necessary features such as connect to the database, manage sessions, upload files, send emails, etc. that businesses need for their web applications.
2. Why you need PHP CodeIgniter?
The core reason for using CodeIgniter is, it contains libraries, logical structure, plug-ins, simple interface, helpers, etc. which help businesses solve the complicated functions of PHP code and the development pattern helps them easily maintain the high performance of the application.
3. How CodeIgniter works?
CodeIgniter is an MVC framework. When any user sends request a resource, the controller classes react first. The controller reads the user request then requests the required data if necessary. For more detailed information, follow our blogs for and know all about CodeIgniter, why CodeIgniter, and how to use CodeIgniter framework.