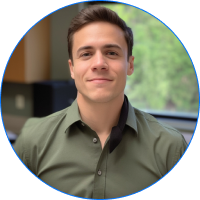 Robert France
Web Developer
Robert specializes in creating visually stunning and highly functional web experiences. Whether it's crafting interactive 3D web environments or seamlessly integrating complex third-party services, Robert consistently pushes the boundaries to provide great user experience. His unique blend of vision and technical expertise enables him to deliver solutions that are visually captivating and user-friendly.
Top Projects Completed
Interactive 3D Website for an Architecture Firm
"Robert came into our project through Monocubed, and what a difference he's made! Who knew a website could be this interactive and still showcase our architectural designs so effectively? It's not just a website; it's an experience that's bringing in new clients."
– Sarah, CEO, Leading Architecture Firm
---
Built a Social Media Dashboard for a Marketing Agency
"Thanks to Monocubed, we got Robert on board. He built us a social media dashboard that's both intuitive and powerful. We can now track multiple campaigns in real time, all in one place. Robert isn't just coding; he's solving real business challenges."
– Lisa, Director of Marketing, Top Marketing Agency
---
Virtual Reality Experience for an Educational Platform
"We hired Robert from Monocubed to create a virtual reality educational experience. The result? Our students are more engaged than ever. Robert's work has taken our educational content to a whole new level. Robert really understands what the education system needs. His work has not only made learning fun but also more effective for our students."
– Dr. Emily, Head of e-Learning, Prestigious Educational Institution
---
Customized Content Management System for a News Outlet
"We hired Robert through Monocubed, and he's been a game-changer. He built us a content management system that adapts to our fast-paced news cycle. Articles go live faster, and updates are a snap. He's streamlined our entire editorial process, making us more efficient than ever."
– Jennifer, Editor-in-Chief, Leading News Outlet
Skills
PHP
Python
Three.js
WebGL
RESTful APIs
OAuth
SSL
ASP.NET
WordPress
Joomla
Git
Education
Master of Science in Web Development
University of California, San Diego, USA
Bachelor of Science in Computer Science
State University of New York, Buffalo, USA
Didn't Find What You're Looking For?
Tell us your requirements. We help you to find the most relevant profiles of web developers that match your project needs.
Canada
2 County Court Blvd.,
Suite 400, Brampton,
Ontario L6W 3W8
USA
651 North Broad Street,
Suite 206, Middletown,
Delaware 19709