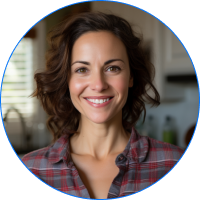 Mia is skilled in deploying and managing applications on cloud platforms like AWS, ensuring optimal performance and security. She uses Agile methodology to ensure that projects are flexible and can adapt to changing requirements. Her empathetic nature allows her to understand client needs deeply, making her not just a developer but a problem solver.
Top Projects Completed
Created HyperScale Data Management System for the Renewable Energy Sector
"We hired Mia from Monocubed to tackle our data management challenges in the renewable energy sector. She didn't just meet our expectations; she exceeded them. Before Mia, we were drowning in data. Now? Our system can handle three times the traffic, all thanks to her expertise in cloud computing and DevOps. Looking forward to working with Mia."
– Daniel, Renewable Energy Solutions CTO
---
Launched AI-driven Content Personalization Solution for Media Companies
"Through Monocubed, we onboarded Mia to develop our AI-driven content personalization solution. We knew she was talented. But the results? Mind-blowing. Our subscription rates soared by 40% and daily active users are up 25%. It's like she flipped a switch and our user engagement increased. Mia is more than just a developer; she's a catalyst for our success"
– Chris, Head of Digital Strategy, Media Company
---
Developed Virtual Learning Environment for Educational Institutions
"Boarding Mia from Monocubed into our educational project was the best decision we ever made. Can you believe we've seen a 35% increase in student engagement? And a 20% improvement in grades? She has revolutionized our teaching system. I can't imagine going back to our old system."
– Dr. Laura Williams, Dean of Online Learning, Prestigious Educational Institution
---
Upgraded eCommerce Site for Better Sales and User Experience
"Mia revamped our old e-commerce site, and wow, what a difference! Sales are up 50%, and people are actually finishing their purchases now. Her Agile approach allowed us to make adjustments, ensuring that the final product exceeded our expectations. She's a lifesaver."
– Emily, CEO, High-End Retail Company
Skills
Docker
Kubernetes
Jenkins
GitLab
Hadoop
TensorFlow
PyTorch
NumPy
Scikit-learn
React
SSL/TLS
OAuth
AWS CloudWatch
Python
PHP
Education
Master's Degree in Computer Science
San Jose State University – California, USA
Bachelor's Degree in Computer Science
Boise State University – Idaho, USA
Didn't Find What You're Looking For?
Tell us your requirements. We help you to find the most relevant profiles of web developers that match your project needs.
Canada
2 County Court Blvd.,
Suite 400, Brampton,
Ontario L6W 3W8
USA
651 North Broad Street,
Suite 206, Middletown,
Delaware 19709