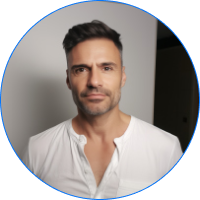 Specialized in cutting-edge technologies like Node.js, React, and AWS, Max Harton brings a deep understanding of back-end architecture and front-end design to every project. His expertise in database optimization and API integrations ensures not just growth, but also efficiency and security. With a knack for problem-solving, Max turns scalability challenges into streamlined solutions.
Top Projects Completed
Optimized E-commerce Platform for a Retail Giant
"Okay, so we brought Max on board through Monocubed. And let me just say—mind blown! Our e-commerce platform used to struggle with traffic spikes, but now? The system was able to handle three times its usual traffic without any interruptions or outages. If you're in the e-commerce game and you're not talking to Max, what are you even doing?"
– Sarah, CTO, Retail Giant
---
Built a Real-time Inventory System for a Manufacturing Firm
"Max came to us via Monocubed and revolutionized our inventory system. His real-time solution eliminated bottlenecks and significantly reduced our operational costs. Max doesn't just code; he understands business needs."
– Raj, COO, Manufacturing Firm
---
Developed Secure Payment Gateway for a FinTech Company
"We found Max through Monocubed, and he's been a game-changer. Our payment gateway is not just secure but also user-friendly, thanks to Max's focus on both security and UX design. He's a rare talent in the FinTech space."
– Emily, CEO, FinTech Company
---
Implemented AI-driven Customer Support Chatbot for a Telecom Provider
"We had the pleasure of working with Max through our partnership with Monocubed. Max's expertise in AI and machine learning has been invaluable to our customer service operations. Our new chatbot doesn't just provide scripted answers; it genuinely understands and responds to customer queries in a way that has significantly improved user satisfaction. If you're looking for someone who excels in both technical proficiency and understanding customer experience, I highly recommend Max."
– Mike, Customer Service Director, Telecom Provider
Skills
JavaScript
Python
PHP
Node.js
React
Django
MongoDB
PyTorch
DevOps
AWS
Education
Bachelor's in Computer Science
Massachusetts Institute of Technology (MIT)
Google Cloud Professional Cloud Architect
Google Cloud Certification Program
Didn't Find What You're Looking For?
Tell us your requirements. We help you to find the most relevant profiles of web developers that match your project needs.
Canada
2 County Court Blvd.,
Suite 400, Brampton,
Ontario L6W 3W8
USA
651 North Broad Street,
Suite 206, Middletown,
Delaware 19709