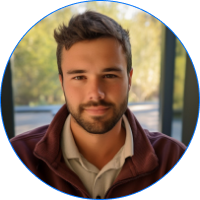 Edward Powell
Web Developer
Edward excels in building scalable business solutions in SCM, CRM, and HRMS using Python 2, Django, HTML5, and Bootstrap. With a focus on automation and data analytics, he consistently delivers projects that exceed client expectations and drive business value. His strong problem-solving skills not only enhance workflow but also contribute to rapid user acquisition.
Top Projects Completed
Developed a CRM System for a SaaS Startup
"We hired Edward through Monocubed, and let me tell you, he's a lifesaver. A CRM system that actually understands customer behavior? Edward nailed it. His Python and Django skills are top-notch, but it's his understanding of customer relations that sets him apart."
– Steve, CEO, SaaS Startup
---
Created HRMS Solution for a Healthcare Provider
"Thanks to Monocubed, we found Edward. He created an HRMS system that's both secure and easy to use. How did we ever manage our HR tasks without him? His focus on data security and workflow efficiency is nothing short of remarkable. With Edward on board, we're not just managing our team better; we're also ensuring the highest level of data integrity."
– Dr. Emily, Director of HR, Major Healthcare Provider
---
Data Analytics Platform for a Marketing Agency
"We hired Edward through Monocubed and couldn't be happier. A data analytics platform with real-time insights? He made it happen. Edward goes beyond coding; he delivers solutions that significantly influence our strategic decisions. His work has empowered us to better understand our audience and optimize our marketing strategies."
– Lisa, Director of Analytics, Top Marketing Agency
---
Automated SCM Dashboard for a Logistics Company
"We hired Edward through Monocubed and he's been nothing short of amazing. We thought an automated dashboard for our supply chain was a complex challenge, but Edward made it look easy. He didn't just solve our immediate problems; he also identified new ways to improve efficiency. His skills go beyond coding; he truly understands the intricacies of supply chain management"
– Karen, Operations Manager, National Logistics Company
Skills
Python
Django
Tableau
RESTful API
Docker
Bootstrap
Kubernetes
Education
Master of Science in Data Science
University of California, Berkeley, USA
Bachelor of Science in Computer Engineering
Georgia Institute of Technology, Atlanta, USA
Didn't Find What You're Looking For?
Tell us your requirements. We help you to find the most relevant profiles of web developers that match your project needs.
Canada
2 County Court Blvd.,
Suite 400, Brampton,
Ontario L6W 3W8
USA
651 North Broad Street,
Suite 206, Middletown,
Delaware 19709