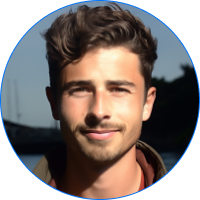 Charles Griffith
Web Developer
Charles excels in using technologies like HTML, CSS, React, PHP, and MySQL. He specializes in DevOps automation, particularly in setting up efficient CI/CD pipelines which ensures that code changes are automatically tested and deployed, reducing time-to-market. He doesn't just code; he solves problems, making him an invaluable asset for any project requiring both technical and strategic insights.
Top Projects Completed
Database Optimization for a Healthcare Provider
"Thanks to Monocubed, we found Charles, and what a difference he's made. Our database used to be a bottleneck, but not anymore. Faster access to patient records? Done. More reliable data storage? Sorted. Charles isn't just a tech whiz; he's helping us provide better healthcare."
– Dr. Alan, Director of IT, Major Healthcare Provider
---
Real-time Inventory Management for a Retail Chain
"We found Charles through Monocubed, and he's been an extraordinary person. Remember the days of guessing stock levels? They're gone. Our inventory is updated in real time, making overstocking and understocking issues a thing of the past. Charles doesn't just write code; he solves operational headaches."
– Mike, Operations Manager, National Retail Chain
---
Machine Learning-driven Fraud Detection System for a Financial Institution
"We found Charles through Monocubed and asked him to help us catch fraud. Guess what? It worked. Our system now learns on its own to spot bad behavior, and we're catching more fraud than ever. Charles is more than a skilled developer; he's a key contributor to our financial security strategy, safeguarding our customers' assets."
– Dr. Laura Williams, Dean of Online Learning, Prestigious Educational Institution
---
Cloud-Based Scalable Analytics Platform for a Marketing Agency
"We discovered Charles through Monocubed and brought him on to build an analytics platform for us. The outcome? A cloud-based system that can handle tons of data and still give us insights in real time. Charles is more than a skilled developer. He has helped us make smart choices based on real data, improving our decision-making process."
– Lisa, Director of Analytics, Top Marketing Agency
Skills
Docker
Scikit-learn
PHP
MySQL
Python
React
PHP
DevOps
Education
Master of Engineering in Computer Systems
University of Illinois at Urbana-Champaign – Illinois, USA
Bachelor of Science in Computer Science
University of Nevada – Nevada, USA
Didn't Find What You're Looking For?
Tell us your requirements. We help you to find the most relevant profiles of web developers that match your project needs.
Canada
2 County Court Blvd.,
Suite 400, Brampton,
Ontario L6W 3W8
USA
651 North Broad Street,
Suite 206, Middletown,
Delaware 19709